Holy Guacamole! Boss 101 will be released THIS COMING WEEK!

That is correct. This Thursday, November 2nd will be the official release of Boss 101 to YOU.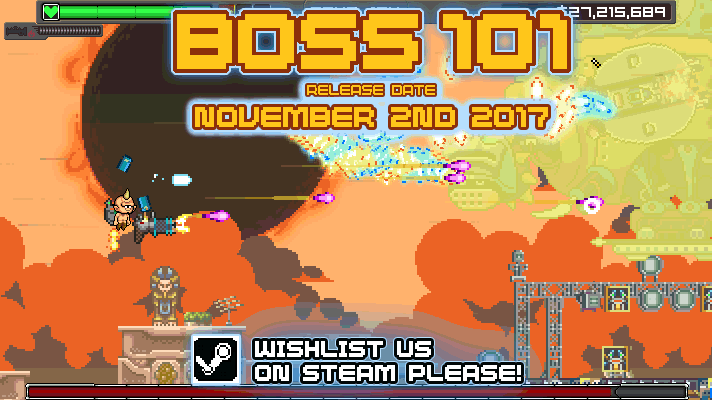 Boss 101 Info Roundup
Release Date: November 2nd, 2017
Price: $9.99 $8.99 (Promo Price for ONE week at Launch)
Boss 101 Steam Store Page: Store.steampowered.com
Please wishlist us if you would be so kind!

What a freaking journey and thank you for joining us. It's been about three and a half years with you and all our friends on this development ride. We'd like to take a moment to thank you and tell you how much we appreciate your support during the creation of our game.

I don't think we have to tell you how much it means to have the nice comments and mails we've been getting. This along with the early coverage of the game are inspirational to say the least. We'll post the details below about getting your hands on Boss 101. For right now we want to share our last PRE-release devblog with you and give you a big THANK YOU!

Never ever give up

You have no doubt heard your share of platitudes and catchy phrases over the years. Maybe you heard this one "Never give up."

I'm here to tell you that is the best advice you can get. If you have a dream, an idea, maybe a goal you want to achieve. Then do it and don't give up. It will take work. It ALWAYS takes work. Hard work, through a lot of ups and downs. Stick to it and keep heading in the direction of your dream. Not only CAN it happen but it WILL happen.

When we started on Boss 101 we didn't have every little thing figured out. What we DID know was we wanted to make a fun game FOR YOU and entertain people with our characters, world and story. The gameplay was always important but we left a lot of room for things to emerge as we developed. Pets would be a good example of something that just felt right, so we did it. We loved the idea of having pets that get cared for and stay with you. Heck, they even follow you around the place if you want them too! Arcade game, hats, gophers and more. So many things were put in Boss 101 because they fit the fun world we were making.

It took much longer than we thought and that's OK. It was a journey we felt was worth it. Now we are about to release our game to you, our friends and fans. We did our best. We left NOTHING on the table. It's all there for YOU and it's at the best price we could manage. We want you to feel you got a huge amount of game for the best price.

So, if you are interested. If you have been following these blogs and think the game looks fun. If you want to have a great time with Steve, Max and the whole gang. Then head on over to Steam, wishlist us and then if you REALLY want to help us out – please consider making a purchase of Boss 101 when it releases. It would mean so much to us! We promise you will get OUR BEST GAME and we also promise with YOUR SUPPORT we will keep the entertainment coming!

2014 and 2017 – A SAMPLE OF THREE YEARS OF DEVELOPMENT

Let's have a little retrospective of how three years can evolve some of the areas shall we?

Starting with the Command Center entry area.

2014
Pretty basic, nothing wrong with that. Look at that upgrade room though!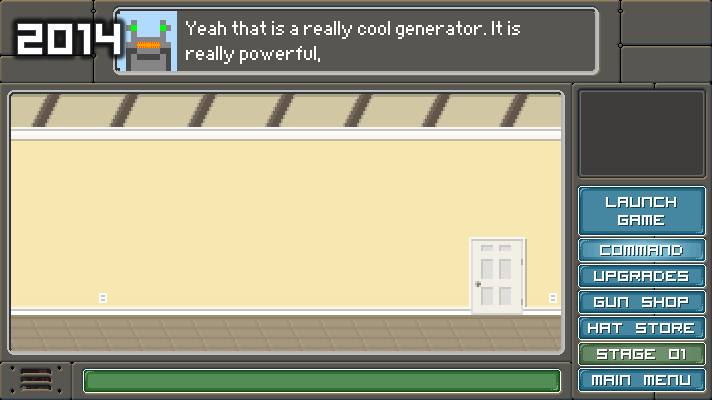 2017
The latest and greatest. Quite a change huh? Look at how the area filled up and the place got so much more decorated. Also – the Upgrade room took a developmental turn too!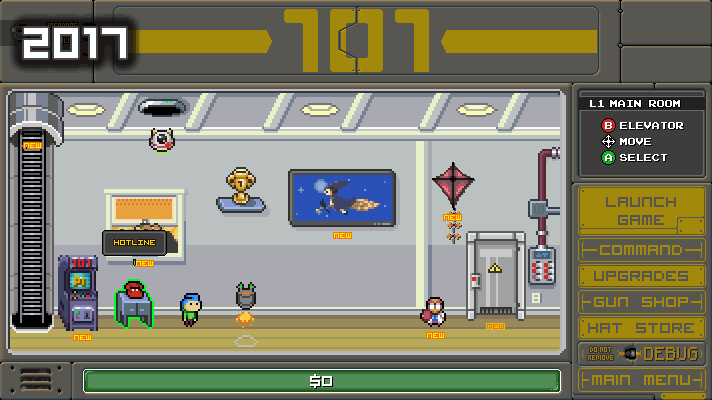 Moving to the Map Room

2014
OK- nothing to write home about here. Pretty straightforward and a lot of Earth names for the original cities.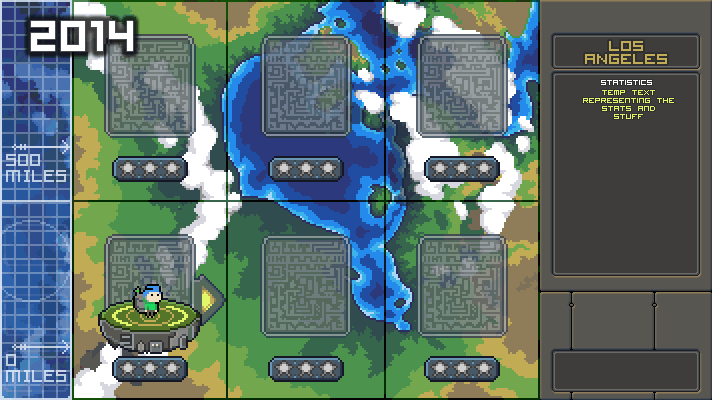 2017
OK – WAY cooler and much jazzier! Look at all this stuff! Come on – this is how you do it when you hit the galaxy for adventure. Even your pet is here!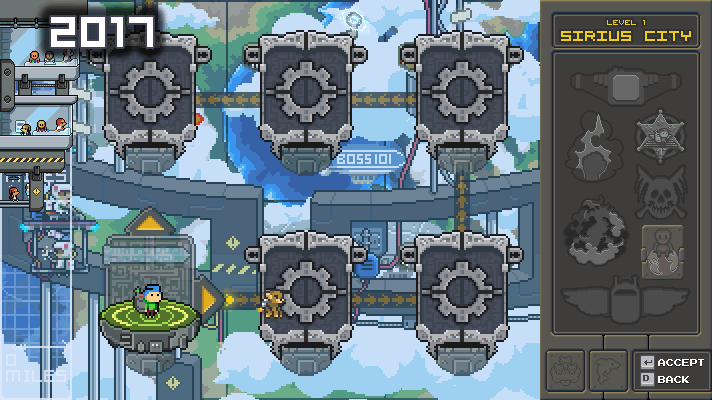 2014

Level 1 boss fight sample. THIS CITY! THE HAT! Oh man! Look at that machine gun too! Wow – the funny thing is the Bosses were done THREE years ago!




2017

Level 1 Boss fight now. OK – the movement, the city, the action. Much smoother and we added a lot of little touches (like the minions, health bar upgrades, the top UI bar, and on and on!)




OK folks thanks for hanging in there. Next week on Thursday Boss 101 will be available on Steam. If you are interested and we hope you are then we would LOVE you to check out the game! It's TEN PERCENT off for one week! Check out the trailer and the details below!

As always remember to LIVE YOUR DREAMS!

-Tim

Boss 101 Info Roundup
Release Date: November 2nd, 2017
Price: $9.99 $8.99 (Promo Price for ONE week at Launch)
Boss 101 Steam Store Page: Store.steampowered.com
Please wishlist us if you would be so kind!

Link to launch trailer here: