Big news! Boss 101 just went up on Steam Greenlight!
OK folks – it's been an awesome ride and we are now up on Steam for looking your kind support! Head on over to the page and see what YOU think. We worked to make it as informative as possible and give you and others the info you want! (YouTube trailer below).
As many of you know this is one of the dev moments where you release your game into the wild knowing you did you level best to give it the best chance possible. Boss 101 represents a lot of blood and sweat. It also represents a LOT of great times, laughs and a fun development cycle. We're still powering away but the end is in site.
Don't take our word though! Check out the video and see for yourself! We would like to earn your interest fair and square!
Current Progress
Well, we might guess your #1 question is "Where is the game progress-wise and when can I play it?"
We've spent the last year working on Boss 101. All the primary art and much of the base tech has had its first and sometimes second and third pass. This includes bosses, levels, minions, player weapons, VFX and overall UI along many others. We're now focusing on the tweaks and tunes to weapons, scoring and feel of the game. What's in the game is workable but let's be honest – you want the best and so do we. We're taking the time to tune, playtest and make it awesome.
Our current estimates put the game landing mid to late July. That is really dependent on how things come together from a gameplay and bug quashing perspective. We thinks it's very doable but we also believe there is no point in rushing a game out the door. Your vote means something to us and we want to make it count. We've been keeping a weekly blog going for a while now and we intend to keep it up.
.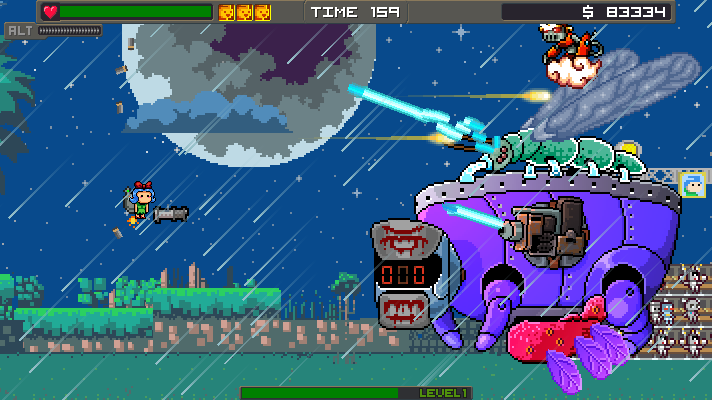 Thank you for your support too!
Boss 101 has been a blast to work on and we're here to share it with you. We appreciate your "Yes" vote and promise to give our all to make this game as fun and entertaining as possible. Please take a moment to check out the screenshots and browse the description. Hopefully it covers the basics and if you have more questions – drop us a line in the comments or start a discussion thread!
If you look at the game and have ideas about features – tell us! We might have already planned it! The thing is – we want you to feel like this is your game too. I know this gets said from many developers but the underlying truth is obvious… without your kind support we aren't going to get far.
We have been working on Boss 101 for about one year now. We felt it was the right time to bring it to Steam Greenlight since we crossed a pretty big development milestone. That is the first pass completion of core tech for the game as well as all the base art for bosses, player weapons, UI, VFX and levels. There's a ton more to do of course and that is what we are cranking on now.
.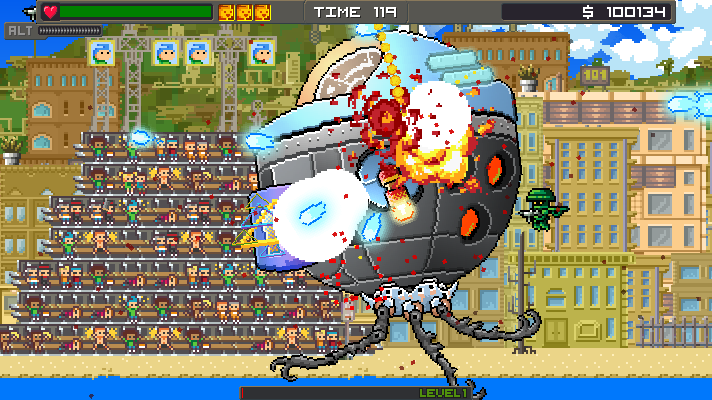 Twice weekly we do updates (a big and small one). The big update goes over the week's progress and the small one is normally a screenshot or movie of things we are working on. You can check out all the previous Blogs at the main site [www.donleytimefoundation.com], our IndieDB page or any of the various links we have. Going forward we'll post those updates here too! The point in telling you is to demonstrate we are serious about making and finishing this game – check out our track record.
We hope after seeing the progress and checking things out for yourself you join us while we bring the game into the home stretch.

Thank you and remember to live YOUR dreams too!
-Tim