Weekly Dev Blog
You one stop for all things Bossy!
Steam Greenlight Update:
This week we have a pretty special announcement. We are in the final stages of our Greenlight prep on Steam. That's right
folks - within the next few days you will be able to make history and give us your "Yes" vote for Boss 101.
We promise we will make you proud! Stay tuned to this blog or the main site for details on the exact moment (we looking at Thursday for the big reveal).
Boss 101 Melee Weapons?
Though rarely spoken about we have some nifty melee weapons in Boss 101 - each one is upgradable as well! Here is a shot of the smoking wrench doing some serious damage to nearby minions.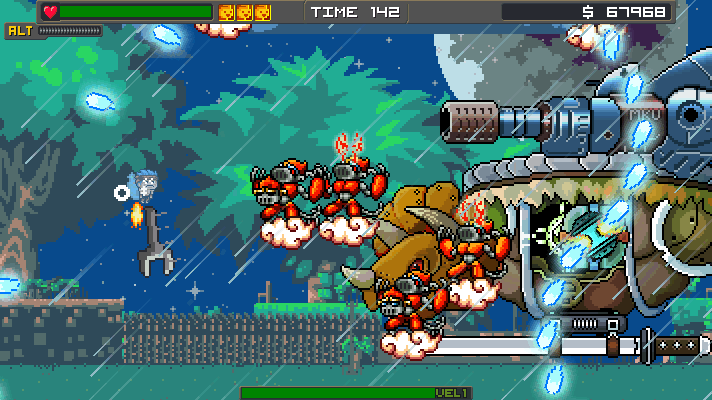 Ok - maybe that range is a LITTLE long... HAAAAAAAAAAAAAAAAAAAA!!
Gas Bombs and Ugly Bugs
Up next is a special weapon for one of the insect bosses. SO this guy here spawns some nasty little bugs that can poison you unless you have some protection.
We start with something like this - temp art that is in the game - a grey bug! We make some notes and show examples of what we are aiming for... like so...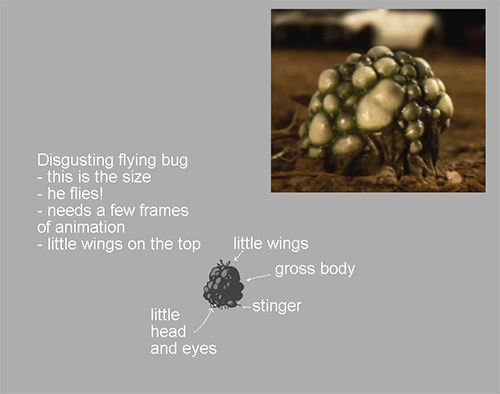 Then we get this. A nice animated gross robo bug!
Then it's a short trip to the game once the sprite gets it's base pass in Spine (our animation program) and some VFX to get it going!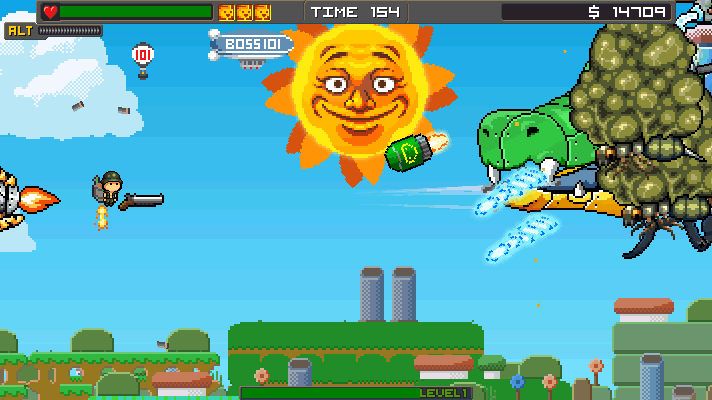 CRAZY!!!
How to Make a Game - the series!
An ongoing series by yours truly. Here's a peek at this week's episode - the Game Loop!
The deal here is you want to get this running as soon as possible. Why? Because you want this to be as fun and addictive as possible that's why. That kind of addiction is not going to happen in your head, you have to see it in front of you and play it. Iterations are the way to go. Paper design, thinking, doodling, tests are all awesome but nothing, please hear me, nothing beats just making the game and seeing if it's fun.
So, get your game loop running. Temporary art is fine. Rough art is fine. In fact, the rougher the art the better since game loops are about game play and not the look of the game. If blasting grey blocks are fun then adding in great art will only make it better. On the flipside having the best looking characters means little if the underlying game is not fun to play (see any one of a myriad of free to play FPS shooters for examples of this). One mistaken belief in games is that looks are a huge deal. They are not. The games you like you might still like even if they looked rougher and visually less polished.
A Basic Checklist...
The basic game loop should be your top goal early in development.
The game loop is not necessarily the whole game but is a representation of a typical play session
Block out the loop with any graphics and mechanics that get the job done.
The purpose of the loop is to expose and refine your early thinking about the game as soon as possible.
You will make mistakes but do not be afraid. Early in development is the best time to make the biggest mistakes. They are FAR less costly early than later in development.
More to come so keep checking in. We appreciate your visit and THANK YOU!
Remember to always live your dreams!
-Tim