Welcome back and we hope you're doing well! Some notes from this week's activity!
Story Time
First and foremost we are starting to reveal the story of Boss 101. Story! That's right, we said it. It's not JUST blasting robo baddies and rolling onto the next level. There is real human drama here folks. For one, did you know this whole adventure is triggered when your brother makes a simple (for him) birthday request?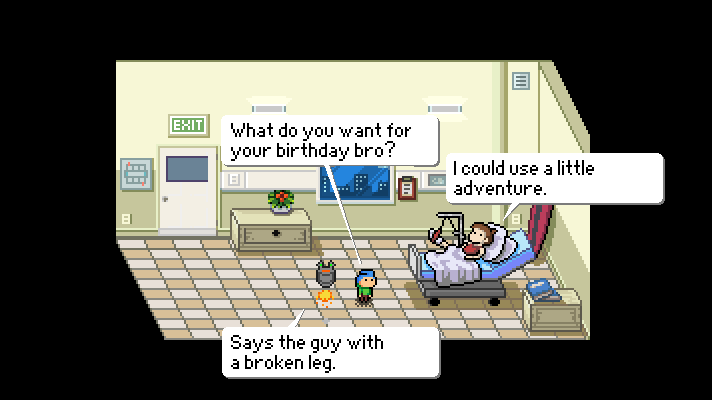 Well, one things leads to another after that little encounter and the next thing you know you are in space battling a robotic spider with dog feet. NOTHING UNUSUAL THERE!
Struggle Time!
So we added in the initial art for the struggle arrow. There are bosses who can hold you in place while you get pummeled. As much as we hate to see you lose control there is an argument to be made for giving the bosses a fair chance. You have STEVE after all and his wit can cut deeper than a sword. HAAAAAAAAAAAAA!!
At any rate - in this initial pass we are testing out the mechanic and they are pretty nice. You can off course - decrease the trapped time but wiggling your stick. Basically - don't get caught in the ice beams!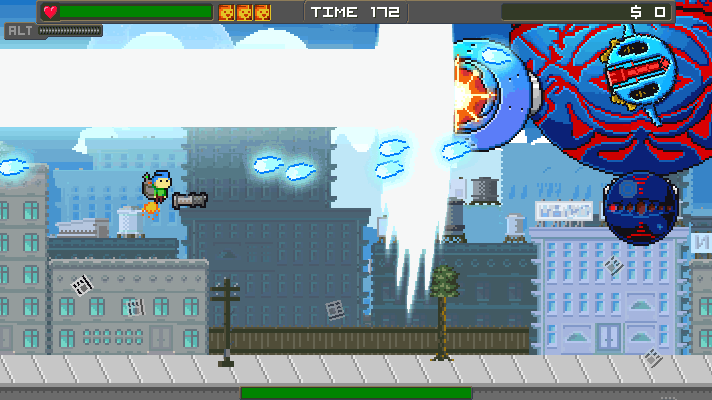 So yah - that will be used with a few other choice bosses to keep you on your toes. Art upgrades and gameplay tweaks to come!
Rocket Time
Just some debug Rocket Testing. Everyone loves small red sharks shooting deadly missiles!
Banana Bombs
One of my personal fav's went in this week. BANANA bombs. Yep, that little volcano on his back will spit out a bunch of banana bombs. Trust me, on the later levels you will want to be WELL CLEAR of that crap storm. They will put you down!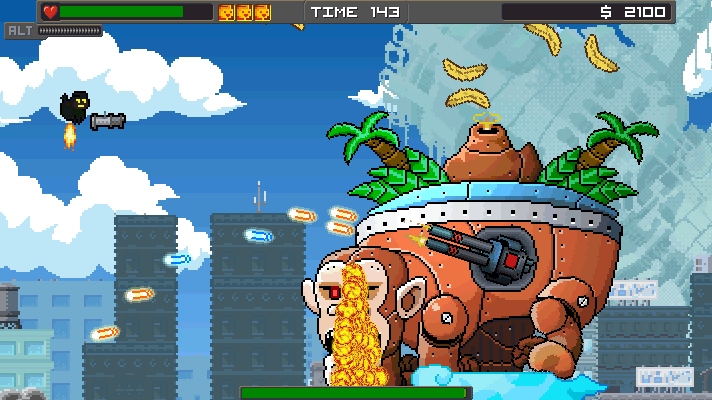 Podcast Friday at Indie Game Riot!
The Donley Time Foundation with yours truly (me) got an invite to join the IGR team this last Friday. It was an awesome three hours that felt like 30 minutes. Went by way too fast and we did get to spend time on Boss 101 as well as some recent gaming news. We'll keep you poated when the edited version goes live.
Notes from the Making Game series
As you may already know - I'm writing a weekly series with my thoughts on game making at the Indie Game Riot website:
A small sample you might enjoy from my latest:
What do publishers think when they see your game? I have sat on both sides of the bargaining table during my career and I will attempt to save you some time by getting to the heart of the matter. Here are some questions going through the publisher's mind:
What is unique about this game I can't get anywhere else? To put it another way, "What is your unfair advantage?" What do you have that no one else can easily have or duplicate? That is what you must lead the conversation with.
Are you demonstrating enough of your product's vision in the presentation? Some games have an awesome tech demo. Some games have a great trailer. Others may have some drawings. It's really up to you to present your unique angle in the best way you can. This goes for Kickstarter trailers, Patreon videos, blogs etc. Everything should turn on what you offer that no one else has. If you have a blog you want people to read, give them a reason! Funny articles? Serious articles? Outlandish articles? Exclusive articles? Give people a reason! Same goes for a game. Unique gameplay (Portal)? Amazing art (Ori and the Blind Forest)? Amazing tech (Battlefield)?
So you say you have all that and you want to know what is the final kicker, the extra ingredient that will put you apart from the rest. Here it is. If you can answer yes to the following every single day of development, then you are well on your way to fantastic success in all areas of life:
"Can I honestly say I did my very best work with no compromise or excuses today? Did I give it my all with no room for getting better?"
Only you can answer that question any given day. Most people are lucky to say yes to that once every six months. The more that answer is yes, the better off you are when you see a publisher or try to sell your product. Asking that question will propel you to new areas and put you in the uncomfortable spots you need to be in to succeed.
That's it for this week folks and thank you for stopping by!
Remember to ALWAYS live your dreams!
-Tim