x - MASS Released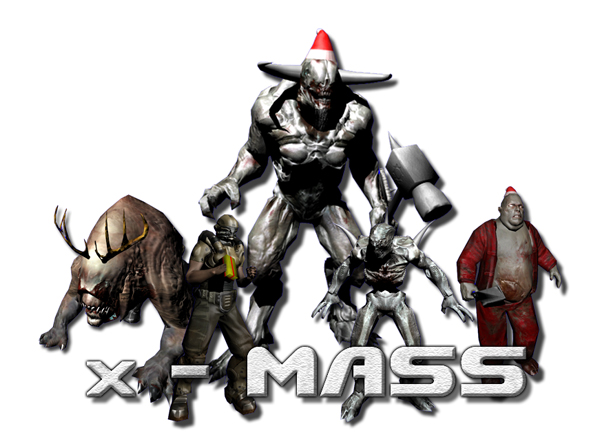 What happen when you mix Christmas/Talking Demons/Silly Humor/Crazy Weapons and Stolen Presents? Your head will blow out. Welcome to x- MASS.
I know is not the 24th December, but who cares, the mod its done and ready.
As promised x - MASS as been released. For who don't know what it is all about, here a list of what you will play:
Your car has broken down and you're lost in a fog at some ass-end town. Something's not right and you find
yourself fighting more than the typical Christmas Rush to get your sweetheart's gift - and yourself -
home for the holidays.
FEATURES
- A quest to take back your Christmas present from Demons.
- 3 new winter themed maps, including the Foggy Town, the Icy Lake and Castle Turtlenstein.
- 8 completely new weapons including the Wrench, Commander Keen Zapper, Remington shotgun, Thompson Gun, Voodoo Doll, Instant Zombie Present Grenade, the x-MASS Nuke Launcher and the Mace.
- Old School Gameplay.
- New water feature that allows the player to swim, drown, and toss bodies into the water - just for kicks!
- Compatible for all platforms: Windows XP/Vista, Mac OSX, Linux and Steam.
- New monsters.
- An original Soundtrack.
- New sounds fx.
- Obiviously, new textures and models.
- Silly humor.
x - MASS Trailer
The Soundtrack too is avaible for download, including 8 original Metal/Orchestral tracks and a CD Cover-art if you have ink to waste
And now the mod itself. Avaible for Windows XP/Vista, Mac OSX, Linux and Steam in ZIP format. Remember to read carefully the README file for see how to install the mod for each platform. Mac version has not been tested.
Merry Christmas and have fun, if not, I'm gonna steal your presents.