Hey there, friends!
We've decided to translate that august RU interview, so that everybody can understand it and get the info.
Enjoy!
---
Migiel Cortez: I have long wanted to tell in detail about one interesting thing. Everyone knows Warcraft 3. Among a million of its benefits I should mention its graphics which looks cool even know thanks to artists' gigantic work. However, the truth is cruel – the graphics ages as the game is 10 years old. But there's good news as well: fan-modelers have decided to transfer the legendary strategy to a more modern game engine meaning Starcraft 2. Though the second part of Starcraft is about 5 years old already, it presents excellent graphics and optimization, so it would be great to see classic Warcraft on its engine. Of course, SC2 has models from WC3 and even a vanilla map but despite new game engine, the models are the same.
The creators of Armies of Azeroth (and that's how the project is called) do not only transfer the game on a new engine, but also redesign decorations/models/icons etc. to a more up-to-date look.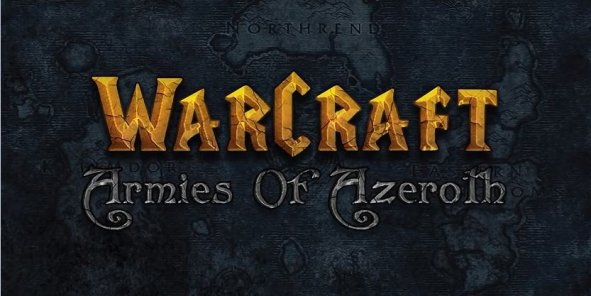 Recently, the developers announced that they are glad to communicate with different news resources out about their project. As a local analytic, I decided not to lose a chance. Project members agreed, answered the questions and even presented screenshots that were never shown before, exclusively for our group.
The following persons took part in my mini-interview:
3D Artists: Malice, darkowlum
Community manager, video editor and director: Jusper
Landscape: SSrunX

Project Leader: Escapist
---
The development team kindly answered to all 9 questions about their project.
Migiel Cortez: How the idea of creating the mod was born?
WCR Team: It all started from childish ideas on a level of model import from WoW to Warcraft 3. The idea then started gradually evaluating: new people were joining the project, quality standards were growing. What we are doing now, can hardly be called just experimenting with Starcraft 2 editor.
Migiel Cortez: How many people are involved into development?
WCR Team: A little more than 12. 10 compatriots and a few foreign developers. Foreigners work mostly on fickle enthusiasm rather than full time.
Migiel Cortez: You use only Starcraft engine/editor or still you modify it in any way for the needs of the project?
WCR Team: We use for the development of the mod itself – pure, undefiled SC 2 game engine.
Migiel Cortez: You have mentioned that you're not going to add new campaigns or races in your project. AoA is going to be solely a graphical improvement or still you plan some trifle, like new neutrals or decorations?
WCR Team: Of course, we can't even talk about new campaigns or races, we're not planning them. But such trifles as max unit selection, adding some little gimmicks (like co-op mode for campaign walkthrough) are planned.
Migiel Cortez: Did you encounter any difficulties during the development of the mod?
WCR Team: Not only encountered, but also regularly encounter. The main source of the problems is differences in the team. People work on pure enthusiasm, which is fickle. We do not receive any payment so the productivity isn't as good as desired. Hopefully, we will be able to rectify the situation in the coming months.
Difficulties appear somehow or other. All the challenges so far have fallen to our lot overcome with success! So it will be next!
Migiel Cortez: Are the Blizzard aware of your work? If yes, what do they think about it and do they react?
WCR Team: Blizzard are aware. Community manager SC 2 Arcade, Rafael "Traysent" Raudry, contacted us. He offered assistance and info support. Blizzard employees gave info support (by reposting our videos and news in their group) and advised on legal side of development.
They asked to remove their logo from trailer. Therefore, all that we do is within the law. They have enough of their cases. We don't think that we are in their spotlight. Nonetheless, they like what we do, so do the fans.
Migiel Cortez: Does your project has any goals for now? Well, something like "release the demo 2016".
WCR Team: The main purpose is as follows: finish the job, do not disappoint the society and inspire people that embodying dreams and your own ideas (especially using Starcraft 2 editor) is possible and, moreover, necessary.
Nowadays there's becoming less and less of racy representatives of the classic RTS genre, everything morphs into weird farms and farms+wars. Our project (so as SC 2) reminds people as previously was the case with the genre.
Surely, there's a number of tasks divided into subtasks. If we pick our aims of the highest level, it is to start alpha this year. We're also planning to show the Horde in the coming month.
Migiel Cortez: Do you do the job or are you looking for new faces in your team?
WCR Team: We mostly do the job. It's hard to work on constant enthusiasm as the work has a wave nature. However, we think that in nearest future the style will change from wave-like to qualitative and constant growth.
Latest video: Alliance Vs Horde
Migiel Cortez: You also mentioned that after you transfer Warcraft 3 on a new engine, you move on to Warcraft 1-2 remake. Looking ahead, what are you planning to do with them? Transfer to Starcraft 2 engine as well?
WCR Team: Remake of the first two parts is definitely cool. Allowing people to look at the epic events of Warcraft universe in a new shell, from a different point… But you should agree that it requires a much greater return than the ongoing project. Nobody will appreciate a simple graphical remake with the same missions and dialogues from 1995. As the saying goes, wait and see.
---
Thank you for your attention, friends! See you soon!
Best regards,
WCR Dev Team
#Warcraft_AA