While an update to Unsung was not planned initially, after hearing of player difficulties with the controls and also with the degree of difficulty, work is now going into an update for Unsung. The plan is to update the controls and add true strafe keys like in modern FPS games, along with cross hairs, and a number of other small improvements to things people have commented on. A number of small graphical improvements have been made also. There is not much new to see, but here are some new screenshots anyways.
The need to make the game play less difficult was highlighted rather well by a series of video walkthroughs done by WildWeasel486 on Youtube. You can see them here. The plan is to make the easier difficulties easier and the harder difficulties even harder for those who truly want an insane challenge.
Finally in addition to all of the above work has begun on a Dreamcast port. It will be nearly identical, but there are still a number of bugs that need to be ironed out.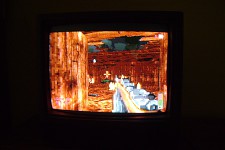 The tentative is to have this all rapped up and done before December, but who knows.