Today we would like to present to you many new assets, and various screenshots of them. We appreciate your comments on the following items. Various props, vehicles, and a capital ship are some of the featured assets today. Another update with more screenshots and media will be given tomorrow!
Marauder Class Capital Ship
This capital ship will be featured in the mod on various levels, and will be pilotable by players and AI. The player will pilot the ship from the bridge, as is done in the movies. This will mean that the player will have great freedom in the ship's actions, including movement, power allocation, weaponry, communications, etc. This system will be accomplished via flowgraph.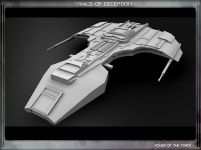 Trade Federation Lucrehulk-Class Coreship
The coreship will be featured in the mod as a main method of Confederate reinforcements. The coreship was capable of holding thousands of seperatist troops and officials, and their destruction was crucial to the Republic's success at Geonosis. The player will not be able to pilot these, but the player will need to destroy these to stop them from escaping with officials and reinforcements, as they did on Geonosis. The following is an image of our rendition (by our talented modeller shredzorz).
Various Props
We would also like to show you some various props which will be featured in the mod, modelled by our talented modellers and texturers TDUBDUB and Shadez. They are a control terminal, various crates, and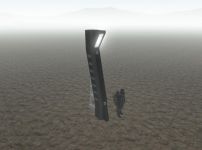 Teaser Image
Here is a quick teaser for you, of a battle droid being hewn to the ground with a lightsaber by the player. A video of lightsaber combat will arrive shortly in a future update.