ATTENTION FREELANCERS 2.27 HAS ARRIVED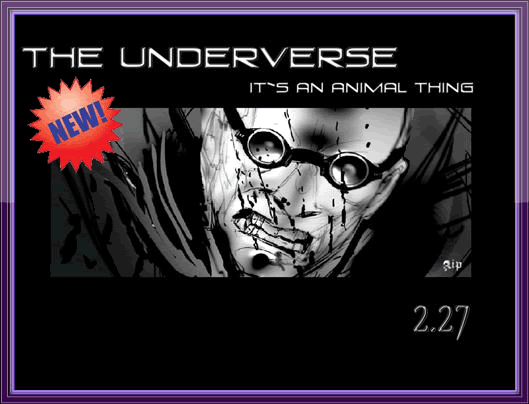 After a massive Christmas release for version 2.26, the UnderVerse modding team has done it again with version 2.27!
A total overhaul of the Capitol ship docking has been done. No more stuck ships and no restrictions on large ships docking on stations.
Stations have also been tweaked to undock a ship in seven seconds, any ship, from Light Fighters to gigantic Battleships.
Many pieces of scenery have been moved to accommodate this new docking arrangement.
We have also added NPC Battleship fleets in select locations. Whoa Momma!
Other things done:
The UnderVerse uses FLAC (Freelancer Anticheat) by Eagle
Soupman updated our loadscreens for version 2.27
Destructible bases are now beefed up more, 4x hull and 1.5x shield. Guns are the same
Command swivel for turrets 1-7 fixed. Cockpit view fixed
Longsword torpedoes reverted back to 2.25 (note they always only fired straight)
Dependable weapons swivel improved
Leviathan upgraded to match other battleships, can hold class 9 turrets on class 10 slots
Added a class 9 freighter shield for admin ships (NutBuster)
Ix converted to Holiday Inn so all traders can dock there
British Isles to Callisto sign relocated properly (T-Bag)
Bobby tweaked a menu item for room switch sounds
Shields added to Crossbow, Starviper, Moss, Tarsus, Galaxy, Scrounge, Packrat and SoulTrain at purchase
Shields to all other ships that did not have them at purchase (purchase price will have increased)
Shield sold with Phoenix corrected to be Light Fighter
Fixed Katanna cockpit view
Sportsmans Refuge parts aligned better
Clouds have been tweaked so they don't show up as mine-able (changes only visible to new ships)
Removed shield and hull ship shake (adoxa)
Fixed News spelling for RIP Homeworld, than vs then (HunterKiller)
Fusion has shrunk the Marauder a bit and built a new sur for it
Fathom created a new piece of music for Fathom's Keep
Roads to Glory weapon platforms beefed up, hopefully no more players forcing their way in to get stuck
All player shields are now lootable, which simply means you can now eject them into space to transfer between ships
The Music in Chat 2 has been changed by request
Fusion has made a special billboard for our fallen teammate Gallows. It is over the docking ring of the RIP Homeworld
At the request of Tiberius, who runs the Bombers Away event, Fusion has made numbered platforms for players to sit on at the start of the event and they are now in place in the Mosh Pit.
All vanilla ships now removed from npc use in the mod except the versions we modified for use
Added missing HPcockpit hardpoint to the Soul Train, Archangel, Dependable, all 7 Descent ships, Mantis, Mantis Screamer, Marauder, Pegasus, Ugly and Warthog to alleviate any problems. Cockpit views readjusted to be as close as possible to before.
By request of Fathom, Fathom's Keep has been changed from a Merchant Guild base to a Homeland Security base (merchant gear removed, sorry)
Our torpedoes and missiles now explode with unique colors and sounds. Thanks to Tiberius for choosing the sounds
Dealer names updated for old and new clans
Bobby has tweaked two of our three intro movies to show off newer ships
Bobby has given us a new Universe map (NAVmap background) and other items (about 50 files!)
New hitbox collision created for all non-vanilla stations and parts (129 new component surs). Now all parts of Aldebarens bases are solid where the texture is and fly-through where there is open space (except the buggered giant golf ball one)
Fusion has now updated the Group W Bench and one is in place at each planet in Feudal Wars. Still a little solid in places, but people will learn not to run into them at Beat the Bomb :)
All rearview cameras checked and adjusted (112 or so ships)
Kraken spelling corrected in News items
All random mission stations and weapon platform increased in hitpoints
Fighters now undock from stations at full speed (rather than half speed) -adoxa (keep in mind the door animations eat time)
Capitol ships now undock (the animation sequence) at 90 speed rather than default 15. -fox. Between these two, all ships now undock from stations in the same time period.
All current docking, pilot, bartender and bribes npc voices have been updated with new wav files by Soupman (as well as some things for future additions). About 175 new and updated
Fusion has updated the sur on the Command (thanks to additional help from Skotty at the Starport)
Fusion has updated the sur on the Arcudia
Fusion has updated the sur on the Marauder
Destructible bases no longer drop shields
Sportsman's Refuge base parts aligned better
'Chat System 1' name shortened to 'Chat 1' (same with Chat 2)
'NPC Challenge East' name shortened to 'Challenge East' (same with West)
Harbinger Torpedo Launcher added to Flatulence Research in Ponderosa
NPC Battleships and NPC Cruisers now show up on your kill list as such
Loot drops changed up quite a bit, check them. This should nearly eliminate 'going over cargo limit'
Bobby has updated some of the navmap files, take a look around
News at Madinah fixed
Infocard at Blind Dog's fixed
Barbarian NPCs removed from in front of Planet Ix
A few more infocard items fixed
New load EULA (ESBR) modified. Thanks go to Oddjob
Rules updated, thanks go to Oddjob and player input.
Scenery moved downwards at Mega in Maelstrom
Added new hardpoints to every ship so items now jettison upwards and clear of the ship
Bartender voice updated (Soupman)
Infocard fixed on the Stresstest (Terminator)
Turrets on Stations, Warp Stations and Docking Rings beefed up a bit.
The Command has been reverted back to the version from 2.25 and HPs adjusted accordingly