Lots of Screenshots and Renders!
Coming right at you we're back on ModDB with another bigger update. Admittedly it's been a while but since our last ModDB update we've made quite some progress and are eager to share it with you!
Coming up are some screenshots from our well-known maps Roswell 47 and Anubis which have undergone some major polishing. Then we also have a few nice renders of some of our models in stock for you. And at end of this news article we're also going to introduce yet another of our still unrevealed maps.
Let's start off with Roswell 47, shall we? This was the first of which a layout test map was to be released to the public to playtest. Maybe you had the opportunity to join one of our 'developers vs. community' matches. If so try to find out which parts of the map the follow two image resemble:
Now as you might know we've released another layout test map not long after Roswell 47. That map happens to be Anubis. We've already shown you a few early screenshots of this desert-themed map but since then a lot has changed: Close to all Textures were improved, models added, lighting changed, and some additions were made to the layout. These pictures should give you a better idea of what we're talking about:
The first image was shot from a similar point-of-view as one of the Anubis-Sneak-Peak pictures we've added exclusively to ModDB a while ago. In the second image you can see one of the rooms inside of the pyramid and the third one was taken inside a Ha'tak orbiting the planet.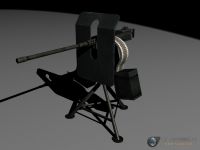 As promised we also have some model renders in stock for you. A lot of models that are currently being made are for the Stargate Center, like all sorts of pipes, cables, electronics and so forth as well as other more let's say gameplay-relevant models like for example the UAV or as shown in this image the stationary machine which among other places you will encounter in the stargate center gate room. Also our replicator model has been updated model- and texture-wise: It is as low-poly as can be (fewer than 50 triangles) while still looking good allowing you to face entire hordes of these critters and being able to worry about them and not your fps. ;-)
Head over to our model gallery to check out even more renders!
For the last batch of screenshots - as promised - we would like to reveal to you another new map: It is called O'Hara, and as you can see there are distinct similarities to Kheb (Oma Desala's retreat).
As you can see this map takes place during the night and it is centered around a large Chinese-looking temple, as to be expected with the Kheb influence. The main difference to Kheb and among other things made reason we decided to name it O'Hara is that unlike Kheb the temple has a stargate nearby allowing its gameplay to make good use of it.
Media-wise this would conclude this news article but there's more we have to say. First we would like to get word out that we are looking for new talent to join our awesome team and help get this mod out! Most notable we are currently seeking mappers, texture artists and modelers, but here's a full list of currently open positions.
Then as alway we would also very much like to welcome you in our community forums and steam community. Make use of the opportunity to give us feedback or chat with us! Be part of a great community and help us improve the mod with your ideas.
And last here's a little hint that might be interesting for you: We will start accepting beta-tester applications in the very near future so get yourself ready to apply as a tester for our closed beta! Improve your chances by already making us aware of yourself on our forums. ;-)
Now, we hope that you've enjoyed this update and will stick around for more to come!
In case you still don't have enough and want to get more out of this update be sure to visit our website or check out the corresponding news posting directly and read it through to the end.
See you again soon!