The Last Days Of The Third Age Of Middle Earth Mod, for Mount&Blade; 1.011 (now also for Warband!)
Over 2,000,000 downloads on our various mirrors so far!
Read the Manual to find out what to do!
TLD 3.22 is now Open Source! It's not a simple "grab and use for whatever", so read up on what it means exactly: Mbx.streetofeyes.com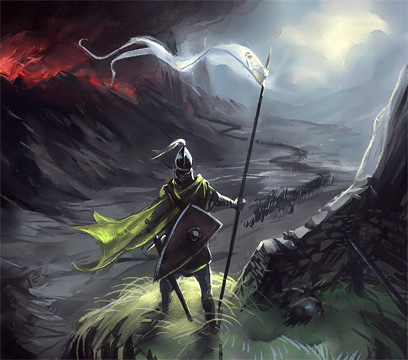 PLEASE DON'T USE COMMENTS HERE FOR BUGREPORTS OR TECH SUPPORT QUESTIONS! TLD DEVS DON'T HAVE TIME TO CHECK THEM ALL AND ANSWER YOU. GO TO

OUR FORUMS, PLEASE!
Note
: Registration is closed right now, but if you want an account,
send a message to Merlkir
with your email address and he'll register you (if he has time and if he checks on here, which is not very often these days). Not optimal, we know, but life is hard.
Our main forum is on MBX: Mbx.streetofeyes.com
Swyter's Warband port Trello board, with issues, solutions and completion tracking: Trello.com
DOWNLOAD LINKS (latest version)
Subscribe to the Steam Workshop version if you use Warband on Steam. It downloads the mod for you and keeps it always up to date: Steamcommunity.com
Remember to wait until the download is complete in the Steam client before trying to launch the mod!
If you don't have Warband on Steam or you want get the latest Mount&Blade 1.011 version keep reading:
Hey there! We've made a new page to streamline the manual process of finding, downloading and installing the latest mod version, we know it was messy before, so this is our small gift to you. A succinctly small presentation page that is always up-to-date with the key facts, with just the links that you need: Click here!
Seriously, this up here is all you need, the rest is an old description we're leaving here.
THE MANUAL (includes handy Install Guide and Tips)
READ IT! WE'LL KNOW IF YOU DIDN'T!
In English:
PDF: Synnaskole.sweb.cz
HTML: Synnaskole.sweb.cz
In French / En français:
Présentation du mod: Mundusbellicus.fr
Téléchargement & Installation: Mundusbellicus.fr
OUTDATED!
In Spanish / En español:
Pospabr.sweb.cz
In Finnish / In Suomi:
Goldenlions.arkku.net
And for the very end, it's worth repeating again TLD is primarily based on Tolkien's books, not on Peter Jackson's movies. So no need to ask about plate armour, uruk-hai crossbows, odd elven blades and other movie inventions.
We will be deleting/ignoring comments/questions that are flaming, rude or about LOTR movies stuff, Warband, bugreports and tech support. These have all been addressed in the manual and forums a million times before.