The new update of The East is Red mod includes two renders of new models:
The first is a fast attack vehicle - GAZ-2430 Tiger. It is fast, lightly armored and equipped with PKP 'Pecheneg' 7.62 mm machinegun. Also it is able to carry up 4 troops.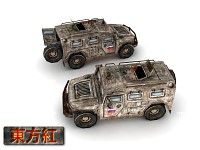 One another is a building for Chinese faction - just a usual Barracks for producing an infantry units.