Progress has been sort of slow as I am trying to put together a team, but today I have a surprise to tide you over. I contracted a rather nasty cold which has been hampering progress greatly to say the least. In spite of that, I decided create a wallpaper to tide people over until bigger things arive. The main goal here was to see the tone of the mod, which I felt may have been a bit unclear. It's meant to convey the dark sense of supernatural mystery that is central to the mod mod. Yep, that's latin in the background. Can we expect a little biblical evil? We'll see. ;)
Anyway, here is the wallpaper. Unfortunately there is only one resolution (1680x1050) at the moment, but bear with me.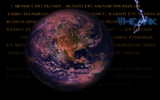 I should be better (hopefully soon) and you can expect more updates then. Until then, thanks for all the support, folks! I've been really pleasantly surprised with the response so far.