SynergiesMOD has become an obsession, to put it bluntly.
The mod started out as a single thread on RunicGames forum intending to become a mob swarm mod that would overwhelm and frusterate Salan's wife, Celindari. The very first Updates of the mod started on October 12th 2012 to mixed reviews.
The founding formula the mod was built on:
Bring the community together by removing the need to go into NewGame modes.
Add a depth to the game that was missing (Elite monsters, Hero monsters, Rare Dragons, Random Bosses in the story line)
Make loot finding a reward that adds to the games experience but remains balanced for progression
Change the balance of the game in all aspects, bonus's for 2 handed and dual wielding, hindrances for the most survivable playstyles, stronger weapons, stronger enemies!
Attempt to kill the player, often. With reasonably dodge-able mechanics that can be overcome through thought or reaction.
Salan, the only modder working on the mod at this point, released daily updates improving monsters health, damage outputs and started tweaking the spawn formula for how many monsters you would run into while playing.
Small fast updates became the signature of SynergiesMOD existence, and likely a byproduct of having to build the game in order to so much as test if it even worked or not. Every single update was done by editing a text file. Figuring out what lead to what, how this interacted with that was purely done by building the mod, there was no editor, or test process. A lot of modding time was simply making things work.
Luckily for SynergiesMOD salan was relentless in his updates. He befriended MFS88 a prominent 3d modeller, was offered a website server by Patches who wanted to see SynergiesMOD become successful, and FluffyDough offered free website programming as he too wanted the mod to succeed.
And so SynergiesMOD team began, a Modder, a Modeler, a techie and a HTML programmer.
Over the next few months Salan finished the mod.
Done.
((( Level 120, 150, 175, 200 raid dungeons, Tier1 armor, Tier2 armor, re-written spawnclasses (900 text files by hand 2 separate times) )))
---
and then... a month before the editor was released he rewrote the end game of the mod from scratch.
Tightening up the balance of the end game from large powercreeping jumps to a minor raise in overall effectiveness.
Making the end game raids static in level rather then multiple different levels increasing in difficulty.
Stronger enemies through stats, not levels. This allows for more control on how hard a monster will hit without instantly killing a player.
Removal of Monster criticals throughout the game unless a specialized monster
Increase in base damage of all monsters throughout the game, creating less deaths due to uncontrollable spikes and more from making a visually noticeable mistake in game play.
Salan consolidated all the end game into a dungeon hub that was called Darknessfalls.(named after my most favorite dungeon in MMO history... thank you DAOC for so many wonderful 'oh crap' moments!) From here the player could follow a linear path from boss to boss, and was required to defeat a boss before gaining access to the next one in the chain!
Salan then created a city to base the end game content out of: the first TableMountain was based on Estherian enclave and the first alternative leveling dungeon was created shortly there after: Derinkuyu LEVELING.
At this time the Necromancer was finalized as a complete class, the first full class to be finished for Torchlight 2!


All of this, on his own, with the help of graphical artists only and without an editor.
---
Then GUTS (TL2 Editor) was released!
At this point everything changed, SteamWorkShop came online. Mods started to be made everywhere . And Salan got to revisit some of his content and rewrite it with an actual editor!
and so, Salan rewrote the Alternative leveling design, AND end game, again!
---
This time the end game was named Derinkuyu Raid, 105 and would become what we have today, a static prison, based on MMO RAID GAMEPLAY. It was labeled as Tier0 and included 7 legendary armor sets (70 legendary armor pieces) and 20+ NEW legendary weapons!. 18 bloodthirsty angry bosses accessible through a new highly edited layout structure.
(( Moddb.com ))
TableMountain was remade, removed from its Estherian Enclave hole and put atop a real mountain!

And the start of the Warlock and Paladin begun!




PCGamer claiming:
SynergiesMOD number 1 free download of the summer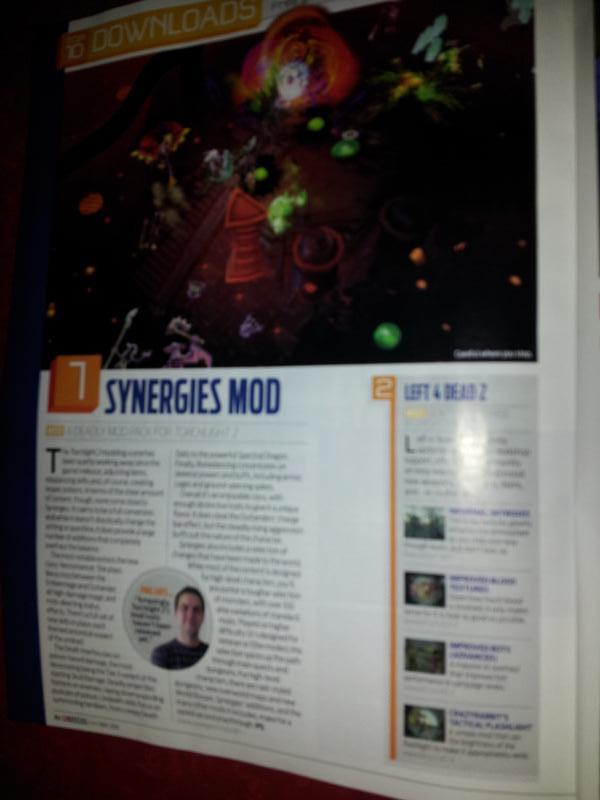 And then tragedy.... for 4 months Salan stopped modding. He dissapeared. He vanished from the forums, from his computer even. For his Father had passed away. Salan throughout all of this modding was still a father of 4 and his family needed him more then he needed the mod.
---
At the tail end of summer Salan returned to his website. He returned to the community he had built. He returned to modding.
But things had changed... Salan realized as much as he would lead the mod, drive its direction, he would do it as a team. And so Salan brought on Ghostblade to finish the paladin, and create more unique classes for the mod. He brought on Strukto to make more lower leveled legendaries for the general mod playthrough. He befriended Greatname and started adding customized sounds to the mod, and found Hermundure to help with the artistry of icons!
Salan then created the Or'ak pass, and Or'ak basin. Two huge zones filled with lore loving Trolls. trolls trolls and more trolls! Troll midget fighters to Troll ancients. This place was labeled as Tier 0.5 and housed the specific 4 sets of legendary armor that was more element specialized then the previous Tier 0 sets.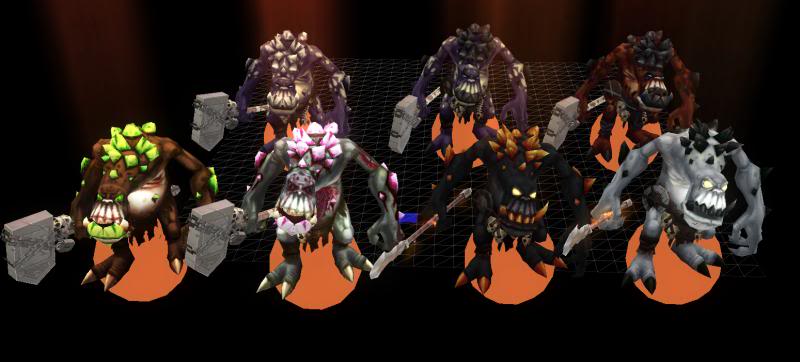 Salan's second major project was a complete overhaul of alternative leveling dungeon "Derinkuyu LEVELING", renaming it to REALMS OF DISCORD. A much higher functioning alternative leveling dungeon that has a higher degree of alteration done onto it.
Salan also started to remake Darknessfalls, Raid 105, Tier1.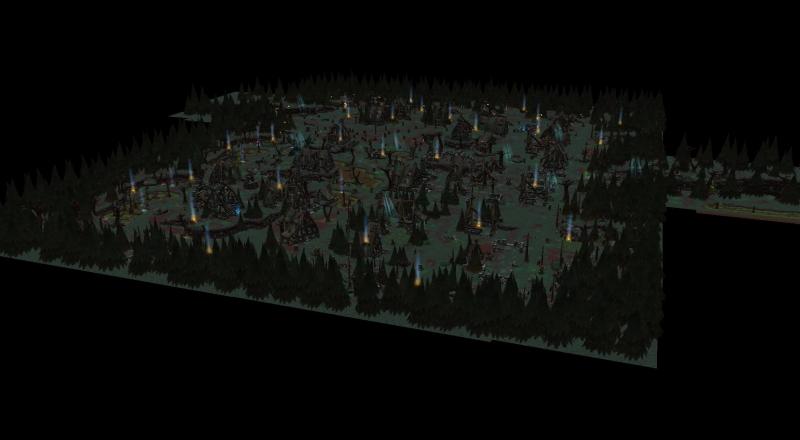 This destroyed city in the dank swamps is home to some of the best ARPG boss fights you might ever encounter. This zone is currently a work in progress and houses 4 boss fights including an insane RESCUE OF THE GOLDEN DRAGON event as well as the FIGHT OF THE TWO DRAGONS and will become the location of the future within the mod, and the past... as time will tell.
Since this time salan has finalized the Warlock class (( Moddb.com )) and the Paladin has been heavily worked on and improved by Ghostblade while Strukto has added 23 lower level legendaries to the game play.
And so for those who did not know the history of SynergiesMOD and how it came to be, the amount of time and effort this mod has taken salan to make over 8 months, as well as the excellence of its content I can only say:

Check it out, and if it is worth your 2 seconds of time, follow this link and vote for it in the MOD OF THE YEAR AWARDS.