G'day Moddb community! In an effort to remove my poor excuse for a demo from the mod's front page, I have done another!
Black Hole Improvements
While the last movie was just showing off the Black Hole and the Dominion ships, this demonstration includes snippets of more things that we are working on, and you may notice that the Black Hole now has gravity! Please excuse the small resolution, it's just meant to be a quick demo!
I am considering adding a light tug to the entire map, so that stations and everything that isn't moving are very very slowly being pulled into the event horizon, but I don't know if that would make it a too demanding map or not, because if you hadn't defeated your enemy by a set time, you're all going to be defeated! What do we think?
You can also hear in the background the first little bit of the new sounds that we are implementing, we've made some impressive head way with this on a ship by ship bases but are still far from calling it a competed feature! So please ignore it :D
That's a Keeper!
As people have been upset that we have not made the Borg Collective or the Dominion Alliance any more than Invasion enemies we thought that we might be able to make them a more visible presence in other ways.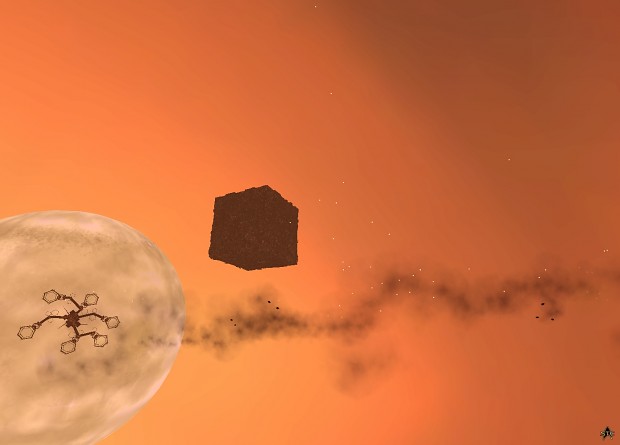 Stargazer has been creating new tracts of scripting for many things, the explosion damage script has been overhauled (this should remedy the de-synchronisation issues reported), there was the black hole script as you saw above and among other things he has done what he calls his "keeper" script.
This allows us to define a sphere on a map, at any location, sit a ship or seventy in that sphere and define a retaliation range for them. You can't shoot first because the keepers are map objects, but your ships will be happy to defend themselves if they find they've become a target!
Keepers will generally defend a point of interest, or use, on a map like a luscious resource pocket!
Other Progress
Progress has been made in many other areas as well, enemies now warp into an Invasion map, Herby has taken a shiny new feature that we were going to abandon (we're not going to anymore) and calculated its impact on balancing for all ships and weapons, there's more than I can honestly remember!
We are going to be more transparent about the features we're working on for release Beta as a compromise for not telling anyone why we've flatly refused to include any more playable races or old school ships like the Miranda and Ambassador (which we do love too!). Rest assured that we will reveal that nugget on the 1st news post after we have let loose release Beta!
Until next time!
Continuum Corp.