Progress isn't flying along at blazing speeds, but it is steady.
New Weapons
In weapon news, I have only one new model to disclose, but I'm going to talk about how the player will control sword abilities as well.
First up we have the Mayakashi Katana. This 'sword of deception' is not half bad as a cutting weapon, but its true power is in its ability to manipulate living beings. The sword can be used to cut down your enemies, but the smart warrior uses it to strike fear in he hearts of those who challenge him, or to pacify them by gently 'helping' them forget they saw anyone. You can read more about this weapon by clicking on a screenshot.
Weapon Abilities
Some of the more powerful weapons in Warring States have the ability to project an effect beyond the reach of the blade. As the Mayakashi can cast its influence onto anyone within sight, other weapons can release a torrent of explosive energy. Each weapon can have a maximum of 5 abilities. To trigger them, the player simply power attacks in a given direction, each direction triggering a different ability. The power attack is still performed, but if the player has enough 'magika' or spirit energy, an ability will be unleashed.
There is no interface from which to learn what power attack triggers what ability. If one wishes to master a sword, he or she must dedicate themselves to it, and learn its powers.
Some weapons are inert in the hands of the wrong race. For example, great demon swords only work for demons or half demons, and even then they can be picky.
Abilities are not limited to swords. Bows and arrows also have their own properties, such as the Spiritual Long Bow which can unleash pure spiritual energy on contact.
Weapons with abilities cannot be forged, they can only be discovered or created through a more complex process.
Weapons will still have the ability to receive enchantments. Abilities will not interfere with them.
New Armor and Clothes
The Demon Hunter tribes of Miora may be only human, but they have learned to craft some of the greatest anti-demon weapons and armor in the realm. I present to you the work-in-progress Demon Hunter Scout armor. You can read more about it by clicking on the image.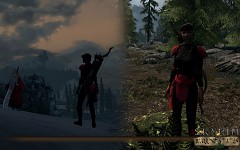 You may also notice that this screenshot features some new hair. I'm a fast learner, but this is my first attempt at hair meshes. The one pictured here still needs more volume on the top, and the hair tie model is missing at the moment.Additionally, we now have the first outfit for male humans - a generic black kimono. This base mesh will be used to generate various other kimonos to help populate the world with some variety. For those of you who are familiar with kimonos, yes, these are actually pants (Not a dress), but they have been rigged in such a way that they appear as one. Skyrim offers no bones for animating complex clothing, so we must adapt and overcome however we can.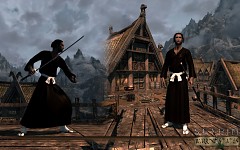 These are all works in progress and are subject to radical change in the near future.
Sound Design
Our composers are hard at work crafting our first few songs, but as of now I have nothing for your ears. Expect something on that front soon. But while we're on the subject, let me discuss a few more points:
We are at the stage where we can start bringing in voice actors / actresses. Please note the following stipulations:
Applicants must have a quality microphone and recording environment - Skyrim adds its own echo and reverb, so voice samples must be void of them as much as possible.
If you chose to apply now, understand that things will change, and you may be asked to re-do lines. We will put out a casting call for finalized needs which will allow for a once-through recording at a later date.
Please provide example work. YouTube videos and sound-cloud clips are preferred.
If we do not select you, it doesn't necessarily indicate that you are not talented - we can only pick those who fit a roll.
Our composers would love to include real human vocals and or instrumentation. If you sing or play an instrument (well) that might be found in a traditional orchestra , feel free to contact us.
Final Notes
Currently I am the only team member producing in-game content (2D, 3D, sound effects, scripts and so on). We could always use a few more 3D artists who know how to work with the NIF format.
While not essential, we could very much use a dedicated scripter to write papyrus scripts for weapons and events. As with any position, a legal copy of Skyrim and basic knowledge of Creation Kit is a must. If you are an experienced programmer who can learn new languages quickly, we'll work with you as you learn.
If you happen to know someone who knows someone higher up in the ranks of the Skyrim Nexis, please contact me. I've run into the minor setback of somehow getting myself banned there, and this makes it much more difficult for me to learn more about Skyrim modding. I have utilized their appeal system, but have yet to see any change.
Thanks to everyone who has shown their support. There are plans in the works to provide playable content long before the mod is 'finished,' in the form of a weapons and armor pack, or possibly a few custom followers to enjoy in Skyrim.