Hello all! Been a while, yes? Hope you guys are doing well. Though we have been quiet for some time now, progress has not stopped. Here are some words of reassurance.
As promised, I will use this opportunity to give everyone a summary of the plot in current standing. Radiant Flux is a simulation program built by the Followers of the Apocalypse (the Mojave Division we meet in New Vegas). The algorithm itself was designed by a man named Vincent Einar, an elderly man who came to the Followers with a group of people seeking "a place to call home". Due to a series of unfortunate events in his past, Dr. Einar made it his mission in his later years to travel the Mojave in search of the perfect settlement to call home and be at ease for once in his life. Though he never found it, he helped rescue distressed wastelanders of all backgrounds out of whatever state of oppression they were in. These people followed Einar because they, too, sought ultimate refuge. He explains his motives to some of the Followers, and they all end up working to build a new world of their own to escape to.
Without spoiling too much, the player and a "friend" will enter the simulation program together in order to fix something that has gone wrong. Because nothing can ever just "work" when it comes to these things, am I right?
In the program, the land of Avalon is vast and diverse. While there are many factions, the two main powerhouses to be aware of are the cities of Bahram and Aceri. Both cities are at war with each other over a sacred place called the "Sanctuary". This is a place of taboo, and Bahram wants control of it, to harness the power within it.
When the Courier arrives in the simulation program, you will (eventually) meet an angelic figure known as the Oracle. She says she knows of the world you come from, and if you wish to get back to it you must travel to this Sanctuary. The place has the power to send you home a million times over and more. In a turn of events, she forces you to travel with a company of two other individuals, who don't necessarily like each other or you, to ensure that you make it there alive. Who these two individuals are, though....well you'll find out in due time.
Again, that is an extremely brief summary. For a fantasy mod, the narrative is pretty well put together. All I can say for now is wait for more details...you will not be disappointed.
Early Progress of Venora Island
I wanted to save this worldspace for a later reveal when more has been done, and I will still do that. But for now I will show some of the first screenshots I took of the terrain three weeks ago. This means these screens do NOT have land textures or static objects. Keep an eye out later for screens of our recent works on the worldspace. These screens should give you a good sense of how the island will be designed, though....so, behold, hours and hours of heightmap trial-and-error and hand sculpting: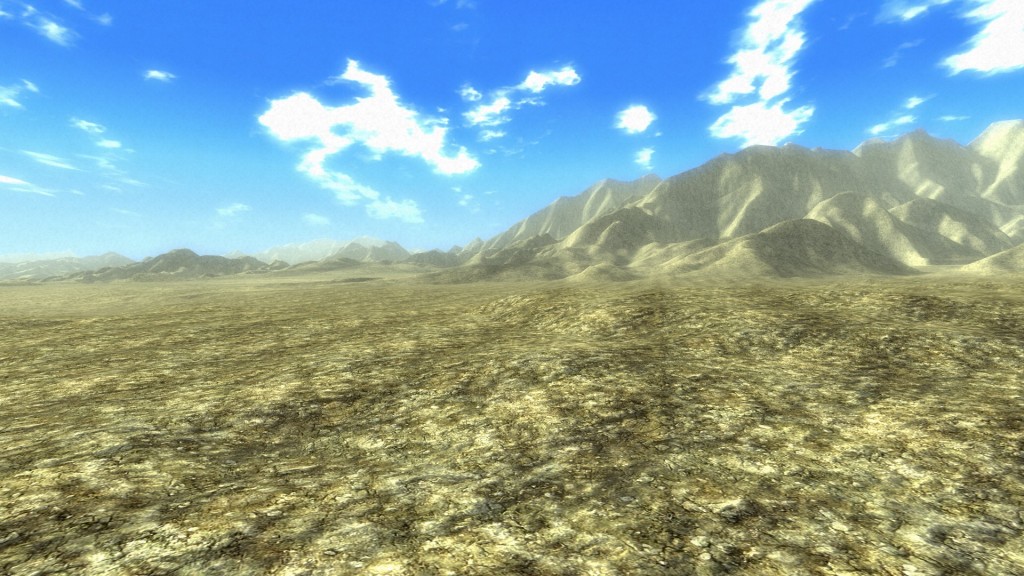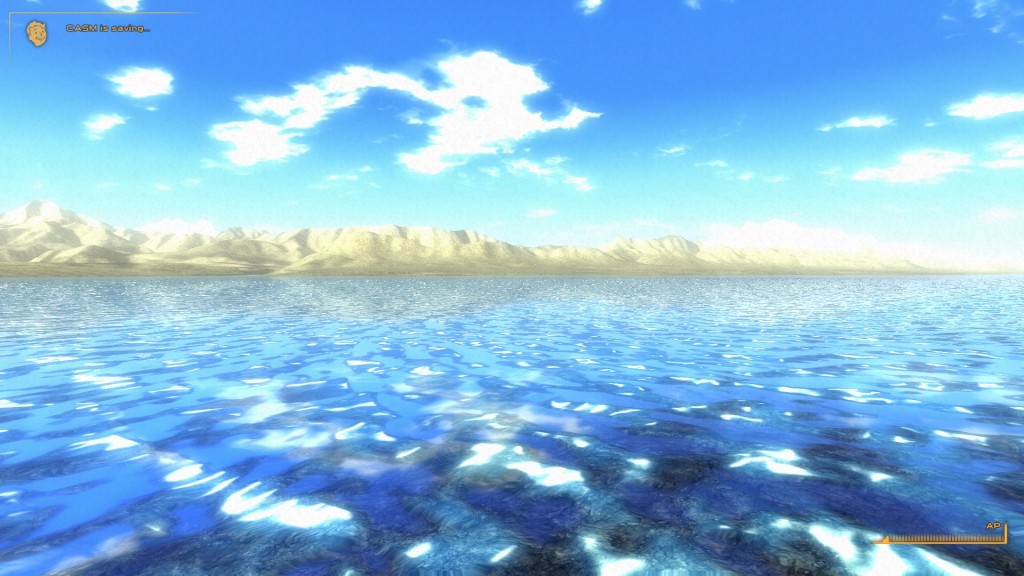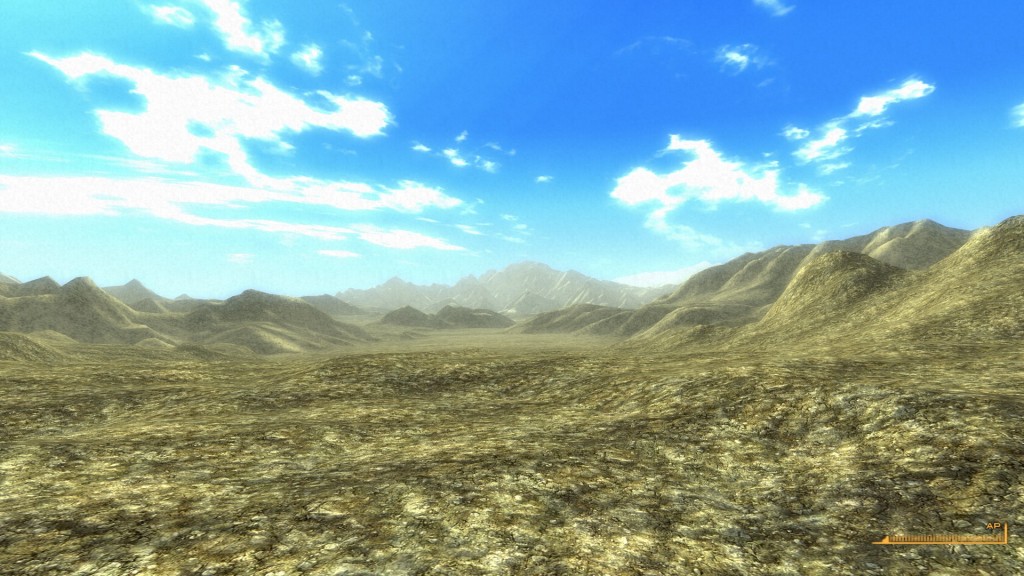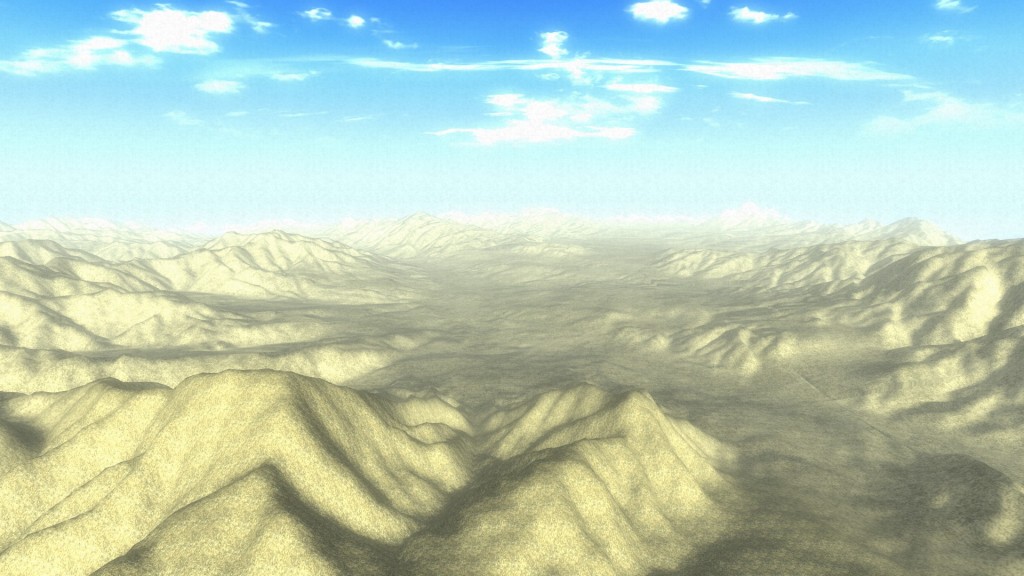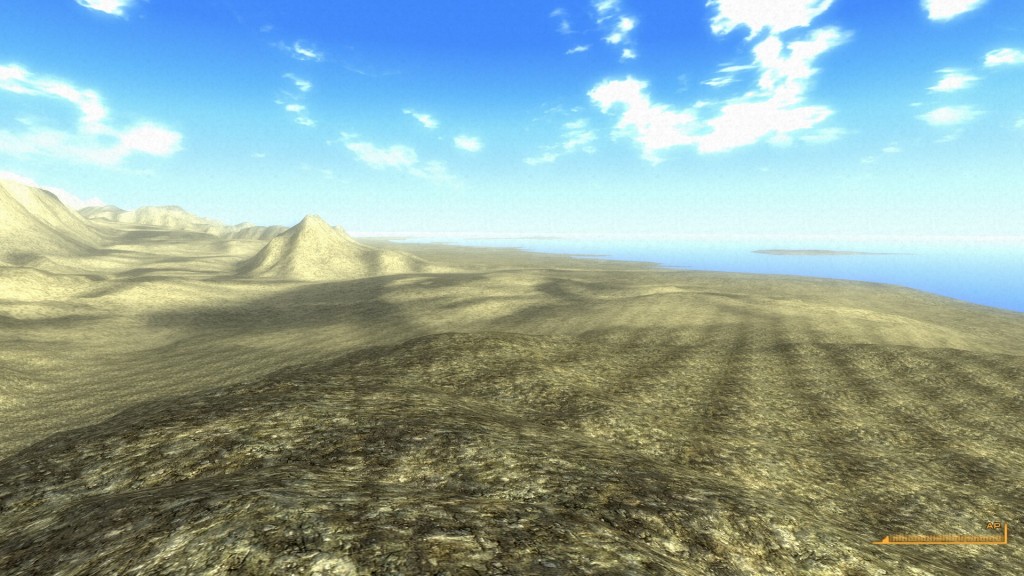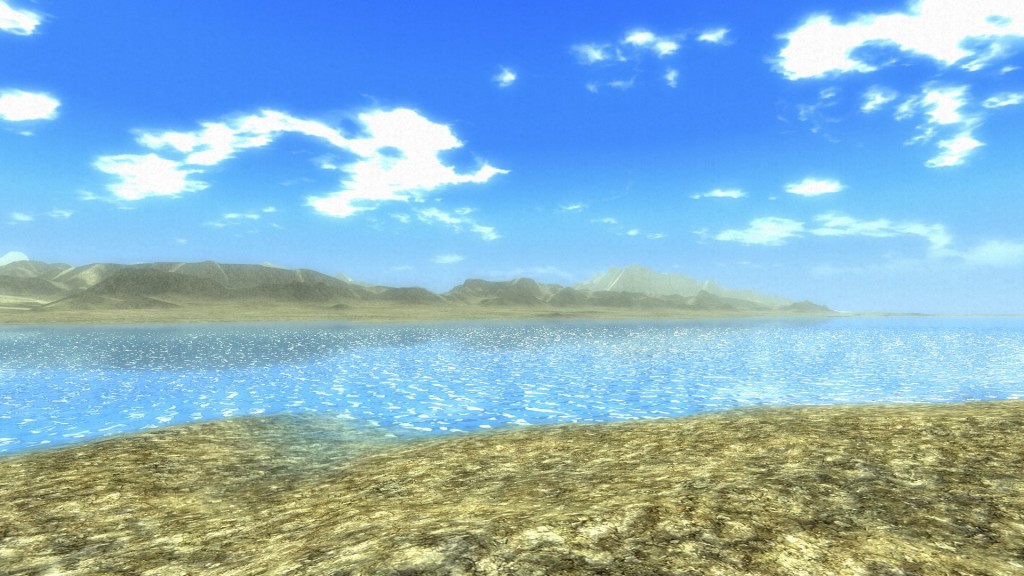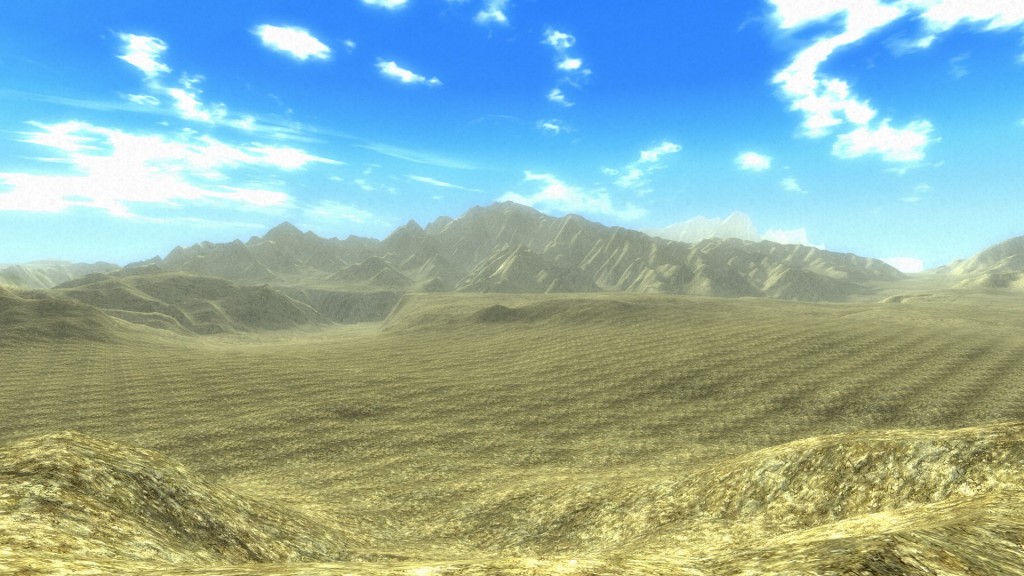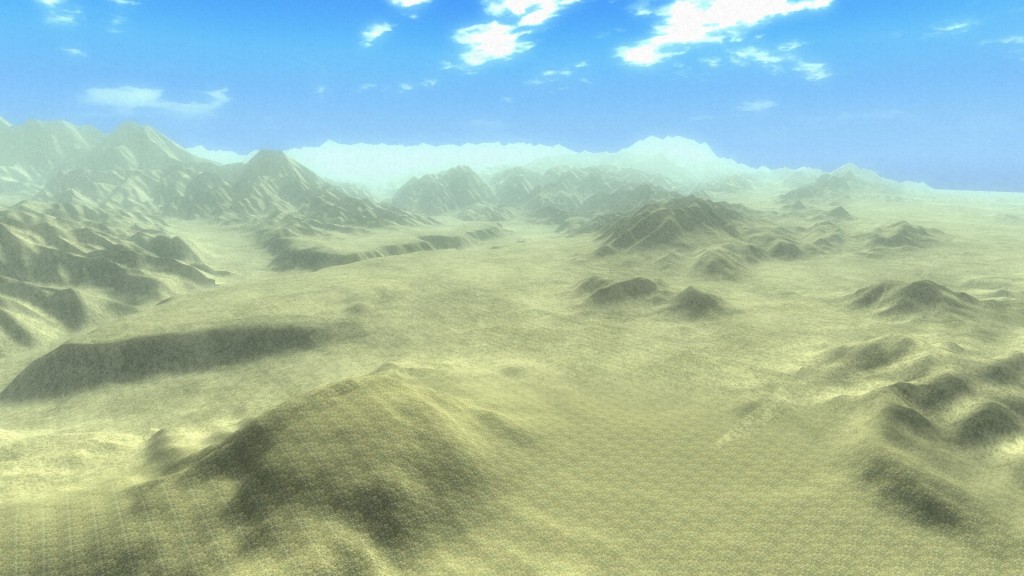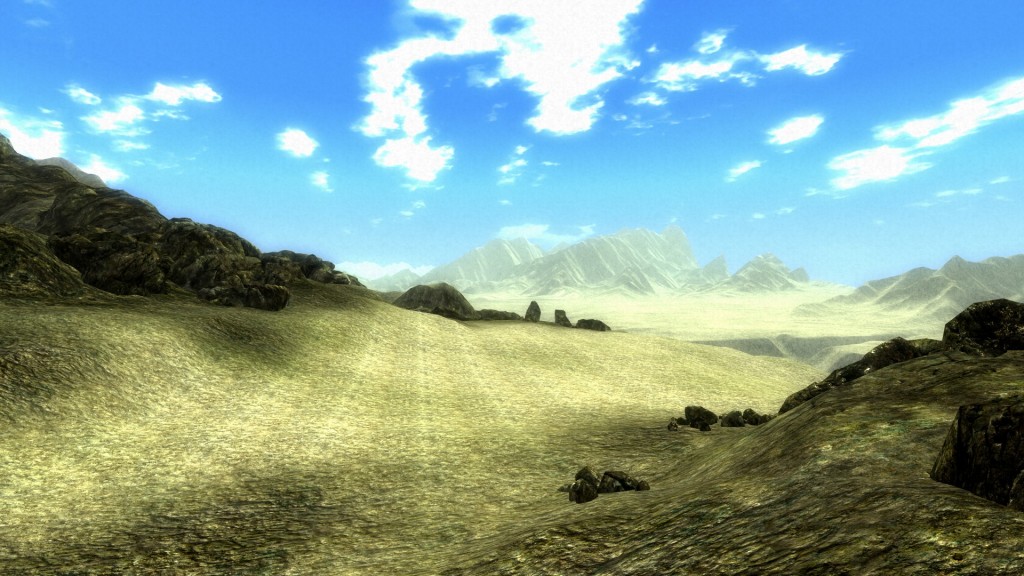 Sanctum Interiors
For plot reasons, the Courier will have to go through three "sanctums" hidden in Avalon. Because if you're going to do a fantasy mod, you just must have a dungeon of some sort. Here are some work of the Sanctum of Seasons, also located somewhere in Venora Island: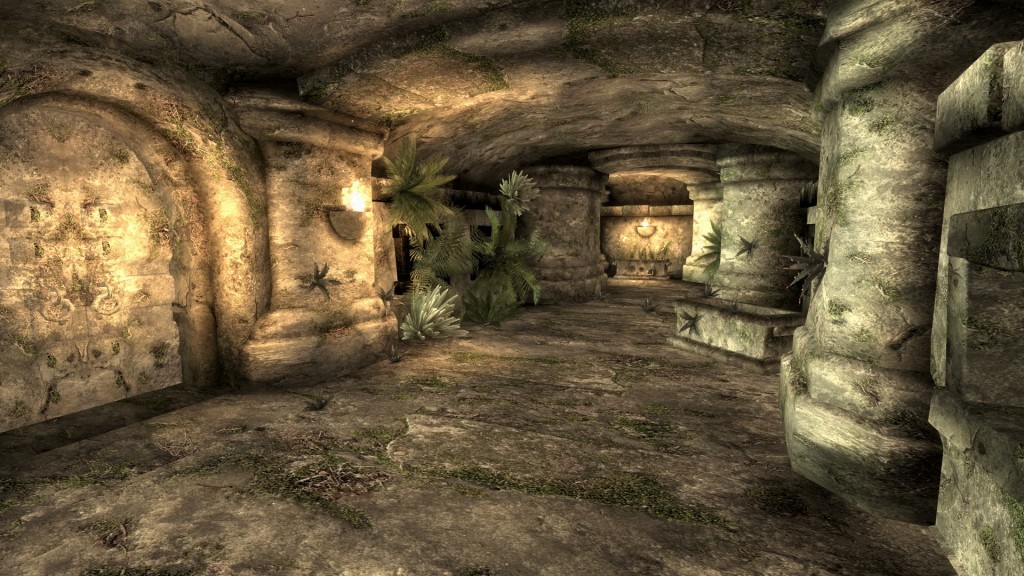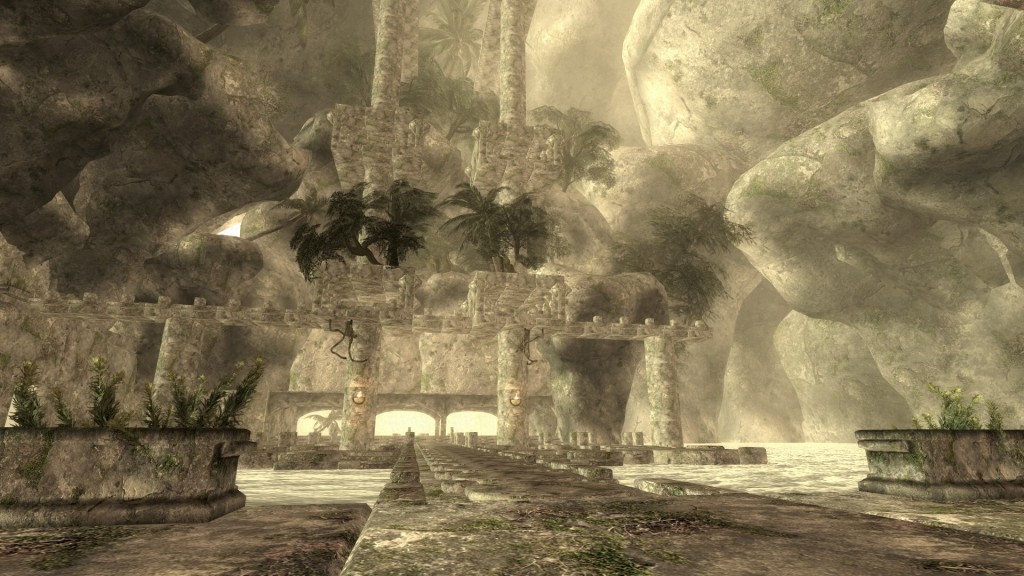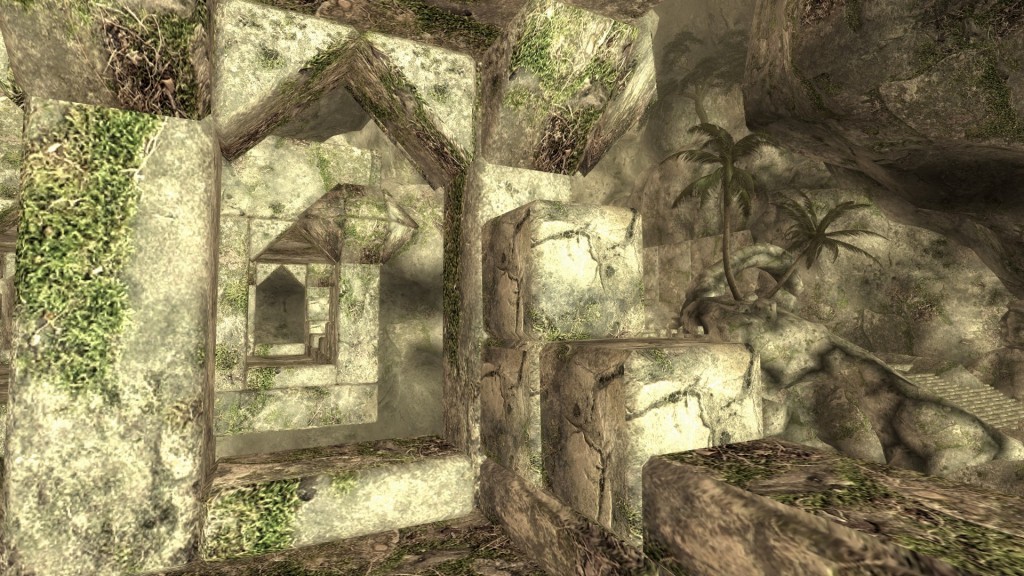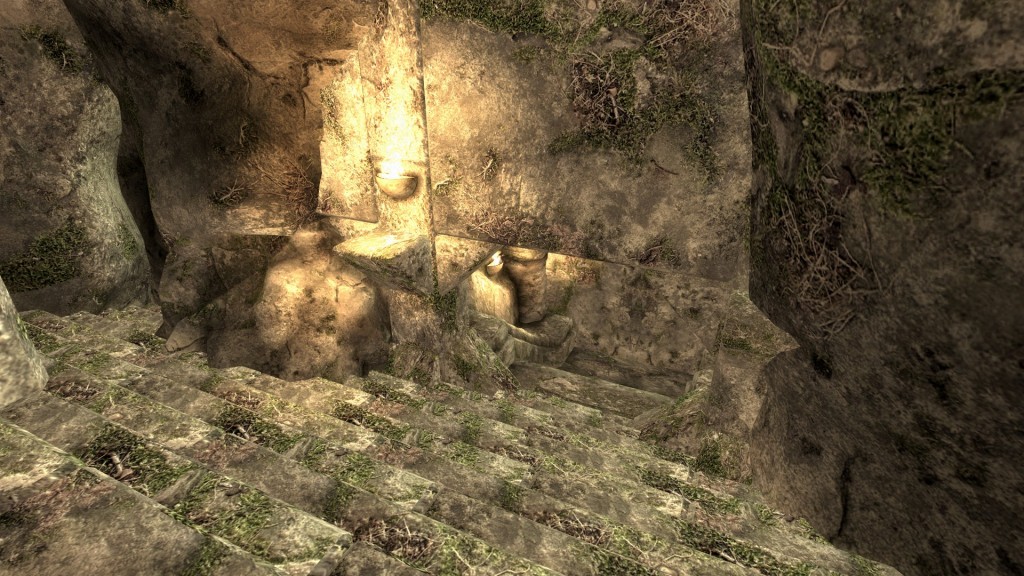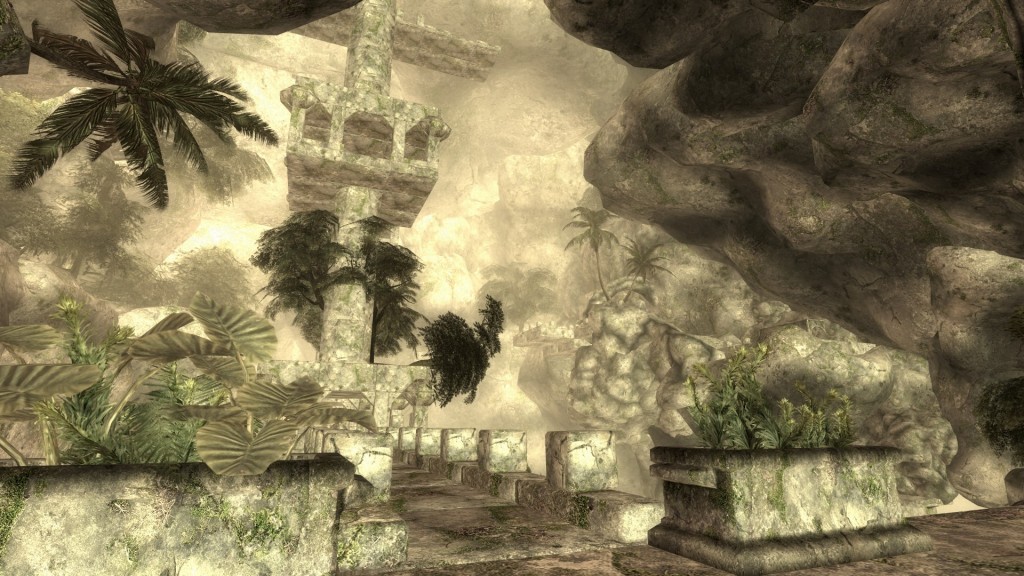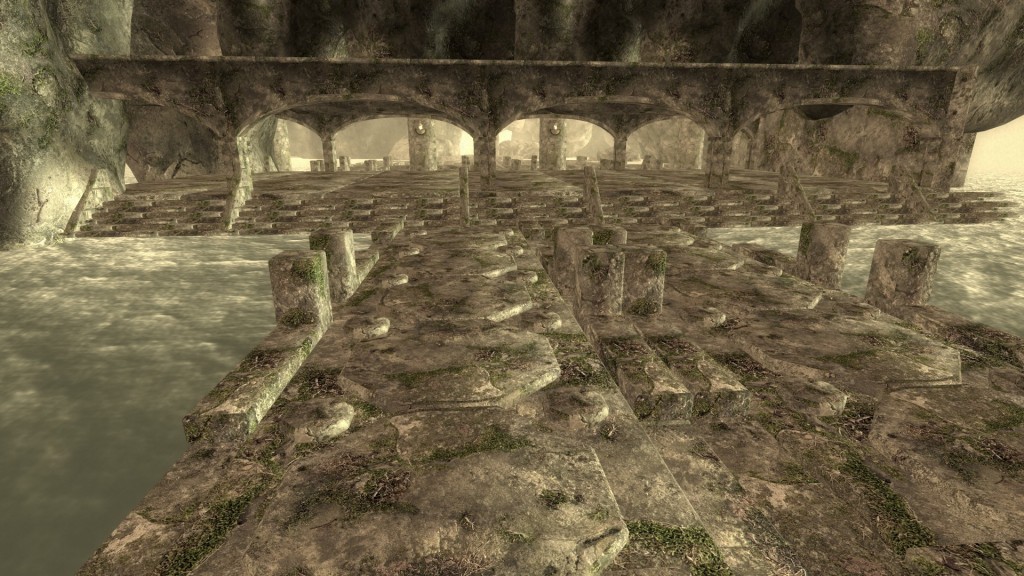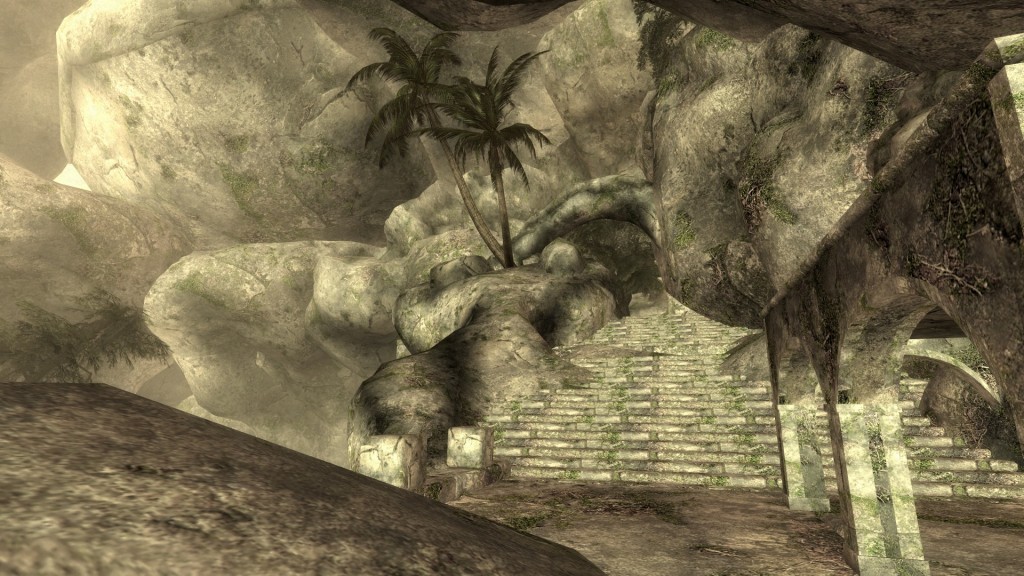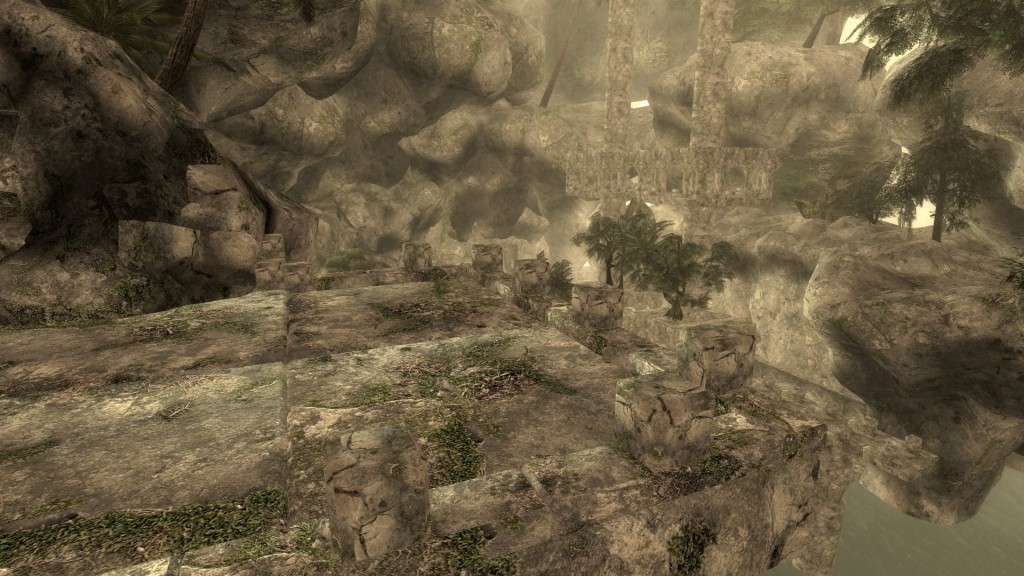 Enemy: Ruin
Here's the design for the primary humanoid enemy in Radiant Flux. They are called Ruin (plural), and they track down and terrorize the Courier all throughout the quest mod. The people of Avalon know them to be guardian fiends, and they often keep to themselves. Who they are, what purpose they serve, and why they want the Courier, I cannot say right now. But, enjoy these works by the talented Eprdox! He invested a great deal of time into making sure these "creatures" seemed menacing yet otherworldly. And these are just the human versions...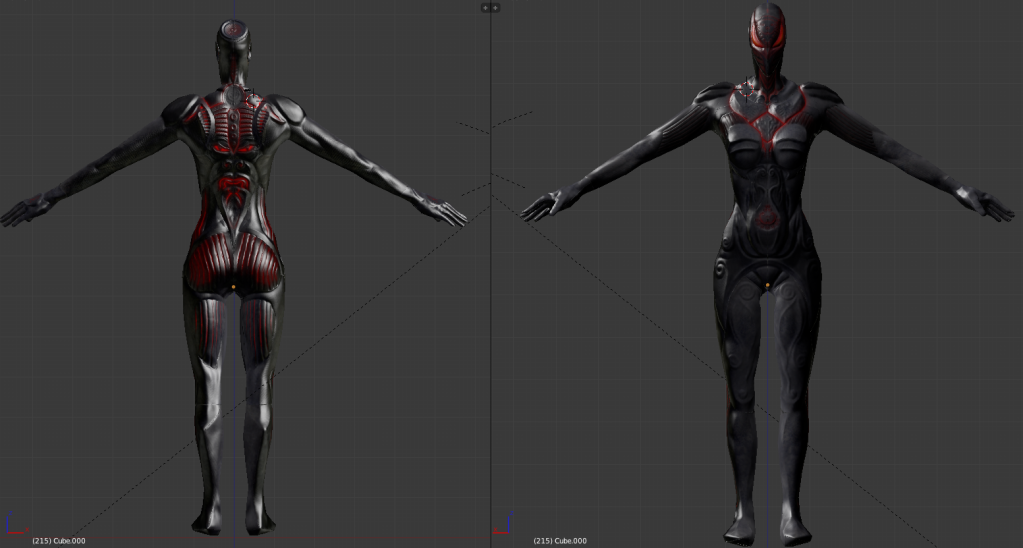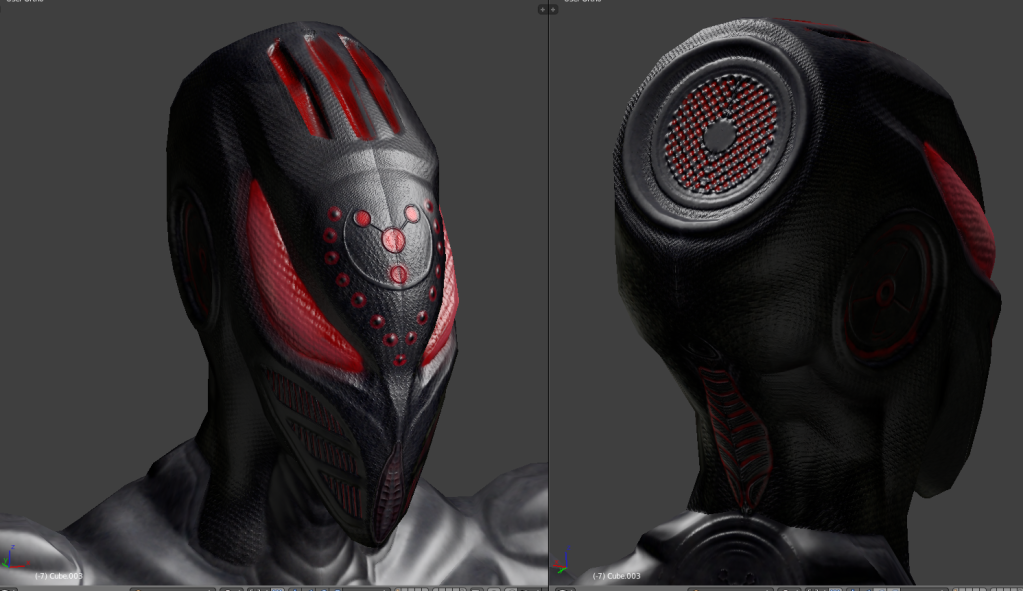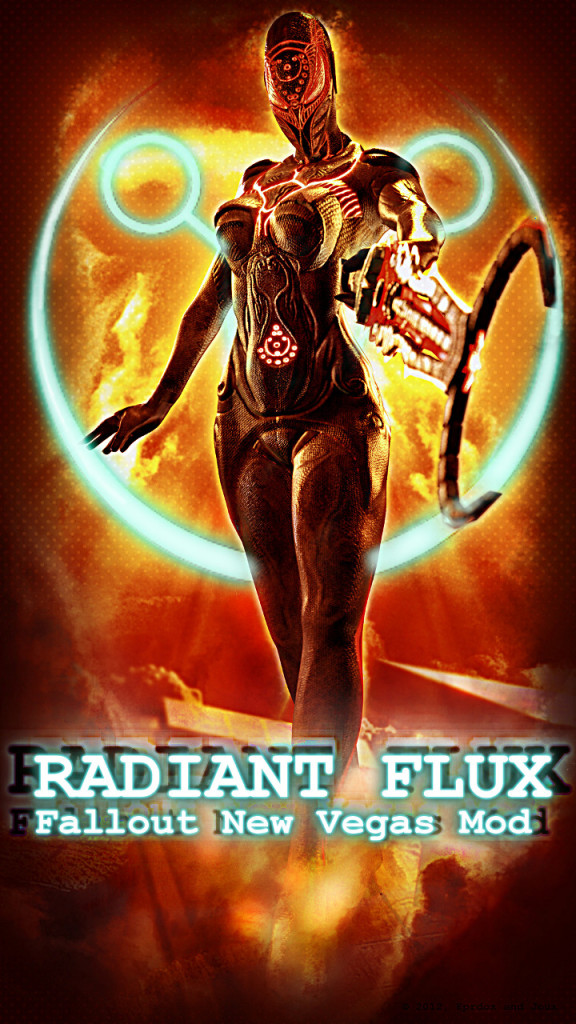 Heh, might as well. While we're talking about Eprdox, let's take a random look at one of his latest works: a rifle for a corporation I have yet to reveal (you now have the name):

Well then, I think that is enough for now. Sit tight; we have voice actors recording lines, NPCs in the works, and some pretty impressive worldspaces being designed. And don't forget about the weaponry. I'm cooking up something special for the many guns being made for the mod.
More to come. Be easy, stay cool.