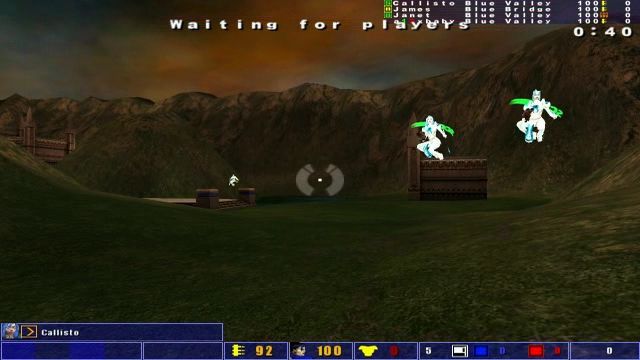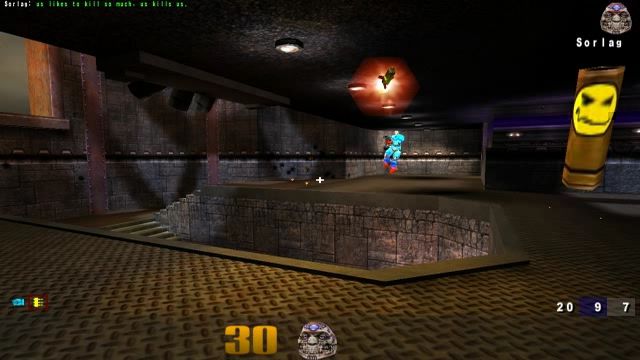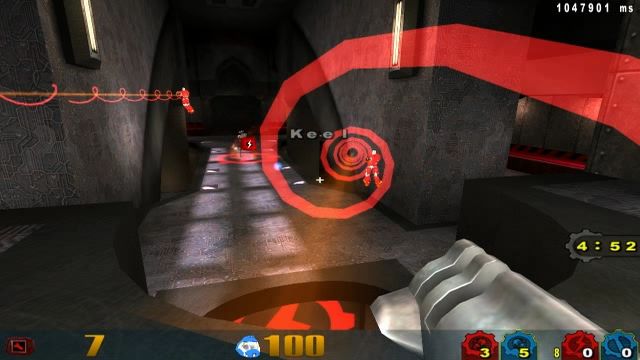 ---
Title : Quake3 Arena Hopper Modification v1.0
Author : a13xoloid
description : Universal Bot AI Modification for QuakeIII Arena
---
* Description *
Quake3 Hopper is a generic bot AI modification for QuakeIII Arena and mods.
Bots now jump around the level like human players.
You can expect more on enjoyable opponents.
* Features *
- new bot movement(hopping)
- different item collection AI
- different map roaming AI
- support of all the other existing maps&mods for QuakeIII Arena including Team Arena
- wider range of render setting
* Play Information *
- make sure you have retail version of Quake III Arena installed on your PC, ideally patched to version 1.32b
- unzip the contents of "quake3-hopper-v1.0.zip" to your Quake3 folder, so that "quake3-hopper.exe" sits in the same directory with original "quake3.exe"
- double click "quake3-hopper.exe" to play (or you can create your own shortcut to launch mods)
- if you bring down the console and see the yellow signature "Quake3 Hopper" at the bottome right, the hopper is properly running
your_quake3_directoy\ (such as C:\game\quake3\)
|
|_quake3.exe
|_quake3-hopper.exe
|
|_baseq3\
* Change Log *
v1.0
- initial release
* Hopper CVARS *
r_ambientscale - scale the brightness of dynamically lit(by lightgrid) models(player models) - default:4.0
r_darkenWeaponEffects - darken weapon effects, up to 2 bits - default:0
r_drawFog - draw fog - default:1
r_drawMapObjects - draw map objects - default:1
r_drawVolumetricLight - draw volumetric lights in official id maps - default:0
r_freqScale - scale the hertz of blinking textures - default:1.0
r_huntMode - 1:makes level textures gray, 2:makes lightmap gray, 3:makes both gray - default:0
r_intensityPM - set the intensity of player models - default:2
r_intensityTX - set the intensity of level textures - default:2
r_lgOBB - set overbrightbits for lightgrid only - default:3
r_lmOBB - set overbrightbits for lightmap only - default:2
r_mapOverBrightBits - set overbrightbits for targets other than listed above(mostly level textures) - default:2
r_mdlOBB - set overbrightbits for map objects only - default:2
r_minLight - set minimum value of lightmap brightness to cope with very dark custom maps - default:0, max:255
r_normalizeByColor - prevent over-lit textures turn white out - default:1
r_picmip - set picmip for level textures and map objects only - default:1
r_picmipExp - set picmip for missile explosions only - default:0
r_zFarScale - scale the value of zFar (does not draw anything whose distance from player exceeds this value) - default:1.0
* Author *
Name : a13xoloid
E-mail: hareluya666@gmail.com
Home : Moddb.com
Special thanks to id software to release full source code.
* Copyright / Permissions *
This mod is (c) by a13xoloid (2011). All rights reserved.
You are NOT allowed to commercially exploit this mod, i.e. put it on a CD or any other electronic medium (e.g. that would be included with a magazine) without my explicit permission.
You MAY distribute this mod and associated files through the (internet, FTP, local BBS etc.), provided you include this file and leave the archive intact.