Hello, time for an update. First, I'd like to take the time to salute the Shadows of Lylat team, for their hard work and devotion. For those that don't know, our mentors, the SoL team, recently announced that their mod is dead : Game-warden.com
Anyways, here are the good news. We got some more model sheets done, thanks to Alain. Almost all our characters for our pre-alpha are drawn, we just need to model, texture, and rig them now.
Here's our take on Slippy: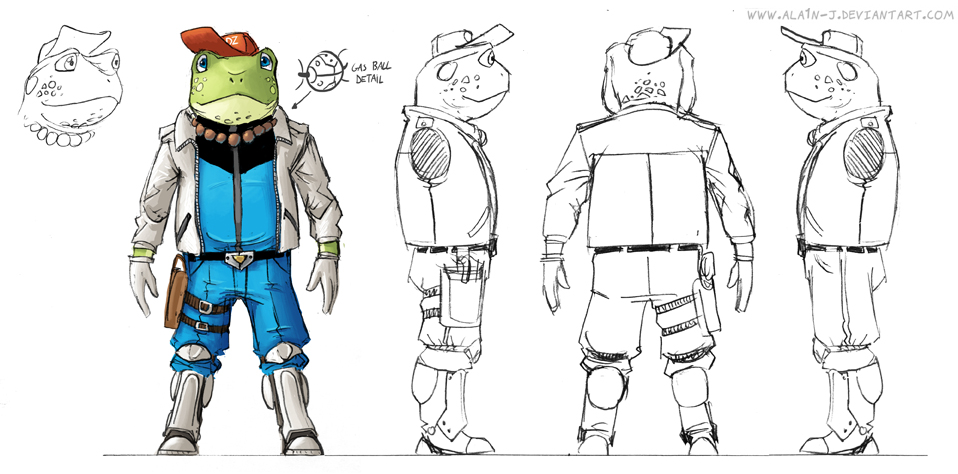 Also, our composer made a work in progress combat music. It features him singing near the end, however the in-game version won't have any vocals. Feel free to give feedback, we'd like to know if its too heavy for starfox.
On the coding side, we've implemented a new bullet system that will be used alongside the current system to simulate the slower projectiles. We've also ran tests to see if we could integrate Biohazard's deferred lighting system into our mod, but we found out a couple of problem with the way we're doing our maps. So we'll wait until it gets possible and viable to use it with our mod, before integrating it.
Finally, we are recruiting. If you have a skill, some free time, and want to help us, feel free to contact me via pm, or at psycommando@gmail.com What we need the most at this time is a character modeler, web designer/webmaster, a texture artist, and/or an animator.