NEWSLETTER 1
Hello guys, it's me again. Mark. Apologize for not posting anything on ModDB.com. I have a lack of time during the school day and project work. I won't post any news here unless it's important. All news and updates will be on our Facebook page.
I've seen more than 10 Play Testers are going to help me to try and test out the mod to get rid of the bugs. You can apply for Play Testing by sending an application email to me. I can be reached at
markleong1997[at]hotmail[dot]com
You must sent an email to me like this format. Here's a format what you should fill in and sent it to me to apply to be an Play Tester.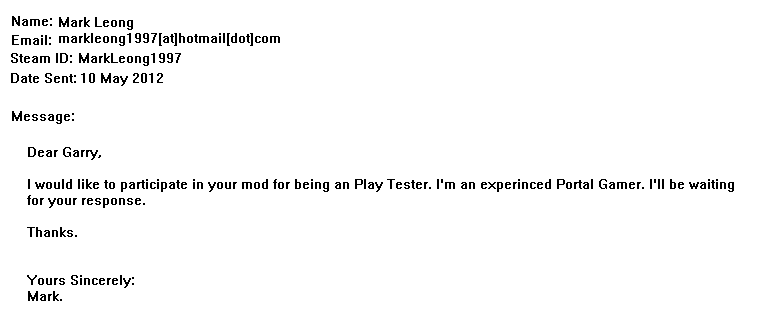 I want you to do this because.
Hotmail.com has been eating a lot of my real emails and made them as 'Junk'. It's too boring to make it happen like this.
So that's it for today. See you soon!
MarkLeong1997 Out.
Portal Inside Out Development Team
and
[F0B] Company