Update One
Hello everyone!
Our moddb profile is up and running as well as our website. I hope you are all enjoying what we have done so far which are these very early concept models, which you can view here: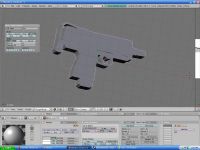 Also, please head other to our site and leave a comment about what can be improved on the site and what you would like to see and leave a comment on our moddb profile about what you would like in the game etc all comments are gladly accepted!
We are also recruiting! We mainly need experienced source engine mappers as well as a team lead who could put and lead us in the right direction. Here is a list of jobs that we need filled:
Mapper x3
Modeller x1
Concept Artist x1
Team Lead x1
If you are interested, then please leave and comment and I will PM you with more infomation, what we need doing etc.
At the next update we hope to have a short intro movie, that will feature at the beginning at the game, also we may have finished models and the 1st map to show off.
Cheers!
The Paranormal Team