Progress on the mod is going pretty smoothly. We've currently got Frozencore working on the Helix fighter, concept by Pyrosity.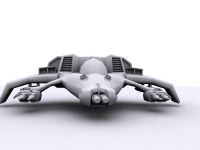 I plan on rigging it with bones and getting it in game just so we can get a look at it in engine.
Wrecked is working up a small map currently entitled "End", which will employ full 360 corridors, etc.