Almost two months have passed since the release of the previous Media Update - two months, full of work and challenges in the development. We haven't rested on our laurels, and to prove this, we have decided to bring you probably the largest media update ever released for the mod. Without further ado, let us show you what we have progressed in the last two months.
Updated forum:
Our forum has undergone a major revamp. The engine has been updated by CaptainSource, so now we are using PhPBB 3.0 instead of 2.0. We hope that you will like the new (still work-in-progress) design and the extra functions that come with this version.
Weapon models:
We have a couple of weapons to showcase this month. On the left you can see the standard-issue Andorian Pistol, the regular sidearm used by the units of the Andorian Imperial Guard. On the right, you can see a pair of Klingon Disruptors, and a couple of D'K Tahgs, the most widespread melee weapon among Klingon soldiers in the 2150s.
The weapons were modelled by our talented TripTucker, and textured by the versatile CaptainSource.
Character models:
Progress has been slow but steady on the character models. We have decided to showcase two of the Enterprise's senior officers. You can see Captain Archer on the left, and Commander Charles "Trip" Tucker on the right. They were created by Gregory O'Connor and CaptainSource.
Ship models:
Two new ships have reached an almost final build in the devteam's shipyards.
The first of them is the UES Intrepid, the first ship of the Intrepid-class. Some of our members probably recognize her, as she has already made her first appearance in our most recent newsletter. This small but rather agile starship is primarily used for defensive purposes, since her relatively elementary warp drive makes her unfit for longer deep-space travels.
As such, they are primarily deployed in the vicinity of Human colonies, and carry out patrolling missions.
The class is armed with particle beam weapons and has two spatial torpedo launchers. Because of her agility and moderate weaponry, several vessels are in service also in the United Earth Stellar Navy besides Starfleet.
The second vessel is the ECS Kobayashi Maru, a Class III neutronic fuel carrier. During the Earth-Romulan Wars, vessels like the Kobayashi Maru were a frequent constituent of human freighter convoys, as the transport of deuterium to the front lines for UES and UESN forces became the primary assigment of the Earth Cargo Service.
The homeport of the vessel is Amber, Tau Ceti IV, and is captained by Kojiro Vance.
Although the ship's name is part of the Star Trek universe, her design is not. The ship was worked out by our talented Flanker, and was realized by TripTucker and CaptainSource.
Map Screenshots:
Our talented mappers (HerbieZ and LordHorusNL) have continued working on our current playable map, Launchbay. Several bugs and glitches have been fixed, and many new areas have been added to the current version. You can see some montages below.
The Drydock-map was also tweaked a bit. The results can be seen on the montage below: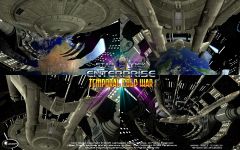 Video:
It's been a long time since we released a video, so we decided to make up one to show you the current state of our character animations and rigging:
A better version can be downloaded here.
Requests:
As you can see, we have done a lot of work this month. We intend to keep up this level of activity, but without additional help it's gonna be hard. Real Life is making the development increasingly harder, as work, school or other errands take our free time away from the mod.
Therefore, the following posts are now open, and await fulfilment:
a.) Mapper: We are looking for experienced mappers, who know how to make a single-player level vivid and really atmospheric. Knowledge of Star Trek: Enterprise is a plus, but not required.
b.) Animator: We have a vacant position for character/creature animators. The reason for this is that all of the character models used in the mod are completely custom-built, and as such, there are several changes that are needed to be made to some of the stock animations of HL2, with new ones created. These include (among others) the NPCs' weapon handling, the movement of the alien characters, equipment usage and character mannerisms.
c.) Character Animator Assistant: We are looking for developers who are either experienced in using Face Poser, or are very willing to learn quickly how to use it on an advanced level.
d.) Coder: We are looking for a coder who is confident in single-player level scripting.
For application, just start a new topic in our recruitment section, and post a portfolio! We hope to see you there.
---
Thank you for your attention, and as usual, we are counting on your feedback!
Live Long And Prosper!