Welcome to LEDHED, a very proficient weapons animator. He also puts his hand at props and is working on learning character.... Check out his work Download Weapons Movies HERE!
Welcome to JordanBen, another music composer who has joined our little mod. Some of his samples can be heard here: Track 01 - Track 02 - Track 03
and a quick demo track from Vaski, our lead composer: DOWNLOAD
Mapping is coming along nicely. Here are a couple of pics to show you we have taken your comments and improved our maps. You will notice the reflectivity of our textures is way down, making them look more realistic. Also, the button panels and monitors in sickbay have been done. All are works in progress, so keep those comments coming so we can make a mod YOU want to play and have some input into....
Sickbay. Curtain and panel textures improved (WIP) + Concept art from our resident artist, FLANKER: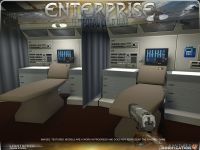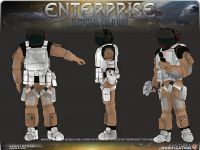 Read about the suit and where the design evolved from....
Welcome WarpFIVE, he is one of our new mappers. He is the founder of the Warp5 mod registered on ModDB. Rather than being in competition, we decided to ask WarpFIVE to join the team... so welcome... There are heaps more images on our gallery here on ModDB, so check those out... Our team is growing by the day and progress is increasing. Expect to see more Enterprise map pics soon, as we are remodeling WarpFIVE's maps with the Enterprise-TCW textures and models. Make sure you visit our forum and show us your long range sensor array! Also have your say by voting in the poll on our main website.
Till next time..... never tell a Klingon he smells nice!
P.S. Here is hoping we have a demo movie to show you next media release!!! Firing phase pistols and phase rifles! yeee haawww.....