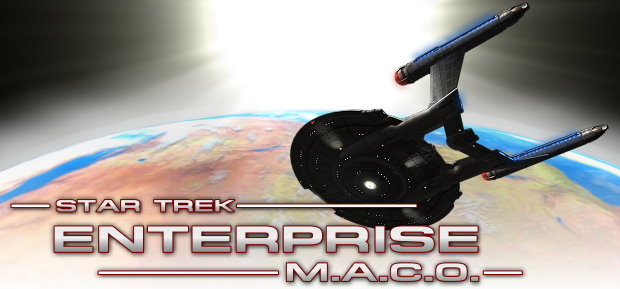 Back in the Enterprise: Temporal Cold War days, media releases were few and far between, but were packed with information and visual goodies. This time we aim to follow a different strategy: we strive to release small sneak-peeks more frequently to avoid keeping the community without visual updates for a prolonged period of time. So please consider this update also as test - we want to check how frequently we can make updates which show off something worthwhile, but do not take ages to produce a short article on them.
Our resident concept artist, Flanker, is really busy nowadays: besides designing the modification's HUD and some pickable equipment, he also designed the arsenal that the player will face during the upcoming teaser episode. While the specifications of these weapons are planned to be similar to their Starfleet equivalent, their appearance is different - after all, they are products of an entirely different culture.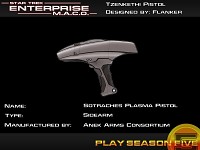 The Anek Arms Sotraches plasma pistol is an old, yet still reliable sidearm produced by Anek Arms, one of the largest weapons manufacturer of the Tzenkethi. Although based off a roughly 100 years old design, the weapon's strength and accuracy is on par with the EM-33 plasma pistol in service among most M.A.C.O. military units. Due to its relatively cheap price, it is a common sight at Tzenkethi marauders as well.
Unfortunately, the pirates of the Berengaria sector have become rather well-equipped in the past months, and members of their boarding parties tend to carry more than just a single sidearm. Numerous reports originating from attacked Earth Cargo Service freighters suggest that the pirates operating in the area are equipped with more destructive armaments as well, including the Chyrophei assault rifle and the Kovolos heavy pulse rifle.
Both weapons are of Tzenkethi design, and are manufactured by Anek Arms: despite their age, their firepower and reliability is easily up to par with current Starfleet and M.A.C.O. arsenal.
These weapons currently only exist in concept arts: however, their modelling will soon start, especially because our coders are busy setting up the code repository for STE:M, after which actual coding of the mod's weapons could start.
While the coding positions are thus filled, we still have vacant positions in the developer team: we are still looking for talented animators and character modellers - if you think you possess the knowledge we need, make sure to contact me in PM, or launch a topic in our Recruitment section!
Finally, let us ask you to support us in the annual Mod of the Year contest, by visiting our ModDB profile, and voting for us to make it into the Top 100 list of modifications. Your help is very much appreciated!
As a conclusion to this short update, let us thank you your attention, and wish each and every one of you a very happy Christmas, and a successful New Year!
Live Long and Prosper,
The STE:M Design Crew