Hello there! Sorry for not updating last week, I was away on vacation. Rick was not though, so even though nothing has been posted here, work has indeed continued. Anyway, we are now back to full strength again, with me well rested and somewhat tan, and Rick in a comatose state.
We are now in the final stretch of development, as the header so cleverly hinted at. This means that we have our "final" fix list which holds the things we must fix before release. Currently it sits at around 200 items. Whenever we get it down below 100, we do a playtest together and it quickly grows up to 200 again. Luckily the fixes we want to do are getting smaller and smaller, meaning that they don't take long at all to get done.
In honor of this fix list, I've gone and done something I never thought I would do. I registered a Twitter account. You can see it on the side of the page here. I will be using it to keep you updated on the progress of the fix list, so if you want to know the latest you can quickly check back here or on Twitter and get an idea where we are at.
Anyway, back to the vacation! It was lovely! Even more lovely was the fact that we managed to send all maps out to testing the same day I was leaving, so while I was slowly being turned to charcoal, people were playtesting the mod and coming with feedback. The feedback has been very positive indeed, which is really great to see.
Oh, and with so much to do, we decided two weeks ago to add a whole new map! So the mod now sports 4 maps! A screenshot of the new map can be seen below. In this map, you receive the Gravity Gun, since that weapon was missing from Mission Improbable before, for some reason.
Another note on the screenshots. People have commented that I tend to release screenshots which are very small. To alleviate these complaints, these new screenshots are now 1920*1200.
Except for this one.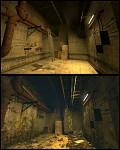 Anyway, we will be working on the final fixes now, so check back regularly. Also, please tell your friends and loved ones about the mod!