Here's a quick update on what's going on with Mission Improbable.
I've spent the last few days going over MIMP1, working through my to-do list. There's still some work left to do, but it's been going faster than I expected. Here's a screenshot showing the difference between the currently released version and how it looks today. Click to embiggen!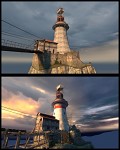 Rick is still working away at MIMP2, hopefully we can show something from that soon.
MIMP3 hit a huge milestone last week, there's finally no dev-textures remaining in the map! If you don't know what that means I'll explain it. Dev-textures are those orange and grey textures which are used when a map is under development, as placeholders for "proper" textures.
MIMP3 has also undergone another playtest-pass, and I've gathered tons of feedback. Now it's a matter of iterating and polishing the gameplay and events in the map, and get the map to really come alive. For me, this is the most fun part.
Here's a timestep video I created when working on replacing the last of the dev-textures.

Mission Improbable 3 - Last of the dev-textures - Mod DB
A keen observer can spot that I check the Diablo 3 server status page a few times throughout the video :)
That's it for now, back to work!