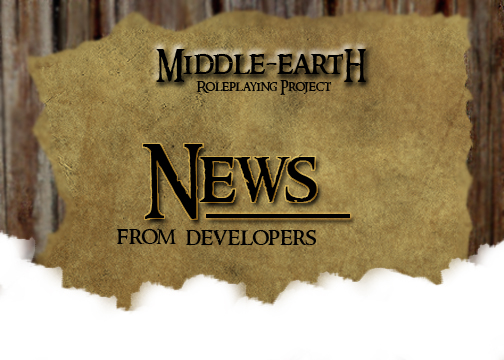 Current State of Affairs
A lot of people here at MERP consider this project as a very important part of their lives. Some have seen this mod grow and flower into what it is today, and even new members experience and can see the obvious dedication our team put into it.
Oblivion has been a large stepping stone in this process, and we've really pushed the best selling game of 2006 to it's limits, in regards to the heightmap and also to the awesome scripting work that goes on here at MERP.
However, we have news that will blow your mind.
This is probably the single most exciting news post released to the public because of all the potential it holds...

The Future
So without further ado, let us unveil this behemoth of awesome information.
We're preparing to attempt a port to Skyrim!
If you're are wondering the reasons behind this, let us elaborate with this short list that notes all the technical features of Skyrim that Oblivion lacks:
1) Havok Behaviour (advanced animation platform)
2) Actual flowing water
3) Textures of a quality that matches our custom models
4) Better tree system
5) Actual falling snow
6) Integrated AI support for flying creatures
7) Improved Radiance AI
8) Realtime conversations with NPC's
9) More realistic horses
10) Completely redone scripting language
11) Shadows for static objects
12) More efficient graphics rendering
13) Most likely more stable engine overall
15) A fresh modding community from which we can recruit new developers
14) Hopefully a more accessible and user friendly modding resource
16) Probably more efficient developing tools which overall might even save us time in the long run
The step up is truly significant (It's been so many years in the works, you'd hope it was)
Now, we do say attempt because truth be told we don't know if Skyrim will be 100% suitable for a mod like ours, in which case we will revert be to O'l Faithful - Oblivion.
A successful port will mean better graphics, technology and all around gameplay, so you can enjoy the mod you love even more with all new features.
However, it is impossible to carry over some of the progress we made here on Oblivion, and while we are able to keep all the models, some things can't be transferred. Don't let this dishearten you though, the results will definitely be worth the extra work, and our team will be more motivated than ever before.
More exciting news (As if there wasn't enough already

) Progress is currently in the works on a whole new, and improved, heightmap!
There is no denying the one we have is absolutely fantastic, but efforts are being made to make it more lore accurate and things seem to be coming along nicely.
We will still be bringing out another release of MERP for Oblivion soon, however the last Oblivion release won't be very big, just Bree with some extras. If people want to play MERP in the future they'll have to get Skyrim.
If the port is successful, we can all say a very fond farewell to the game that has ultimately helped us immensely in envisioning Tolkien's world - and a more than warm welcome to Skyrim, where we will now be focusing our progress.
So folks, Skyrim it is!
As always, don't forget to visit:
our Dev forums if you want to contact us or if you need any help, and
our YouTube Channel
If you want to apply for MERP, post an application HERE
~MERP Team~