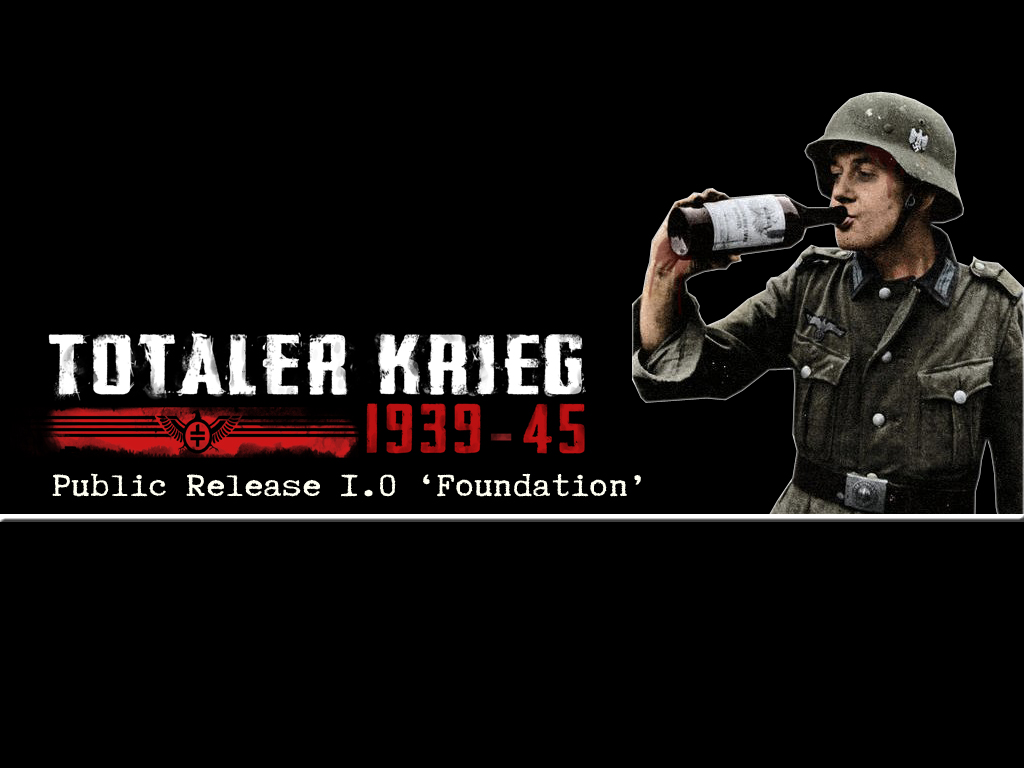 'Totaler Krieg', after many years of time, patience and long hours is finally to see the light of day. I'am happy and surprised by the mere fact it is what is it today, I cannot believe I even managed to create a finalised version of this modification. I'am glad I never gave in to those days of seemingly never ending frustration, those low ebbs of dwindling motivation and fruitless rewards. If anyone can take anything from Totaler Krieg, it is to stay dedicated, stay focused and most importantly never give up, no matter what. Adapt and overcome. Those days of learning photoshop to make simple texture packs are over, the days of mastering 3dsmax to simply export a helmet are too, long gone. As are the countless crashes encountered trying to run 3dsmax and MoW on an under powered laptop that often would freeze when saving a map in the editor, having the last hours work wiped before your eyes. Within 24 hours my creation, composition and compilation work will be available to the public whos combined playtime may never reach even 10% of the total time I spent on it. This is a fact of modding, but I don't care, as long as someone gains some satisfaction and enjoyment out of it, if only briefly, is suffice enough to make the whole process worthwhile. I have faith in the community however, especially those regulars on the moddb page, those of the 'old guard' from the DMS days and also the backers who out of their own pocket showed some of the greatest support. I have faith they will thoroughly enjoy all what TK has to offer and will do their bit in promoting and extending its longevity in the same way TK is to extend the play ability of a once great game, Men of War, now in the form of Battle of Empires.
My only request for those who experience the modification is for them to properly delve into the mod and explore all that is available, spend time on it, create content (SP campaigns), develop and organize competitions and generally make it as visual as possible on youtube and such. Any user-generated content for TK I will gladly look to officially incorporate into the modification, be it bug fixes, to new maps, game mods, models, sounds or anything else. I will be focusing on other projects from now on, so I may have to leave TK in the hands of the community to decide its fate.
It's been a interesting journey, lots of sacrifice and very challenging.
I hope you all enjoyed what I tried to create.
Thanks again to all those who collaborated with me, backed me and supported me along the way.
Cheers,
Sturm.