Legend in the Sky 2: Fallen Star
Player Home for The Elder Scrolls V: Skyrim
Legend in the Sky 2 (Fallen Star for short) has been in development for quite a while so lets get straight into what this is all about. Fallen Star is a re-imagining of our first mod Legend in the Sky, for Oblivion. The overall theme of the mod is the same...a floating castle in the sky with all the features any type of character would want. Unlike Oblivion's version, the quest in Fallen Star will have a greater emphasis on story to give you a better idea of the castles history. The actual castle turned out to be much larger than anticipated so we have plenty of room to add any new ideas you guys might have.
Features:
Player Bedroom and a room for a companion.
Dinning Hall complete with bards and a kitchen with an NPC who will serve you food.
"Mage Room" with a full garden of ingredients, enchanting and alchemy stations.
Smithing area with a smelter, workbench, forge, tanning rack, and grindstone.
Library with plenty of storage for your books.
Display room with mannequins and weapon displays.
Aquarium, located in the main bedroom.
Patrolling Guards.
Landing platform for flyable mounts.
Portal spell which will summon a two-way portal bringing you to the castle and back. Good for those of us who may not like to use fast travel and pack rats.
Working clocks of varying sizes.
A new armor set.
Some of these may not make it into the initial release, specifically those clocks. However, other features like the rooms are already 99% completed. There is still some tweaking to do especially with lighting and clutter but the following pictures should give you a good idea of what this castle will look like.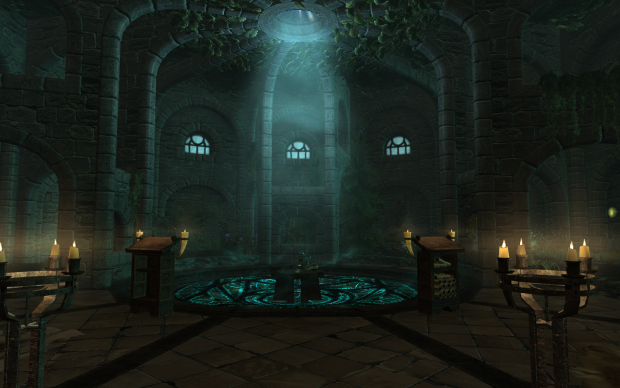 Part of the "Mage Room". By the way I'm looking for a better name so if anyone has some suggestions please feel free to make a comment below.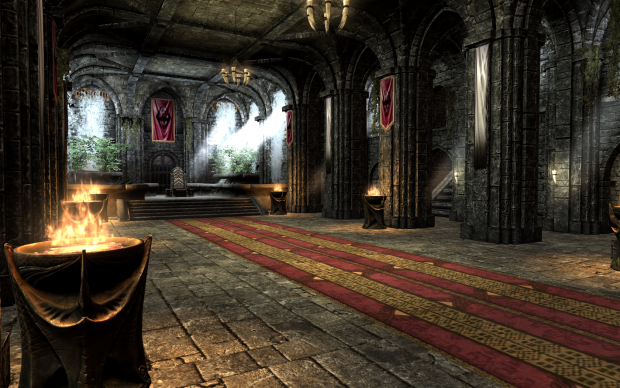 Throne room, basically the central hub of the castle.
You can see more in the images section.
What are we working on now?
Well the interiors/exterior are being polished at the moment. The small dungeon for the quest is almost completed as well and pictures of that should be in the next news update. Also at this time we are working on all those features that need scripting which will probably take the most time to complete.
Finally if you have any suggestions,questions or just general comments we love to see those since it can only make the house better! Thank you for taking a look at Fallen Star and keep an eye out for more news in the near future!