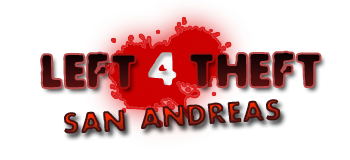 You may have seen the screenshot of CJ standing in a somewhat weird looking thing. I said I would reveal it's identity at the release, but I have other plans.
My exams are finally over and I've got a lot of free time on my hands, too much actually. This week has been a productive one, so here's the list:
Created a very exciting feature, watch the video at the end of this post for more information.
Finished all safe camps in Las Venturas.
Made the final mission for the bandits in Las Venturas.
Made the semi-final mission for the army in LV.
Created the second cultist camp, located in San Fierro.
Fixed some bugs in certain missions.
Ofcourse I want to do a lot of things next week:
Make safe camps and mission in Bone County (desert).
Create one new mission in San Fierro involving cultists.
Create the final mission for the army faction.
Announcement
I have a small announcement to make. Version 2.0 of L4T will not feature any other missions in Las Venturas beside the army and bandit missions. San Fierro will also have less missions available than Los Santos. I can do two things. Keep working on more and more missions and keep delaying Left 4 Theft. Or I simply release 'missionpacks' over time after the release of version 2.0. I decided to go for option 2 and release various missionpacks for San Fierro, Las Venturas etc. I will also release missionpacks for the army and bandit faction as both factions will have an open end in version 2.0. You can suggest your own mission concepts/ideas by posting them here or at the main page of L4T.
Video
As I said in the beginning of this post, I have created a very exciting feature: time travelling. This new feature will allow the player to time travel to a few days before the outbreak of the virus. There are two time machines located in San Andreas, one in SF and one in LV. Watch the video for more information:
---
Well, that was the weekly update for week 22. Hope you are looking forward to version 2.0 as much as I do. Thanks for reading!