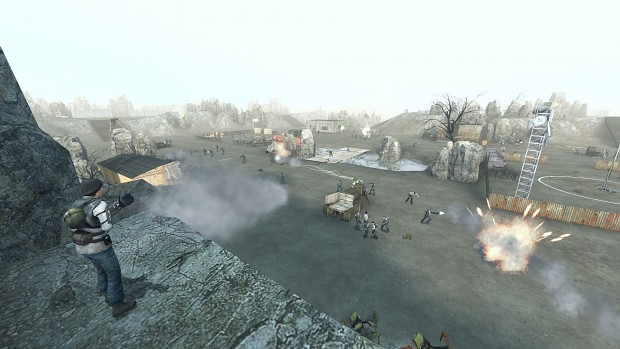 Hi folks! We're back with the latest update for Lambda Wars: Beta 2.3.6. This is a pretty minor release that mostly focuses on bug fixing, updating the internal version of Python and some other small improvements to game balance, sound and visuals. You can read the full changelog at the end of this post. This release does not have an incremental patch, so you'll have to download the full EXE or zip file below (approximately 1gb) to install.
Stay tuned though, because as you remember we were Greenlit early this year and we're still moving steadily towards our inaugural release on Steam later this year. More details on that soon!

Recruiting a Gameplay UI Designer!
We're still looking for a gameplay UI designer to help us rebuild the interface (menus/lobby first and eventually the ingame interface) in HTML5 via Chromium Embedded Framework. If you're a visual designer adept with CSS and JS and have a knack for UI/UX get in touch via our recruitment forum.

Lambda Wars 2.3.6 ChangelogImprovements and Balance:
* Reduced Strider's Dark energy cannon damage radius from 200 to 100
* Reduced Strider's Dark energy cannon cooldown from 30 to 20 seconds
* Reduced black and regular headcrabs HP to 80
* Reduced fast headcrabs HP to 60
* Unit selection interface: control + left click unit type in hud unit selection will filter selection on that type, while control + right will do the inverse.
Visuals:
* Add combine victory and defeat effects
Maps:
* UPDATED: hlw_base4 (flora)
* UPDATED: hlw_meltdown (flora, various)
* UPDATED: hlw_slums (flora)
* UPDATED: hlw_synth (various)
* UPDATED: hlw_village (flora, various)
* UPDATED: hlw_waste (flora, various)
* UPDATED: or_base4 (flora)
* UPDATED: or_hill (flora)
* UPDATED: or_washedaway (flora)
CPU Player:
* Rebel CPU Player now collects scrap
Overrun:
* Improve cleanup of stuck enemies
* Headcrab cannisters are no longer launched between waves
* Scaled down bounding box of Headcrab Poison boss to prevent navigation issues on or_trapped
Fixed:
* Potentially broken buildings when the client requested a full game update due packet loss
* Combine Elite AR2 alt fire ability firing at wrong target due faulty aim code
* CPU player placing too many barracks, while not producing any units
* CPU player is now always ready in overrun
* Incorrect unit navigation when jumping off cliffs/edges (e.g. getting stuck)
* Headcrabs flying up to an unreachable location after being spawned from a killed zombie (in particular or_base4)
* Overrun game mode endless wave type not working
* Overrun game mode waves not progressing
* Strider's Dark energy cannon ability not taking resources
* Fix fog of war incorrectly revealed around control points in some cases due mismatch between server and client parameters
* Tooltips of units and abilities not disappearing on machines with a low framerate
* Upgrade energy fields of medic being shared with saboteur and scout, due which they can stay invisible forever
* Fortification of control point not removed after becoming neutral due a player being defeated
* When a zombie dies "chopped", it would potentially not be removed and become invisible and not solid
Misc:
* Add name and description for "Ungarrison All" Ability
* Updated Python from 2.7.6 to Python 3.4.1
* Updated spanish translation, thanks to JLMCYT