Much has happened for Kreedz Climbing lately....and it's all good stuff.
We found a super nice guy named Wolf to step in and fix our models that were made by a few different other people. The screenshot here is the work of 2 people, Crystalman62 who reskinned the player model, and Wolf who remade the tool and skin and got it all the player and tool models ready for the game with all animations functioning properly. Excellent job!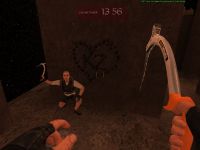 The screen is on the final version of Tipii's map kz_asteroid_field, which marks a definate 16 maps for our first public Beta release. It will be an exciting start.
Prepared for the public Beta we have final status on the following maps:
kz_asteroid_field, kz_brooklyn, kz_cathedral, kz_cellblock, kz_cliffhanger, kz_cookbook, kz_fortress, kz_karnak, kz_man_madness2, kz_minimania, kz_refinery_east, kz_refinery_ez, kz_silo, kz_trippin - 14
There are 2 single player maps as well. kz_tutorial, a map designed to help you learn how to jump with voice instruction recorded in a studio, and a special effects version of kz_trippin_sp.
If all goes well, a release of the completely rebuilt problem map kz_freezing_ridge is possible which would count us up to 17 maps!
In related news:
-material sounds are now working so we can now hear what we walk on
-spectator now supports, free roam, first person, and chase views, still needs fixes tho
-bloodsplattering removed.....gotta get the decals yet
-checkpoint system can be turned off by servers with sv_allowchecks 0
-teleporting to a saved checkpoint plays various sounds
-saving a checkpoint also saves the direction you faced when saving it
-timer system finished and fully implemented into all the maps
-kz_minimania has 13 seperate timers in it
-scoreboard is ready and displaying: player name, course name, course time, checks saved, teleports used and ping
I can smell a server start up in your area.......