Happy belated new year, folks!
I'm very excited to reveal the 15 new animals which will be included in the mod, as well as answer some FAQs. So, without further ado...
Alioramus - The smallest tyrannosaur in the park. Unlike its cousins, however, Alioramus is asocial and prefers to live and hunt alone. Don't let its' size fool you, this is an extremely vicious and cunning predator.
Argentinosaurus - The largest animal in the park and a contender for the largest of all dinosaurs, Argentinosaurus is a sight to behold. It's gigantic size and tough hide make it extremely difficult to take down, even for large carnivores.
Bravoceratops - A heavily-built cerotopsian dinosaur, Bravoceratops is perfectly evolved to take on large carnivores. Highly aggressive and territorial, they prefer not to live with others of its species.
Camptosaurus - Related to Iguanadon, Camptosaurus is a quick and agile Jurassic dinosaur. They use speed and numbers to outwit potential predators.
Citipati - From a distance, it would not be unreasonable to mistake Citipati for a modern-day cassowary bird. Highly timid and very gregarious, these omnivores are useless in combat. Care must be taken to make sure they are given appropriate prey.
Daspletosaurus - Jurassic Park's second largest tyrannosaur, Daspletosaurus combines T-Rex's ferocity and Albertosaurus' speed. They like to live and hunt in small family groups, and should be housed together when possible.
Deinocheirus - Not all of the giant theropods in Jurassic Park are predators. Deinocheirus is related to Gallimimus, but it prefers to live alone. It has an affinity for water, and may have been a fish-eater.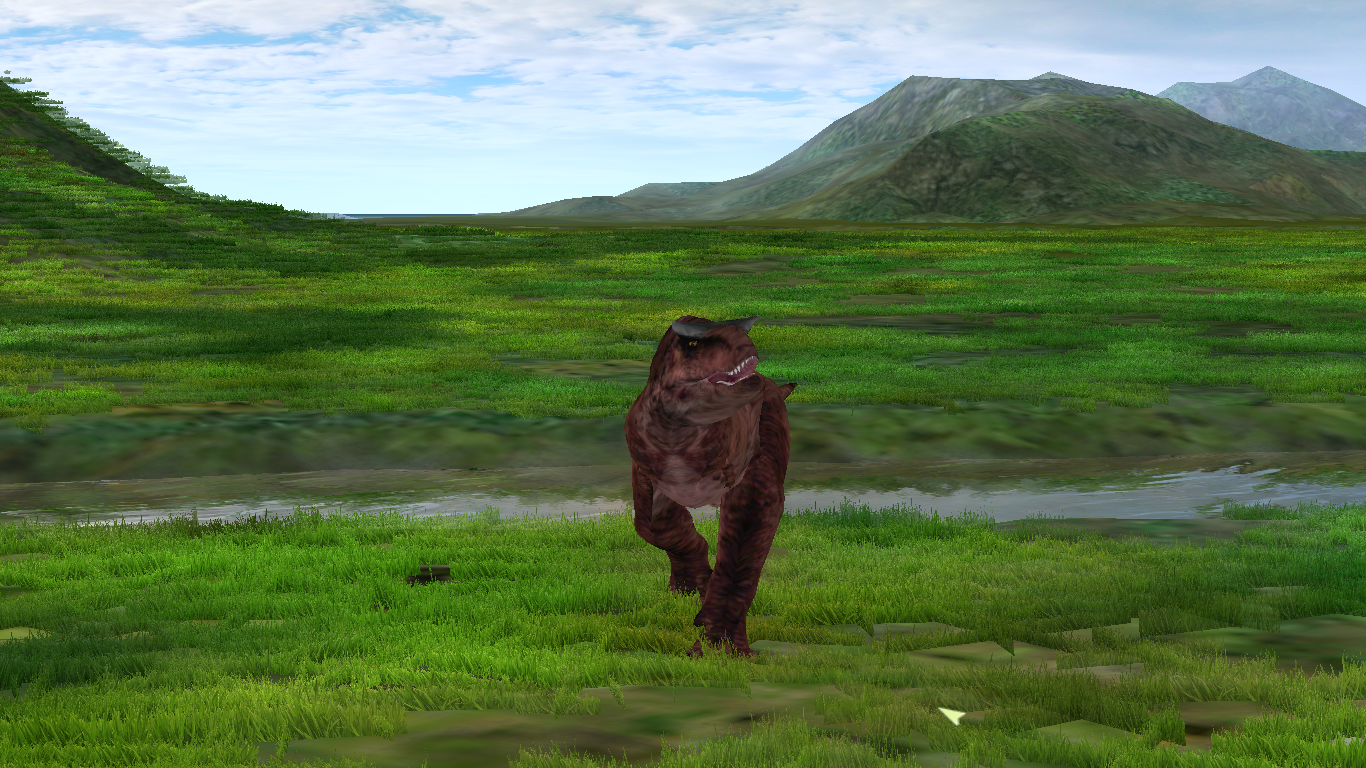 Carnotaurus - As an Abelisaurid, Carnotaurus can be summed up as a mouth on legs. A highly active and voracious predator, it requires a large amount of food for an animal of its size.
Europasaurus - Being not much larger than a modern giraffe, Europasaurus is an example of a dwarf sauropod. Being small means this animal is capable of a decent burst of speed if necessary, and it also does not require the sheer amount of food that the other sauropods do.
Ichthyovenator - A relative of Spinosaurus, this animal is adapted for a for a life by the river's edge. Actually a fairly shy and timid animal, Ichthyovenator uses its size and appearance to ward off potential predators,
Iguanadon - Related to the hadrosaurs, Iguanadon browses on four legs and runs on two. This herbivore is very popular despite its dull appearance.
Olorotitan - This large hadrosaur is a favourite thanks to its colourful crest and peculiar vocalisations.
Polocanthus - If Ankylosaurus is the dinosaur equivalent of a battle tank, then Polocanthus is the dinosaur equivalent of an armoured car. This dinosaur is more than capable of defending itself, and is also capable of moving at a decent speed, too.
Stenonchyosaurus - Despite being related to raptors, this theropod is far less aggressive. In fact, the 'wounding tooth' that gives Troodontids their name may have actually accomodated an omnivorous diet. Nevertheless, it is a highly cunning and capable hunter.
Torvosaurus - A truly frightening Jurassic predator, Torvosaurus was a very powerful dinosaur. It prefers to live and hunt alone,


Now, for the FAQs...
"When will the mod be available?" I will release the mod as soon as possible, probably by the end of the month.
"Why didn't you make X dinosaur?" I don't know, really. Its more fun to model different looking dinosaurs. Dinosaurs like Giganotosaurus and Saurophaganax might be available in the future, but they aren't a priority simply because I think they would be rather boring.
"X dinosaur isn't boring! Its my favourite!" More power to you. However, exceedingly popular dinosaurs like Apatosaurus and Baryonx have been done to death, I feel.
"Will you make X dinosaur?" Sure, tell me what you'd like and I'll have a go. I'm not interested in Jurassic World, though, so I don't think I'll be making hybrids or anything crazy.
"Will there be DLC?" Yes.
Cheers for reading my thing. Have a good year, JPOG fans.