We're currently focussing on MAPPING.
Our Member "TheExile" gave me some pictures of his maps. One of the maps will be "Felucia". You'll notice, that it looks very similar to the Xbox360/PS3-level.
First Felucia-level:
As you can see, the map is still untextured. We're still looking for a talented person to make those Felucia-Textures!
---
The third screenshot shows a secret map, which will be a side-mission that isn't included in the original TFU-game!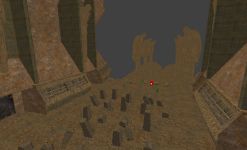 All of these maps will be singleplayer-missions.
Feel free to post cyour opinions! ;)
We'll also start to work on a new video soon!