It has been a long time coming but we are finally here. Just Cause 2 Multiplayer has been unlocked and released on Steam.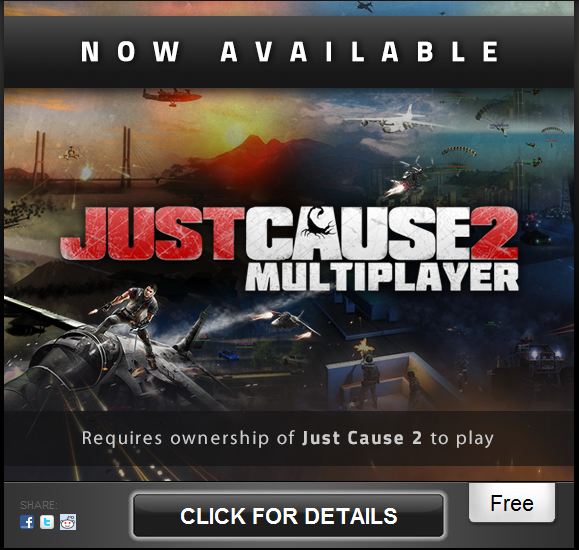 What does mean for the JC2MP community? Well, firstly...
Host your own server!
You can now download the server binary and run it for you and your friends or open it up to the public! Choose from a range of the packaged scripts we have been testing in the beta tests or...
Write your own LUA script!
Now that you can run your own servers you can now also write and test your own scripts and game modes using our LUA interface. Do you have an awesome idea for a game mode? Want to improve the nametags or send your car/boat/helicopter/self hurtling into the sky at light-speed - You can now do all of this using the mod's LUA engine. Head over to the JC2MP Wiki for more information.
Join a public server!
Don't feel like hosting your own server? Head over to our server list on the website or just launch the game for the in-game server browser.
Find your friends!
Notice your friends playing JC2MP? Want to help them (or blow them up with a G9?) you can now join the same server they are in through Steam's "Join Friend's Game" feature much like many other Steam Games.
The Community
If you just want to come in for a chat or share your experiences you can head over to JC2MP Forums or have a chat and ask a question on IRC.