REVIVAL UPDATE #3
HELLO again! It's time for another update!
STEAM STORE STATUS UPDATE:

IT'S HERE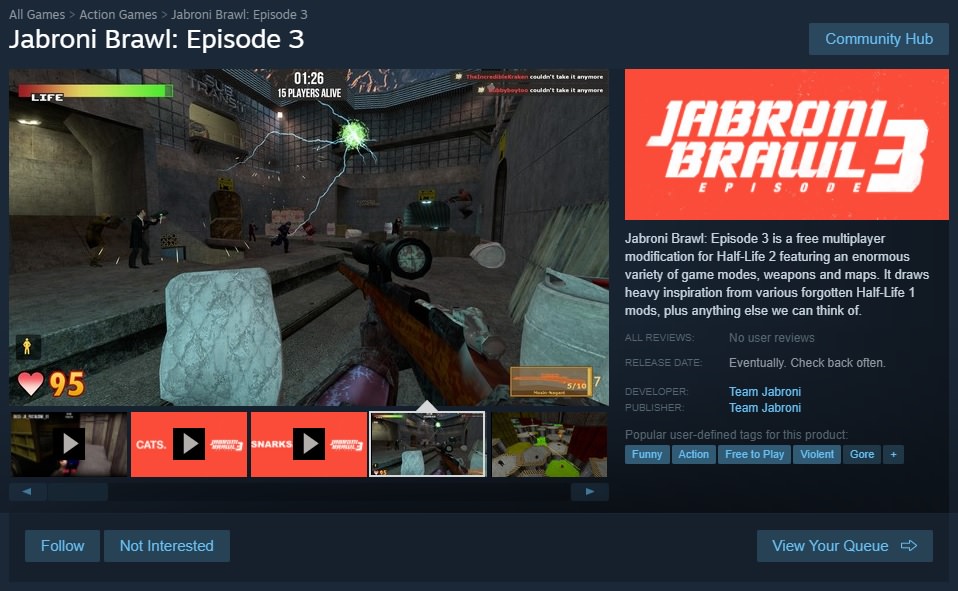 Add it to your wishlist and get ready! It'll be coming soon(ish)!
Now the big question tho is of course what does this mean for the ongoing beta test?? Well, it means we're no longer gonna be having all our testers struggling with Git to play the game anymore. Instead, we'll be handing out steam keys to people, and the tests will now be conducted through steam.
HOWEVER there is a limit to the number of keys we can get each month, so there will be some prioritization on who gets a key first. Likewise, this means we won't be randomly throwing out beta access anymore unless you're someone that could be a huge help to the mod in some way. Sorry, but there's no secret phrase in this month's update.
You may also notice that we've been listed as a "Half-Life 2: Episode 2" mod now, thus requiring people own Half-Life 2 Episode 2 before they can play. This wasn't our original plan, but to be honest, it's probably for the best. Public servers would've been an absolute mess otherwise. Sorry to those of you that don't own Episode 2, but it is what it is, and again I feel like the pros here greatly outweigh the cons.
FIXING THE MOD:
Efforts continue to be made towards fixing up the mod. For this month's bug showcase, I thought I'd show off one of the more entertaining bugs in the mod right now.
We've added a CVAR to allow for this bug to still happen, and also fixed some of the issues you can see in the video with it (cats not turning into proper mines and only using one skin after being duplicated). Feel free to have as much fun messing around with this dumb bug on release day as I had getting all this footage.
PRESS:
As a fair few of you probably already noticed, we got featured in Valve News Network's latest Community Catch Up video. Check it out below.
(jump to the 3 minute mark)
It more than doubled the size of our Discord server, and got us a lot of great new additions to our dev team. Thanks a ton for the coverage VNN! And yeah be sure to subscribe to him through the link above if you want to hear more about any Valve or Source modding related news.
ADDITIONS:
Maps
Office edit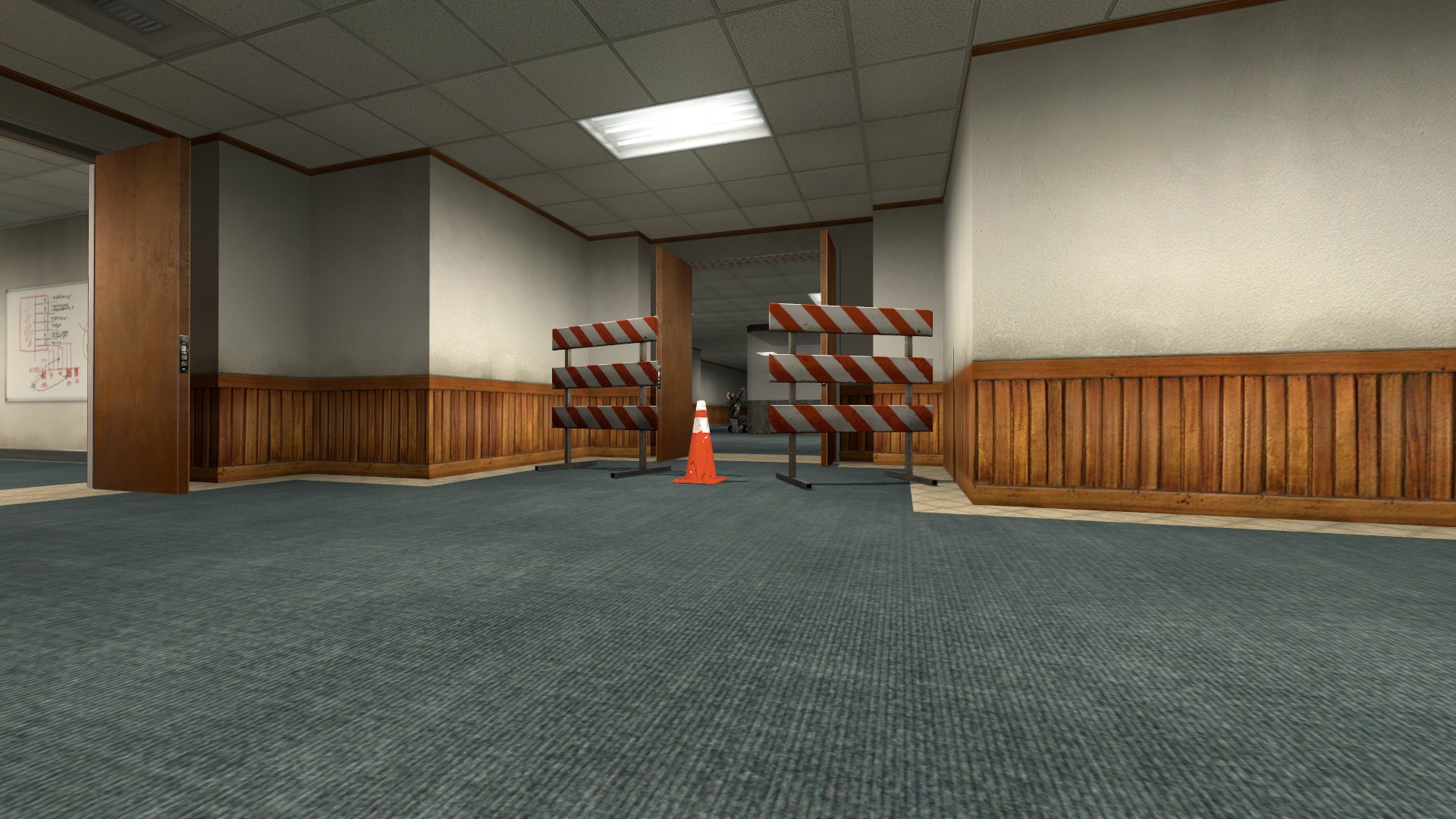 By: RumHam and MacD11
It's cs_office! But expanded. Yea you've probably seen this concept done before but whatever, it's still fun as hell, and they're doing a lot of interesting twists here. One current example on the map is an aquarium that breaks on KOTH start to reveal a path into an underground area for the surviving players to duel in. Should be a blast once it's finished, but it's super early right now, so here's a simple teaser
Subway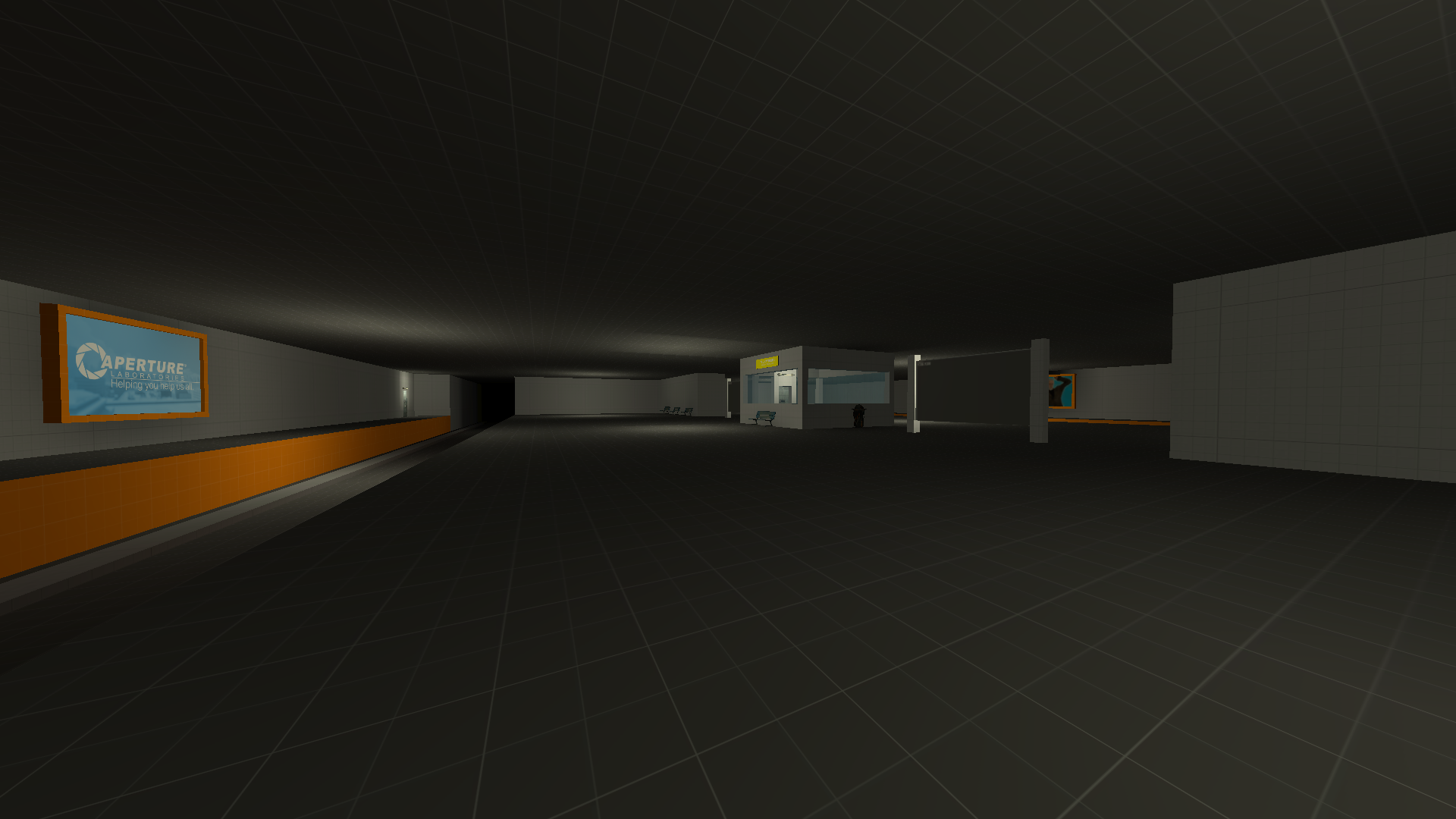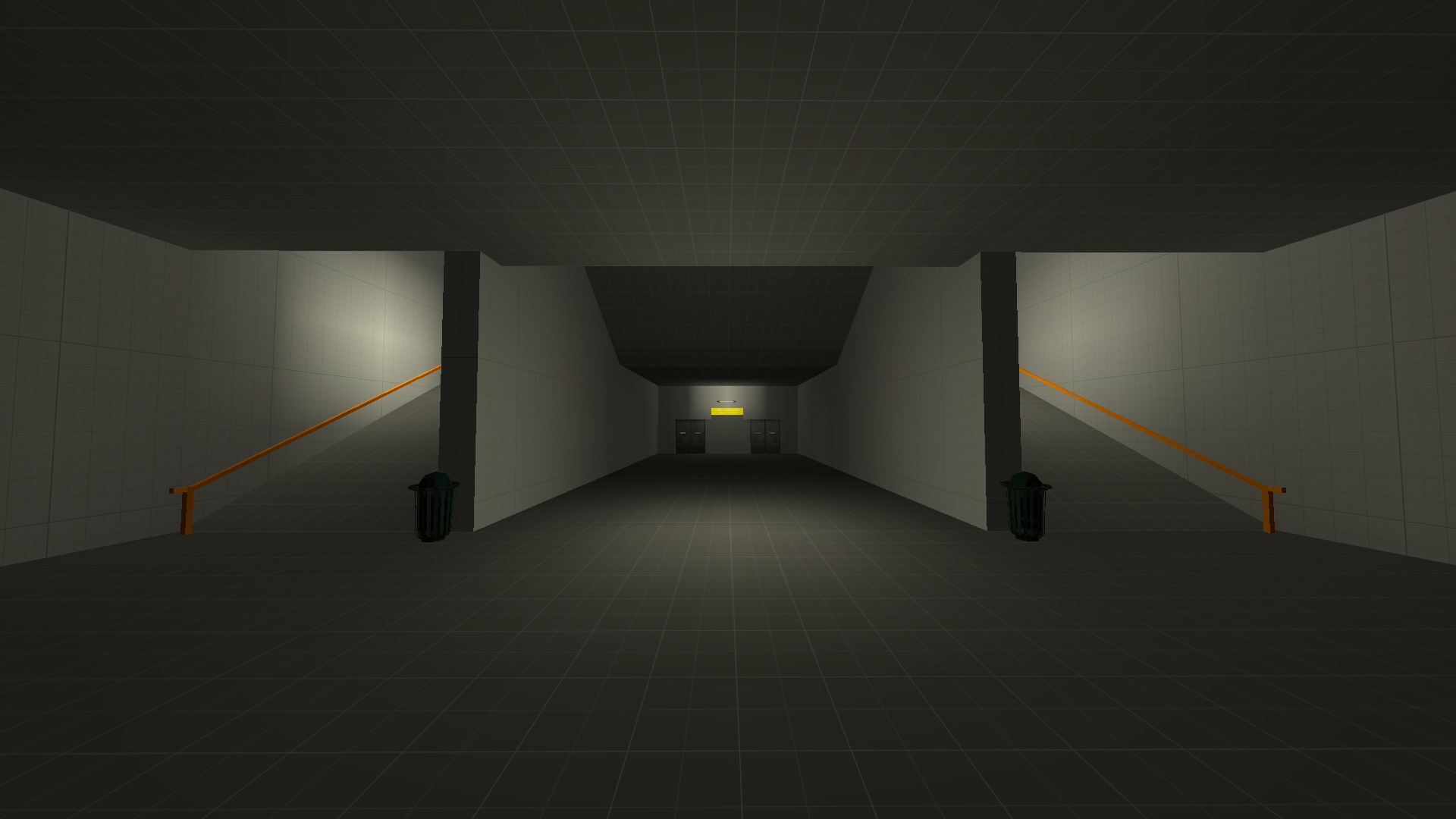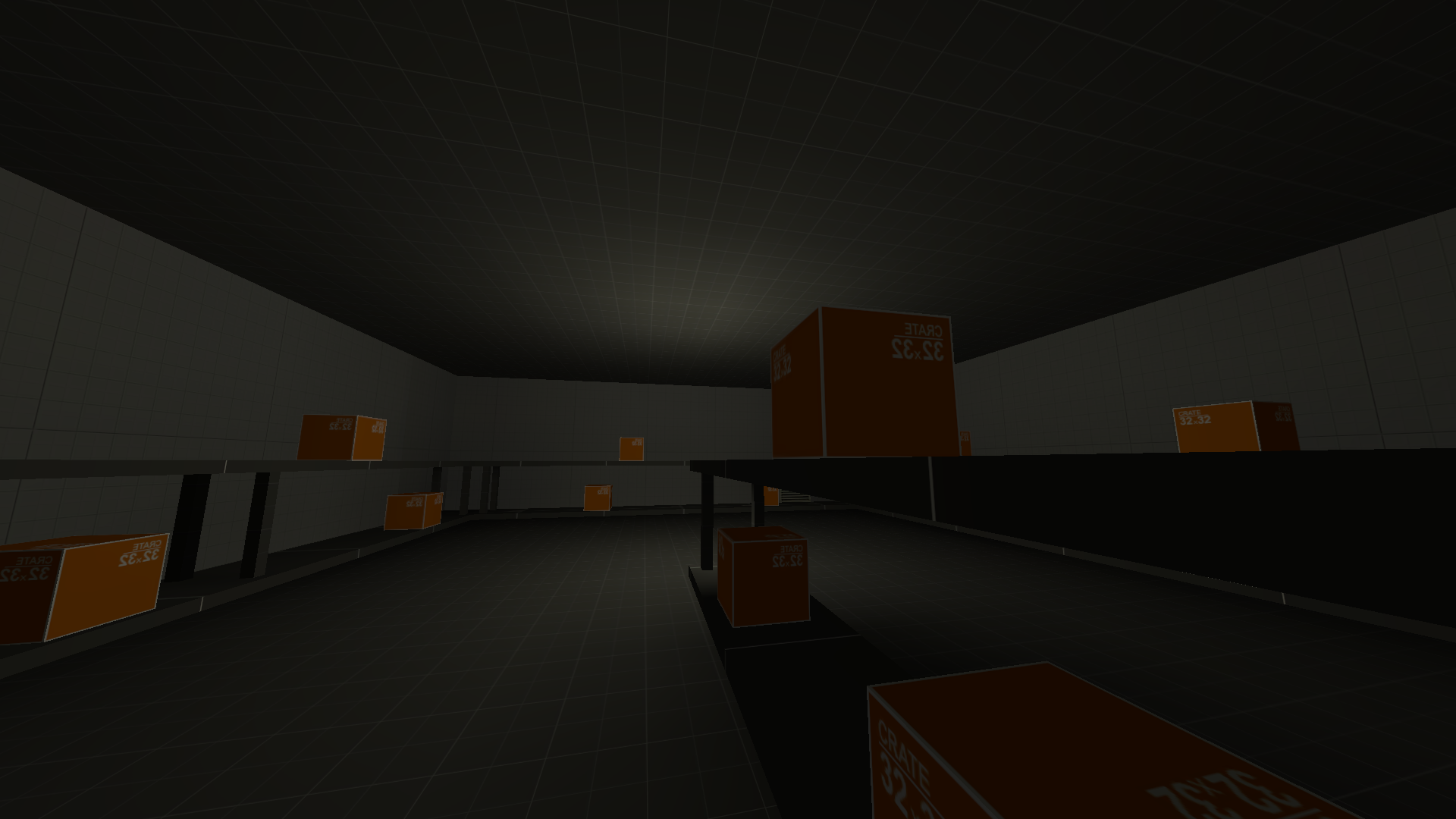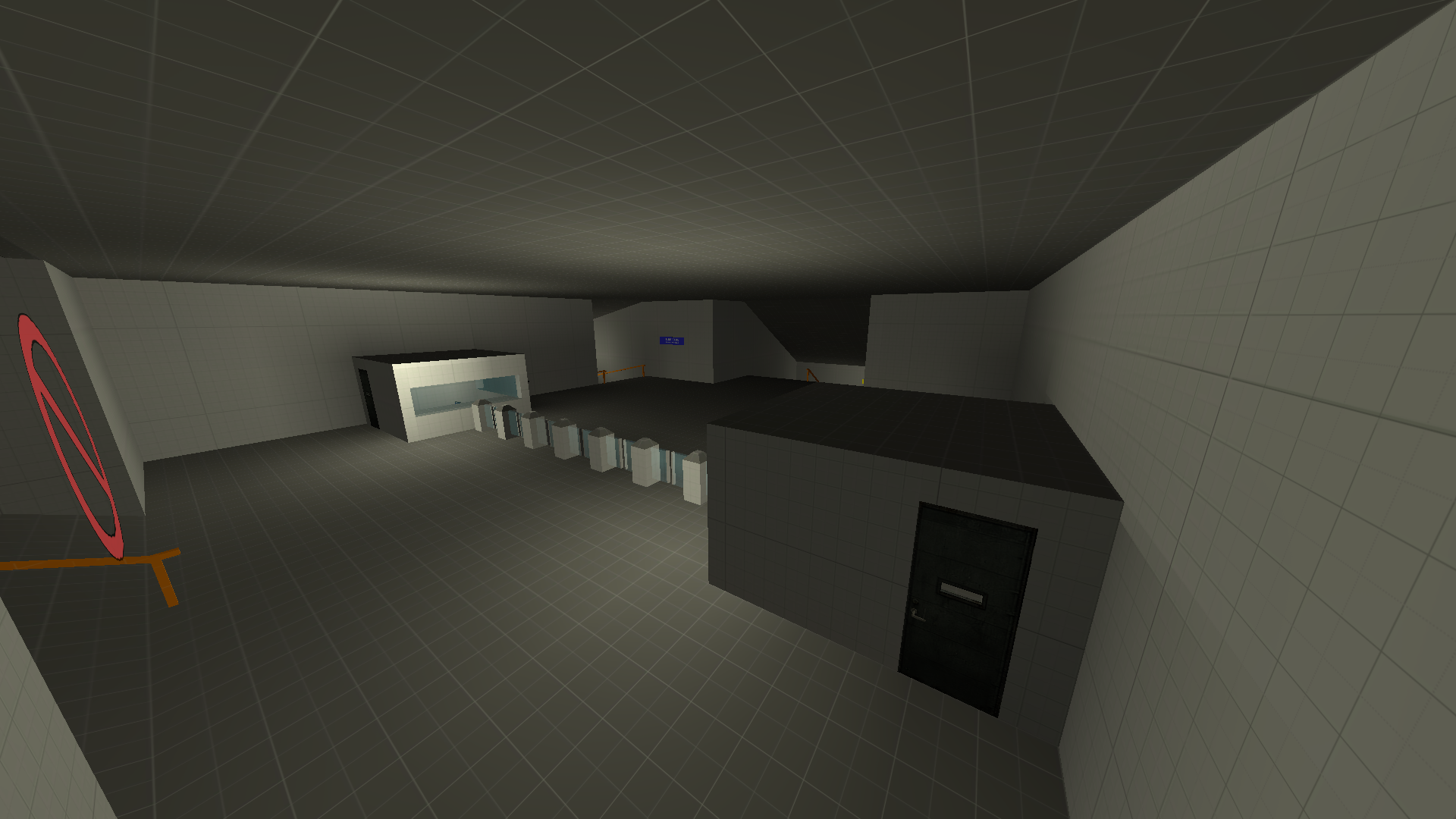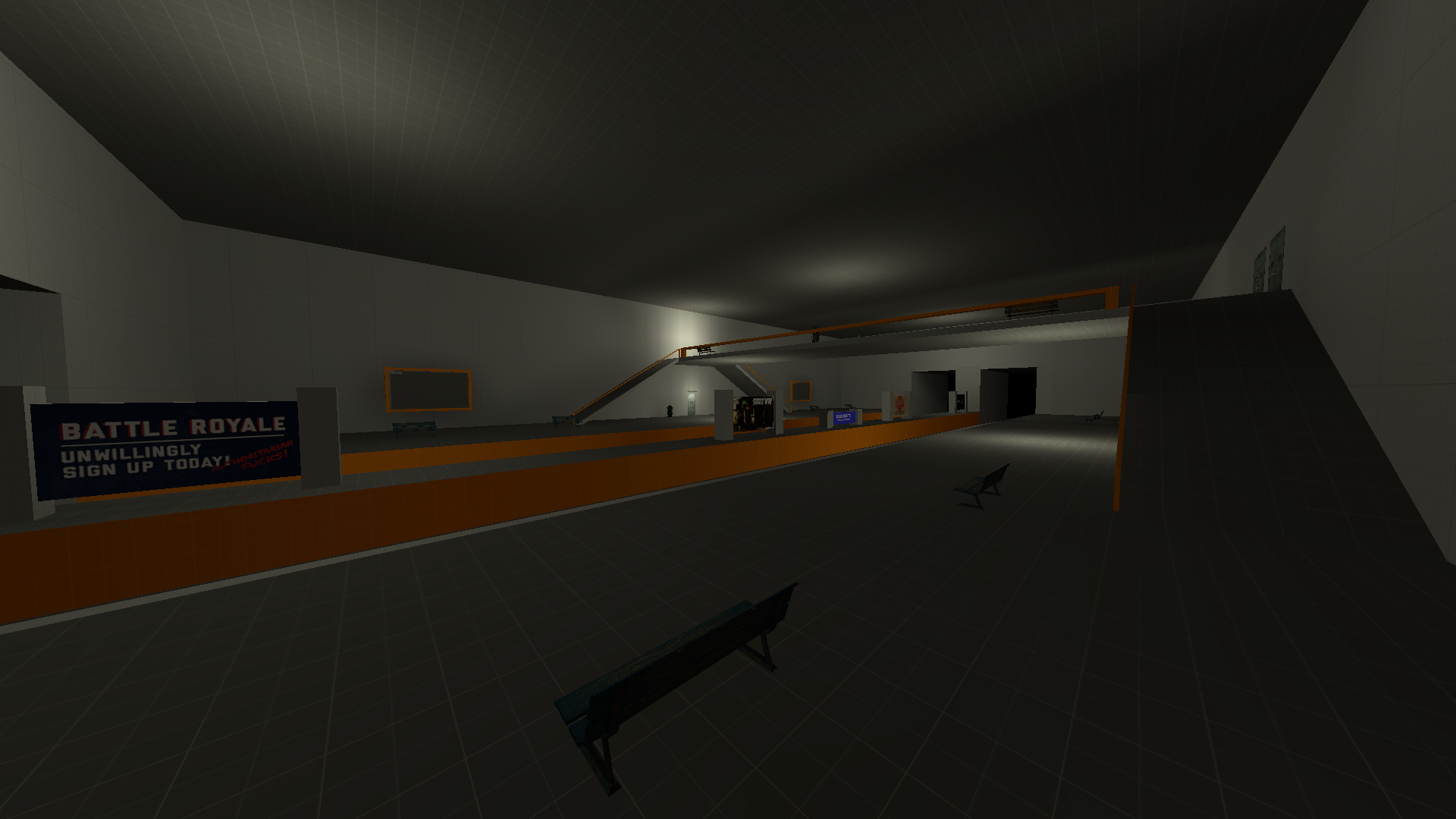 By: GeeNoVoid
"How else do you think people get from place to place? Well certainly not like this, those trains don't stop moving, good luck getting on one without turning into a pancake."
Volcanic Panic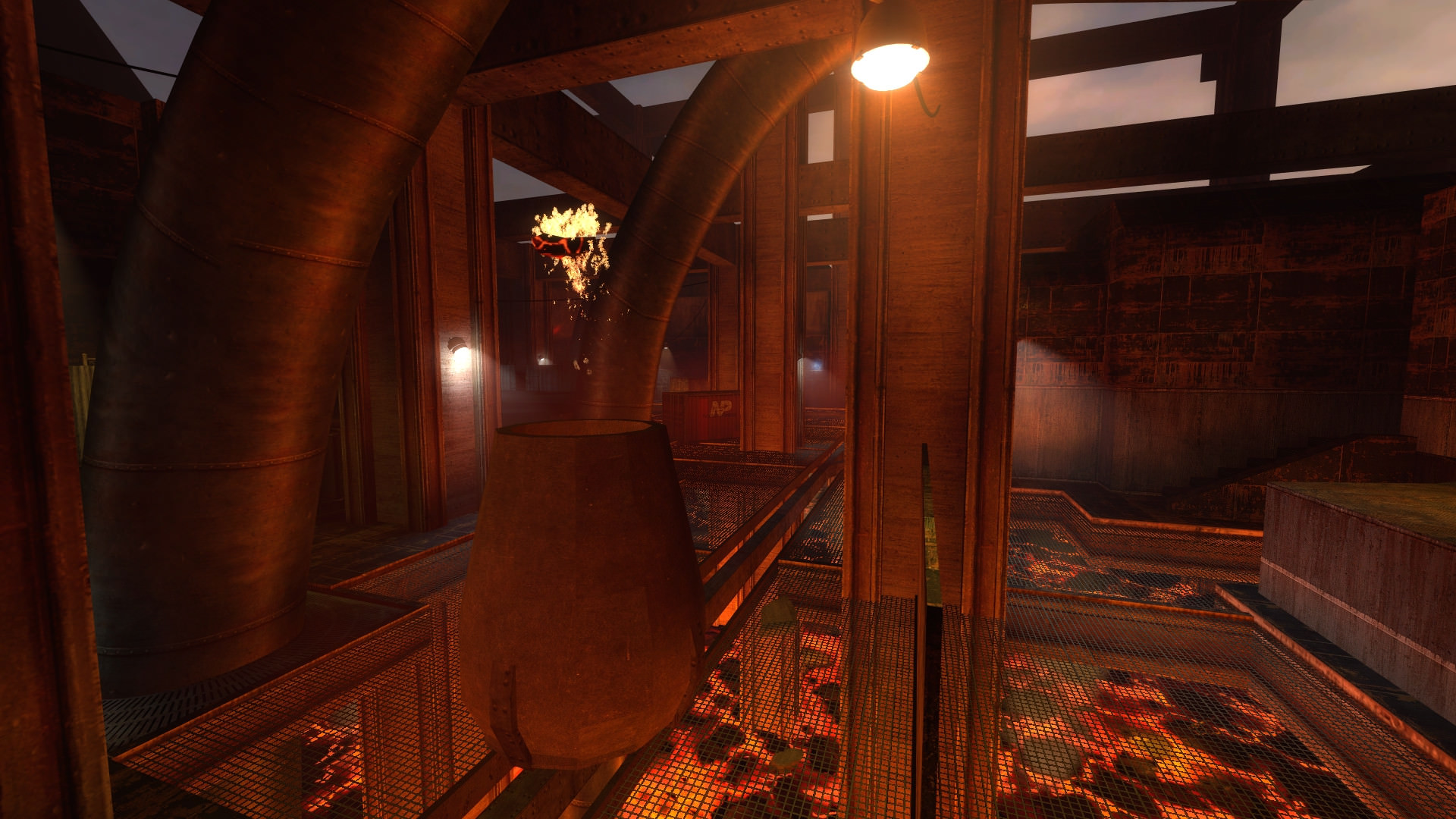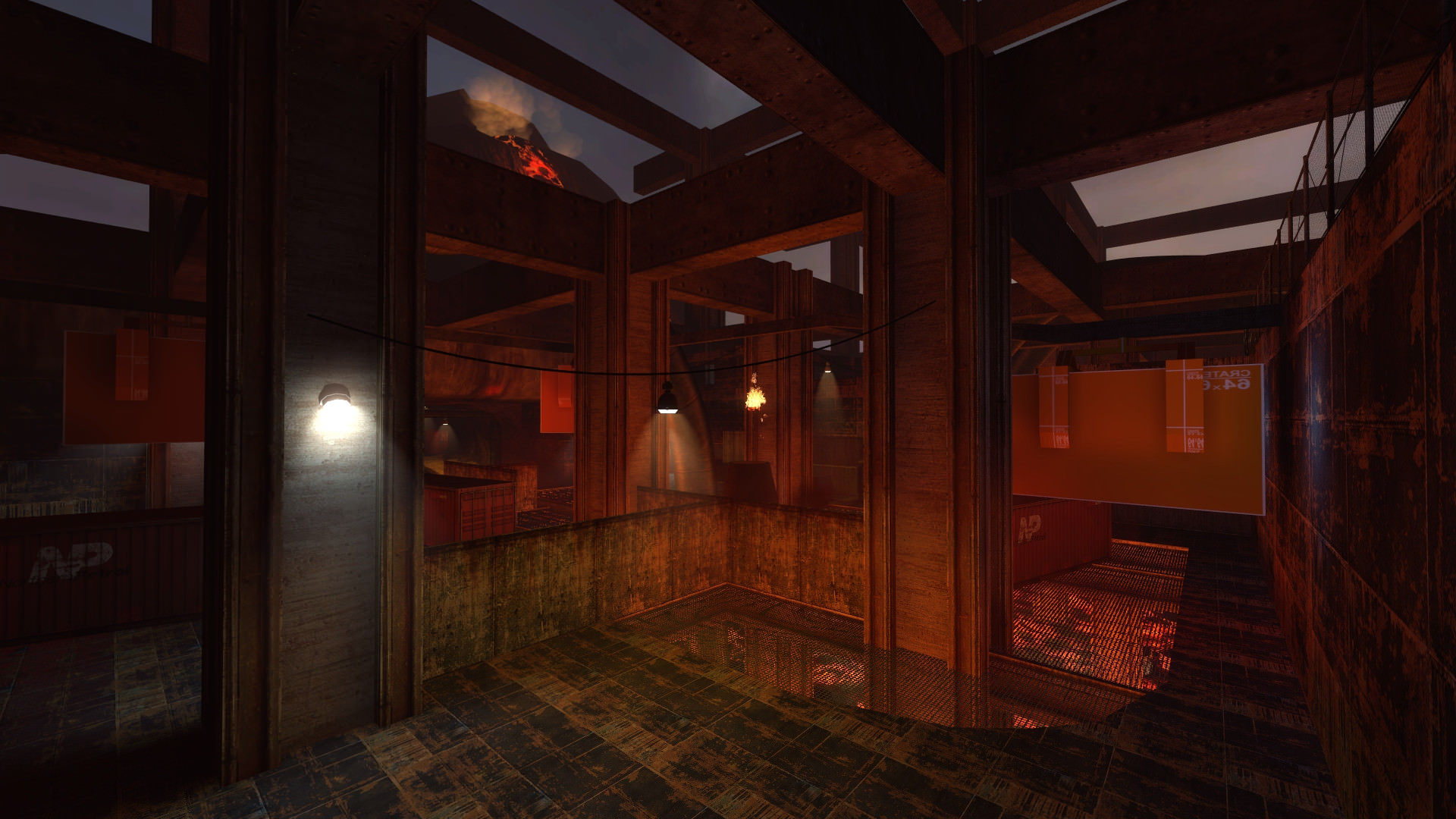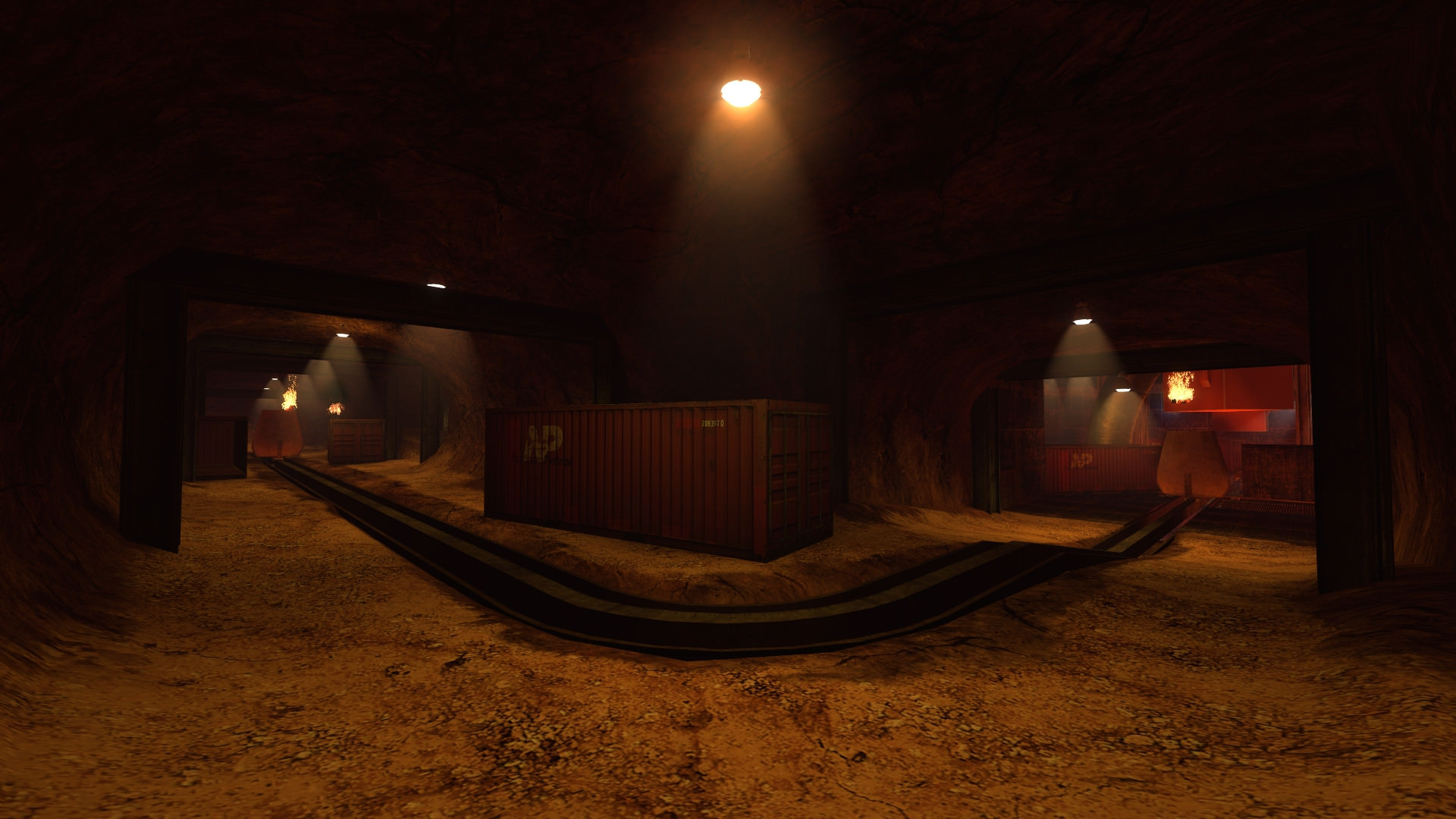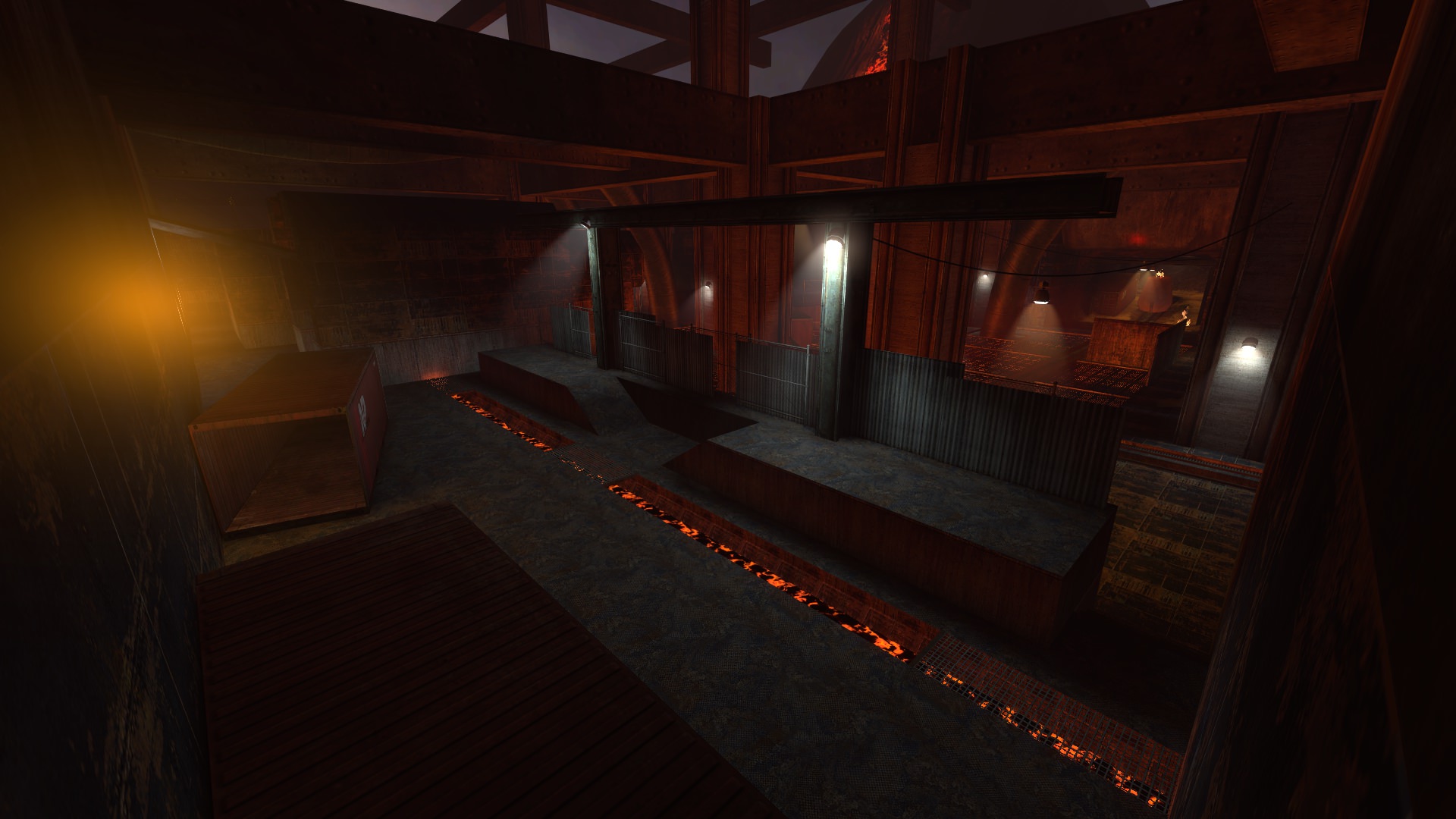 By: Nask
A large volcanic factory, complete with moving and erupting smelters, 2nd story overlooks, tunnels, and a great deal of cover scattered across the map
MadHatter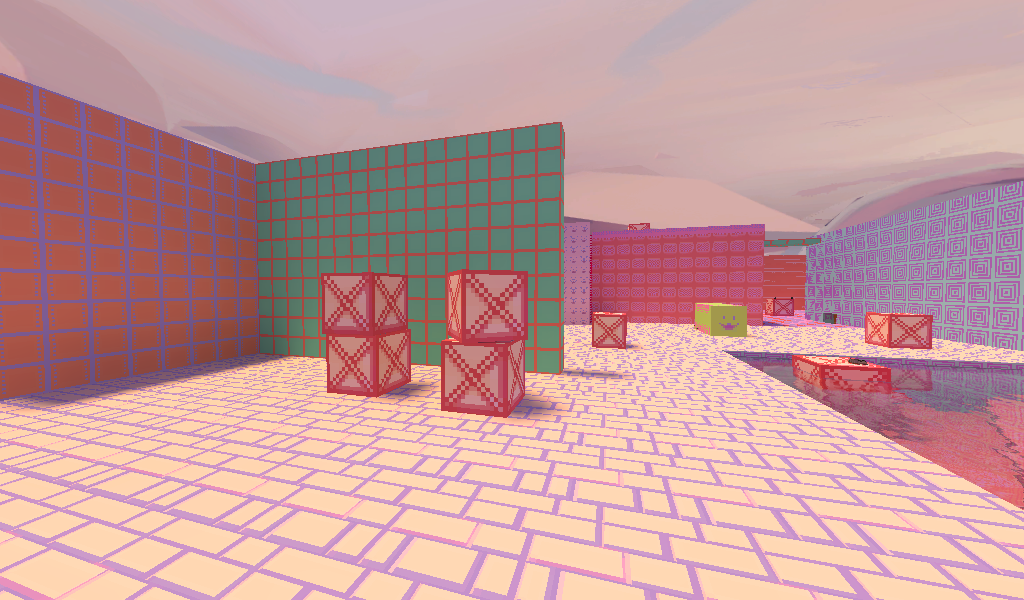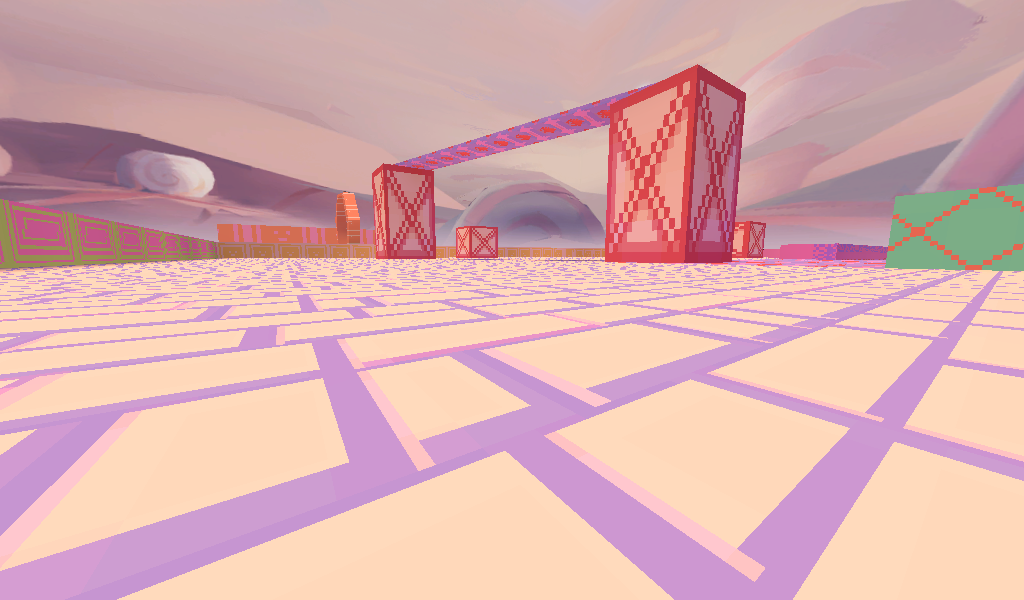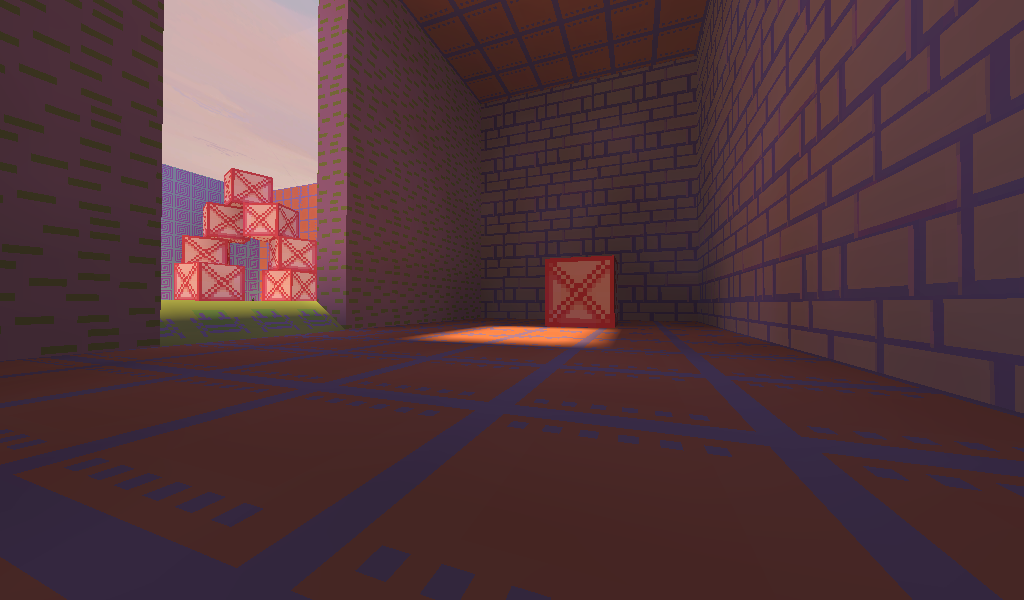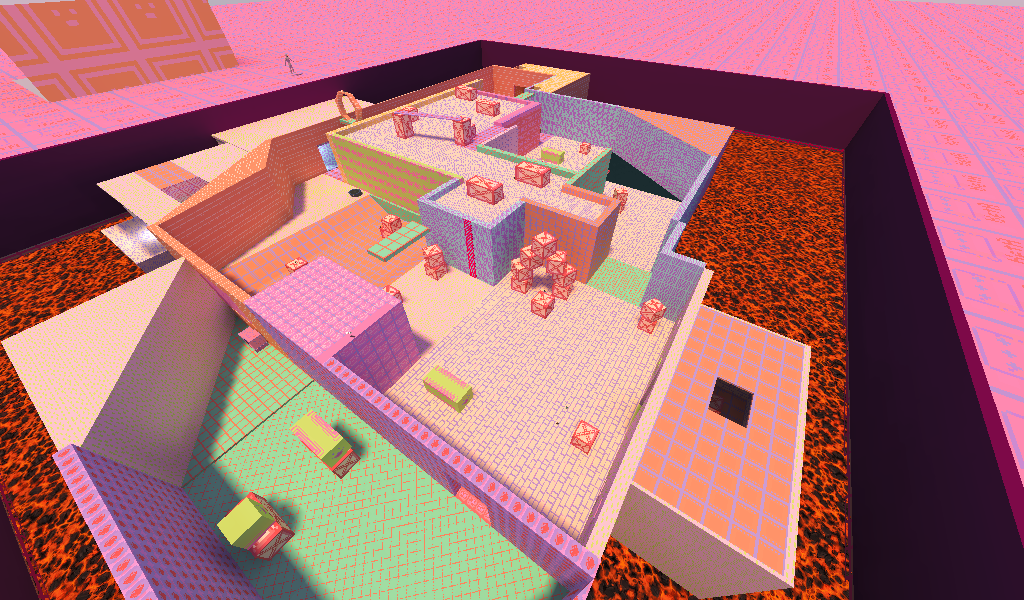 By: AzzyShark and Ellistron
"A change of pace from your standard Jb map, jb_madhatter is a bright abstract level with tons of nooks and crannies."
Prism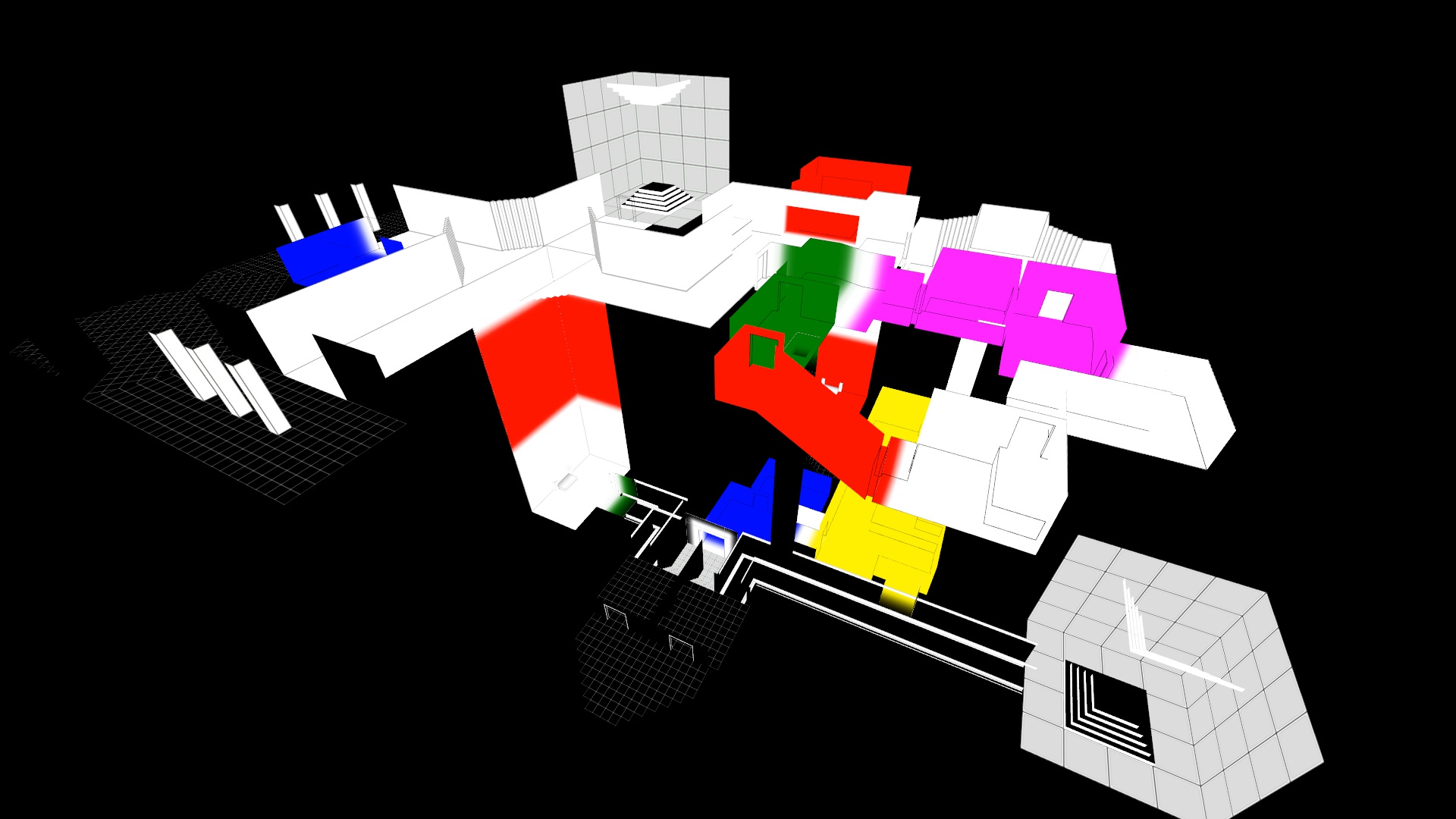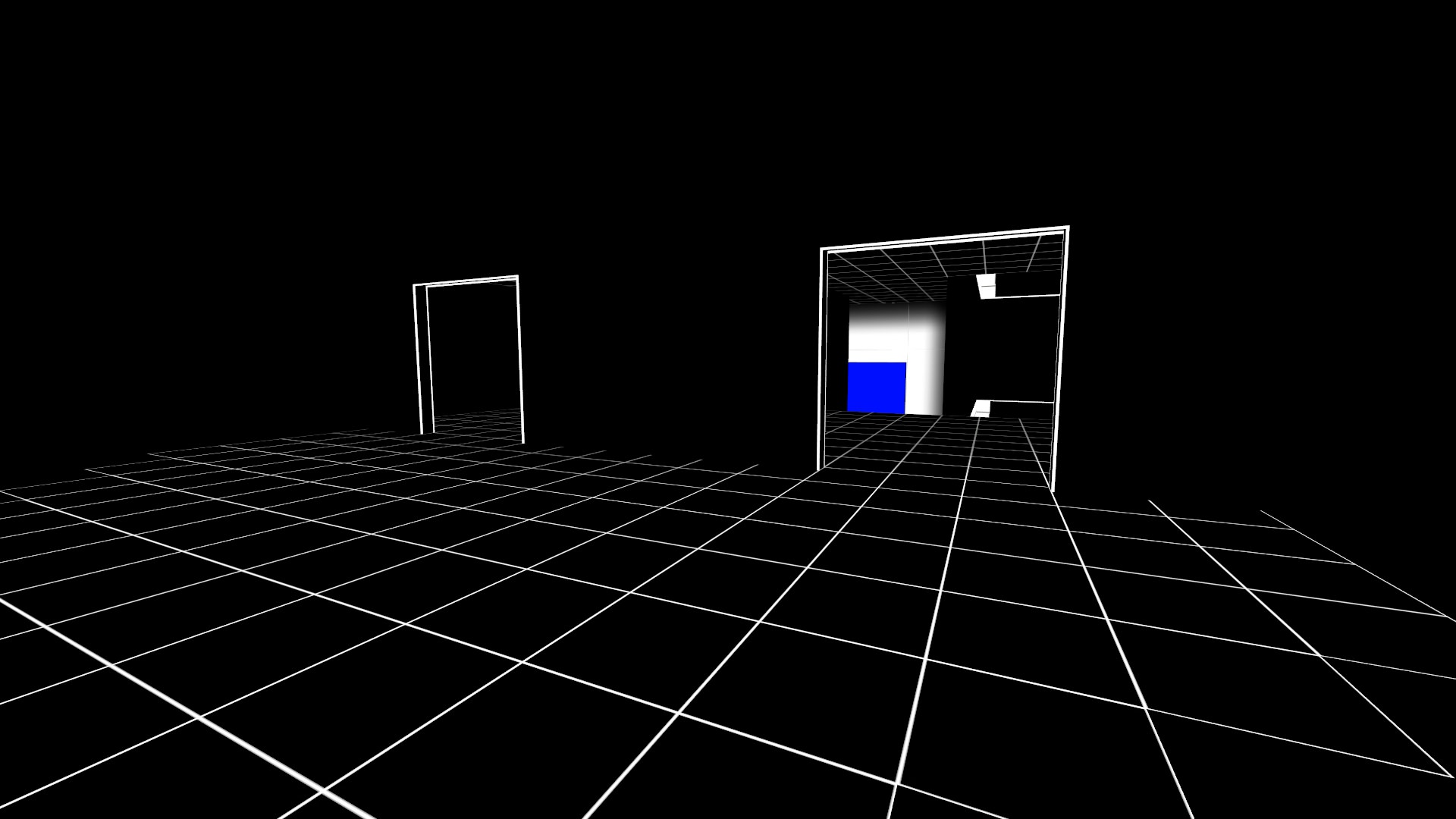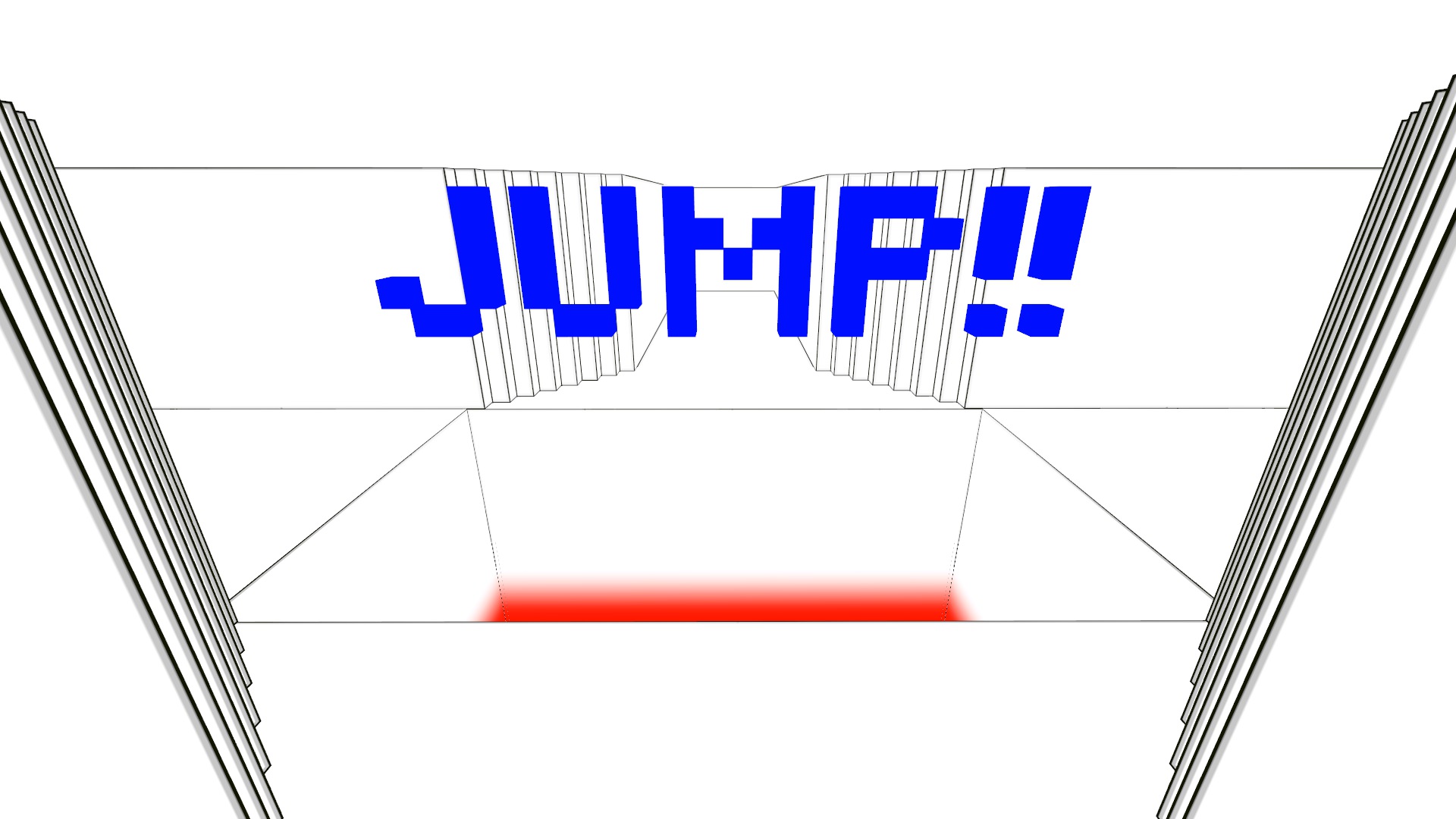 By: Violation
A super surreal map inspired by Antichamber.
Havanah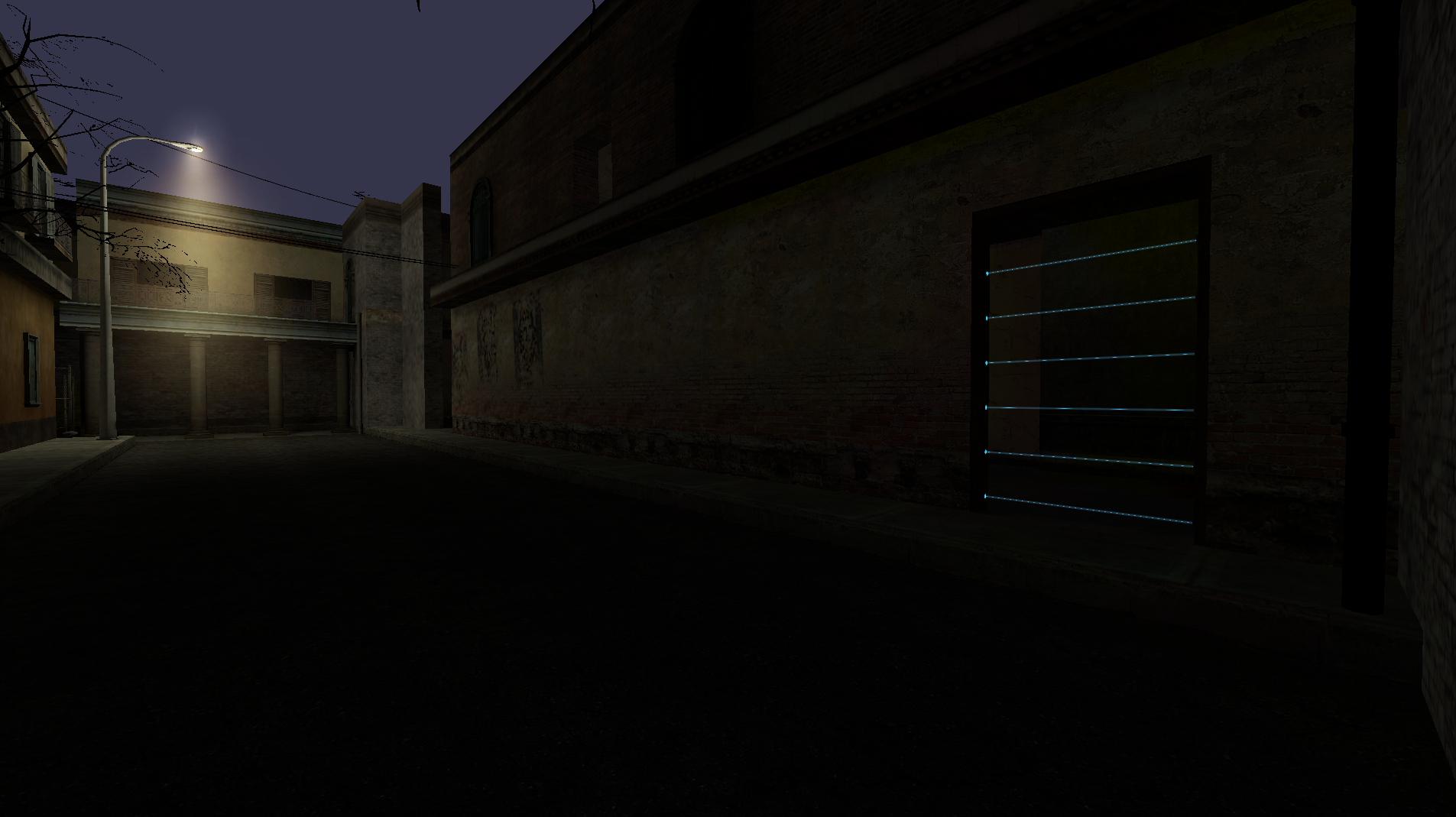 By: Phanterm
An edited version of cs_havanah from Counter Strike: Source, reimagined as a night-time SvT map. Loads of spotlight, laser traps, and other surprises await.
Sabbath 2.0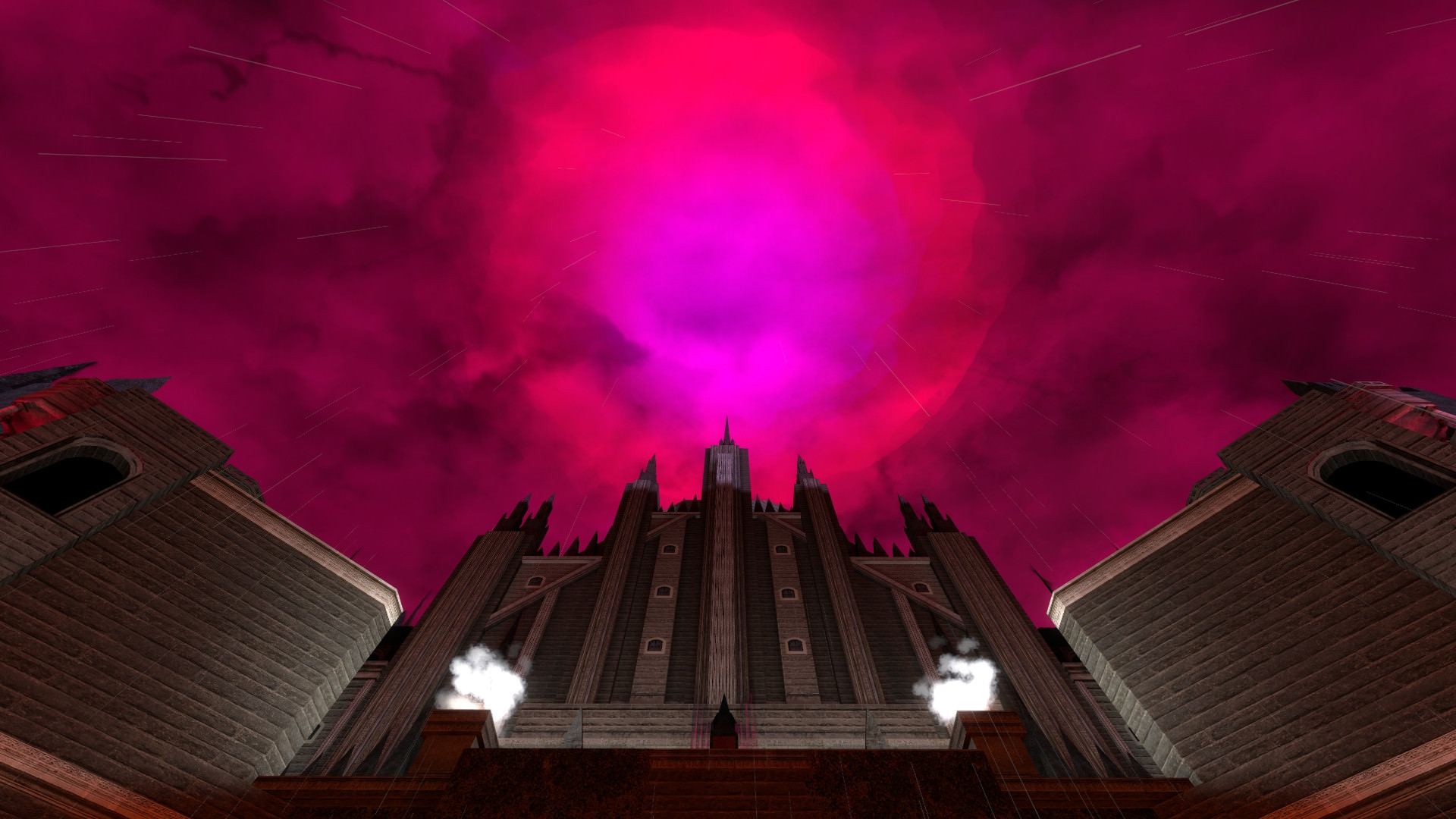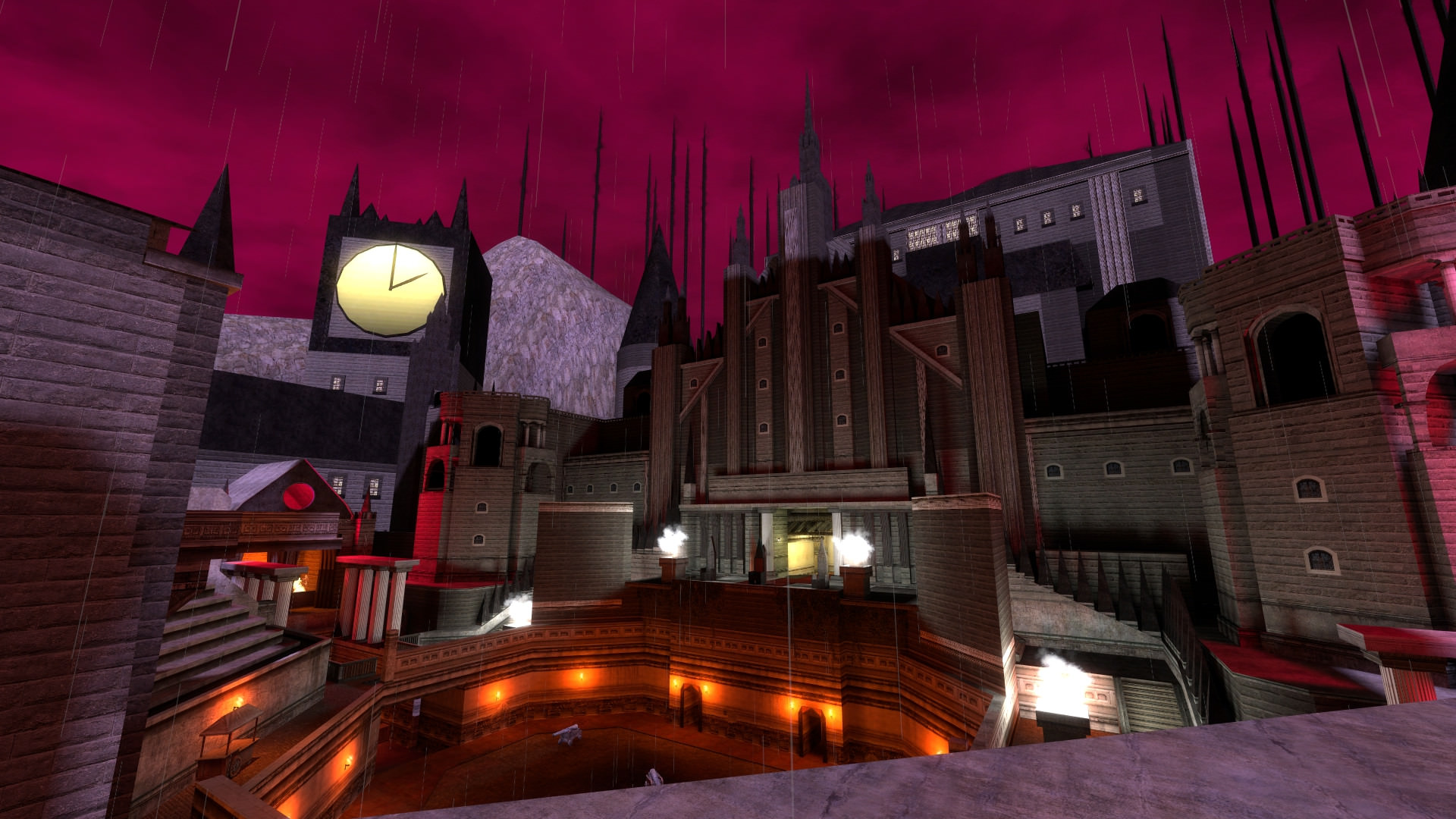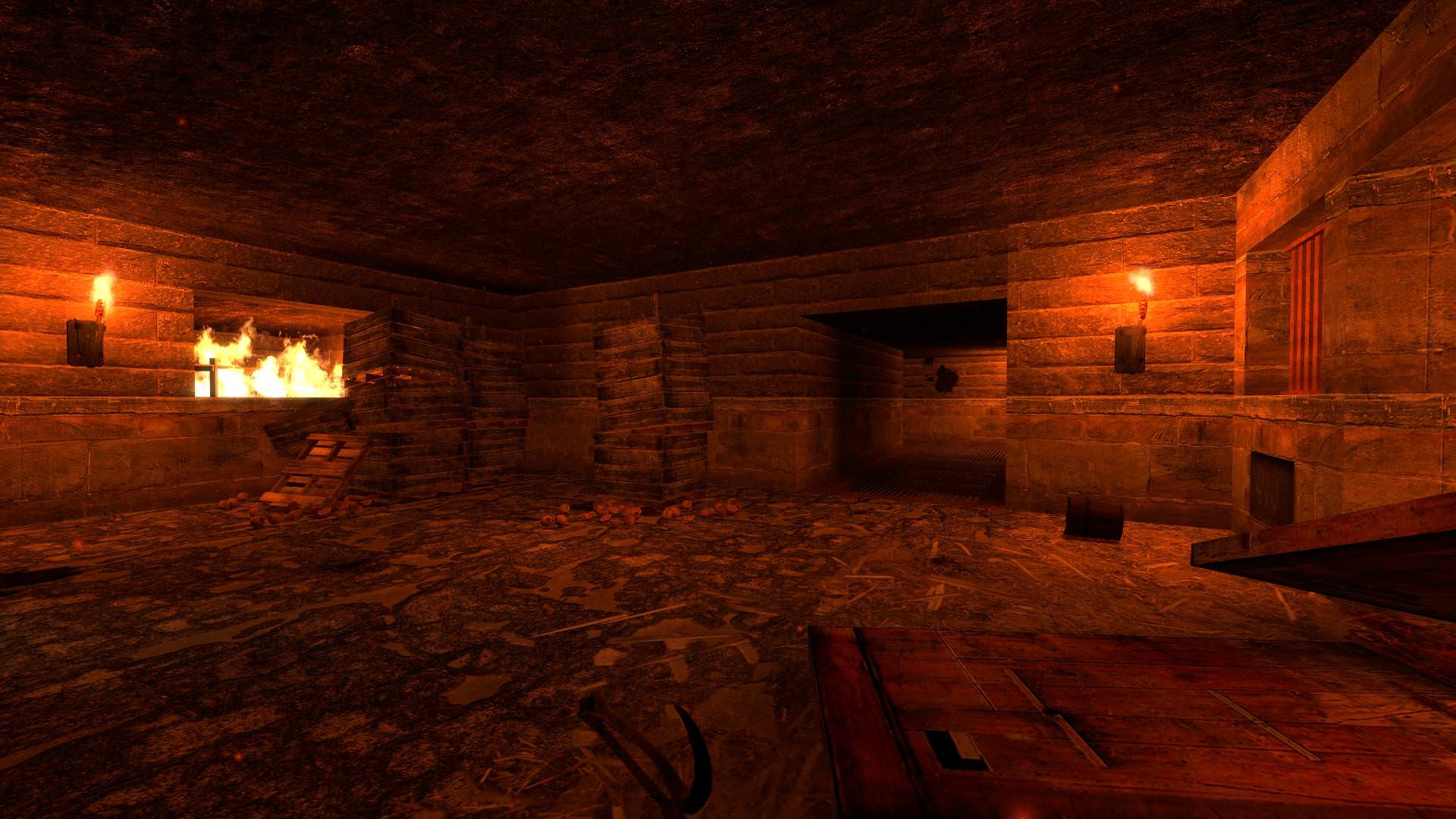 By: Phanterm
An upgraded version of one of our oldest maps, again from Phanterm!


Hellcoaster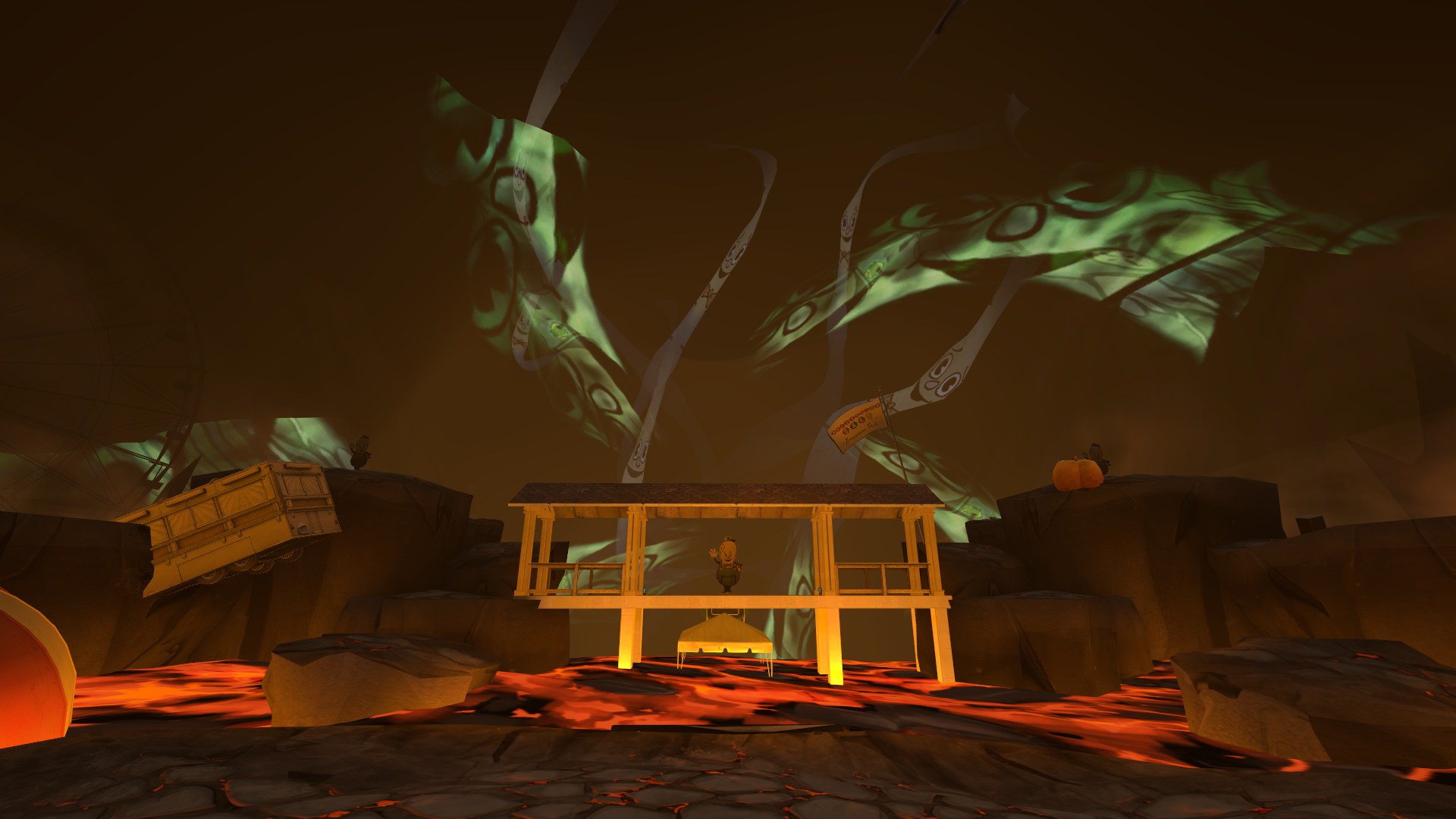 By: Ellistron
We already showed this off before, but just wanted to highlight some of the latest aesthetic changes the map has undergone. It's all a bit nuts, really.
BLOOD and DEBRIS!
Housemaster has been hard at work over-hauling our blood and bullet impact effects, and making the gore system even more extreme and bloody. The results have been super impressive, and led to the inevitable decision to also have certain player models get unique effects when shot. These effects range from simple stuff such as different blood colors, to more extreme results, such as feathers flying out when you hit the mattress player models. Take a look at the video below for just some examples of what we mean (the more will be coming soon)

FIRE and GAS!
On a similar note, Zero had a bit of fun adding a degree of much-needed realism to the fart glock: If you fart on a fire, or a player that's engulfed in flames, you will now trigger a massive explosion. Likewise, farting while you yourself are on fire will also trigger a deadly explosion, killing you and anyone near you. This has all been complimented by the addition of our newest weapon, the Incendiary Grenade. This weapon explodes on impact and ignites anyone nearby. But don't worry, you can still put yourself out if the coast is clear. You just have to stop, drop, and roll around on the ground! Check it out in the video below
KLEINERS and SNARKS
-mixed into one package! Awhile back, Rara added a new weapon that had been sitting on our proposed weapon list for years now: Small, handheld Kleiners that attack other players like snarks do. Thanks to some help from our newest programmer, Thirteen, we've now got them in a working (but still early) state and have been having an absolute blast with them. Check out the video below for a sneak peak at some of the absurdity we've been doing with them (but pay no attention to the janky animations. That was fixed shortly after this footage was taken)
Translations
A while back, two of our Russian developers, Zero and Bekoha, started working on a translation of the mod so that other Russians could easily play it. This got me thinking: why stop there? So, we've now started a massive project to get the mod translated into as many Steam supported languages as possible. Here's the current list (note: final release may not have all of these finished in time)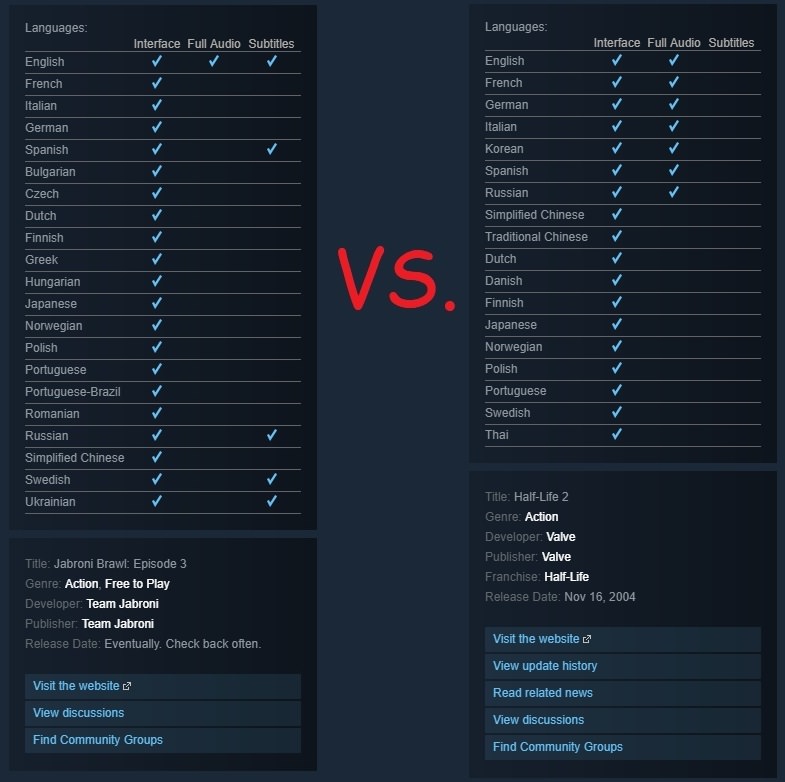 Needless to say, we've had a lot of luck finding willing and able translators. We're currently working on closed captioning as well, and we'll see how many translations we can get going for that.
If you think you might be interested in helping with translations, hop on our Discord and let us know. Right now we don't have any translators for the remaining Steam supported languages: Korean, Thai, and Turkish. If you know those languages and would like to help make a localisation for them, please let me know. If you know any of these languages though feel free to let me know anyways just in case the current translators decide they need an extra hand. Thanks!
TEAM ADDITIONS:
Oh god this image is getting freakishly huge
And yeah as you can see at the bottom of the developers list, special thanks to the development team of the upcoming Source project Team Deathmatch Classic. They caught wind of this mod shortly after the VNN video went live, and have offered to help out where they can either with fixes or additional content. Their feedback coming from the perspective of brand new players has also been especially helpful, and we've been hard at work addressing any frustrating issues other new players could face (beyond the obvious overwhelming sensation from seeing so much content at once. Can't really help you there, sadly.).
RECRUITING:
As always, if you're interested in contributing to the mod (outside of voice acting and first person weapon animations), please join our Discord and @ me on there. We'd love the help! Though as far as maps go, at this point we're going to be quite selective. But feel free to stop by anyways.
CLOSING:
Lots finished, but lots more to come. Thanks for reading another big fat update, and feel free to pop into our discord if you want to chat or offer any help with the mod. We also have a youtube channel up now, featuring linked clips from our various testers. Check it out
And as always, here's some footage of the last months highlights: