Come join us this Saturday at 8PM GMT (3PM EST)--that's today. We've had an excellent showing for Fragfest in the now six weeks we've been running it, and we're happy to announce it's going to maintain a regular Saturday event until our upcoming independent game release.
I hope to see you there!
The next three Fragfest dates are:
June 12th at 8PM GMT
June 19th at 8PM GMT
June 26th at 8PM GMT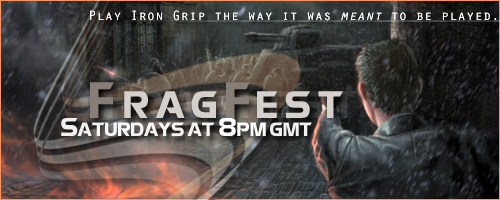 One More Thing!
We're also looking for a European server admin for Fragfest. This is a three hour, once a week commitment during 8-11PM GMT. It's a volunteer position, but dedication and repeated performance may merit a reward. We're looking for someone who likes Iron Grip, learns quick, and can display a level of professionalism. Having experience with using ManiMod or other remote server management programs is a plus. Unfortunately for us Americans, being European is required because you have to have a low ping on the servers! Email monique@isotx.com for further details.