For this week's update we've assembled 2 new weapons, which will be available to the Resistance team, as well as 2 brand new ingame screen shots, from both the RTS player and the FPS team.
It's been a while since we?ve released ingame shots; this was because we wanted more content to be ingame first.
But before we go to the shots, here are the new weapons fresh from the art pipeline:
The Pan-Mercos Arms "Shiva" 7.5mm Heavy Machinegun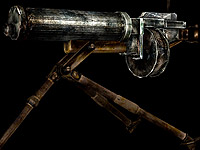 An old out-dated water cooled heavy machinegun. In spite of its "oldness" it still works pretty well and is used by various heavily armed resistance sells.
Next up is the: Sholohov SMLI-12-QL 12mm Submachine gun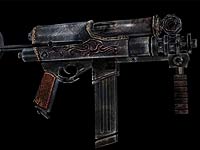 One of the first effective rapid-fire sub machineguns. Although a good weapon, high cost was stated as making it undesirable as a mass-produced weapon for the Jodorran army.
Now last but not least, the promised ingame shots!
We've been working hard on getting the GUI in place, and now finally the RTS player has a full-on RTS-HUD to help him build and command his AI controlled units like any "real" RTS including a commandpanel, interactive minimap etc.
The resistance team, playing a full-on FPS now has its own fully working GUI.
As we head into another week of fixing bugs, crashes, tweaking and testing, we hope you'll stay tuned for next weeks update.
Until then, if you have any comments or feedback, feel free to drop by our forums and let us know.
Head over to our site: www.isotx.com for more images.
Greetings
Iron Grip Team