Milton Keynes LAN '07
The first official Iron-Grip LAN tournament was held in Stony Stratford, Milton Keynes, on October 13th 2007. It was a collaboration between Isotx and UKLP, the MK Lan Party group. Many thanks to them for organizing it!
It was played best out of five, with the Resistance winning after the fourth round. It was played across the maps Mercos, Vistorg, Dynaderes and Ambush.
The final score was:
Resistance: 3
Rahmos: 0
Draws: 1
Resistance won $250 worth of Amazon vouchers to split between them.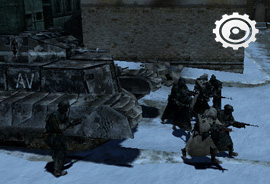 To find out more about the tournament, please visit the tournament page at our website.