After nearly a year of hard labor the dungeon patch is finally out, I'm still confused that I had intentions to release this patch in December 2017, considering the amount of fixing and new content that was necessary, oh well, at least its out now!

As some of you might have noticed, the download on modDB has been archived, for convenience sake I have made a simple key auth system to distribute Steam keys for Infestus, Infestus has been on Steam for a while and I think it would be much more convenient to distribute it through Steam instead. Simply login via Steam, here to fetch a key for Infestus! (Linux & OSX client is also available)
So, what's new?
Many new items, spells and npcs have been added.

Shields can now be used, they are quite useful for tanks.
A shield slam spell has been added, which will give you increased threat generation.




Ranged weapons are now supported for players & npcs, crossbows will hopefully be added later!
Currently you have unlimited arrows, arrows glow locally so you can see the trajectory in dark areas, however this is all subject to change!
Charging of attacks will be added later, charging your attack fully will increase damage + range.



Outskirts Catacombs - The first dungeon!
Are you prepared to take on the challenge to defeat Moroes the Summoner and his commanders?

Added treasure chests!
Added Discord RPC support for Windows (WIP)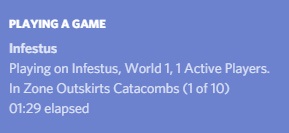 A lot more has been done for this patch, if you're interested in the full details, check the changelog here!
Feel free to join our Discord channel, for more up to date news & to take part in the community!
We're still recruiting!
Do you have passion for the Source engine and modding in general? Do you want to challenge yourself?
We're in dire need of 3D artists and animators!
We want to get rid of our placeholders, maybe you could help us with that, should you be interested?
If so, feel free to pm me on Discord (BerntA) or on modDB (Pretador)!