I've managed to get back into Homeworld modding even though things have been very hard for me to do so. I've managed to get somethings working as well as add in a new ship. Also with this I'm going to never give any release dates unless I can be sure I can upload it here on Moddb or anywhere else. So this means I will never say I'm going to release it soon or anything like that.
Now then onto the new ship!
-The Kardarans have gained a new capital ship to use late game the Crusader.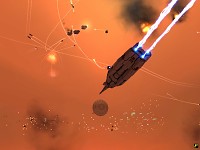 The Crusader is a large late game unit that the Kardarans can deploy after enough certain research has been completed. It is armed with 4 frontal heavy ion cannons, and 4 pulsar cannons. Once upgraded it can be equiped with a large super missile launcher that can be used after the research is complete. It is activated by pressing the "Z" key and targeting a enemy frigate or capital ship.