Hello fellow modders and players!
Did you ever wanted to have Back2Fronts visuals in your Hard Core Tactical Mod? If your answer is YES to that question - then this new ADDON is for you.
Please note new ADDON VERSION 1.1 - THIS IS A RE-UPLOAD due to found bugs (see feature numbers 25-28).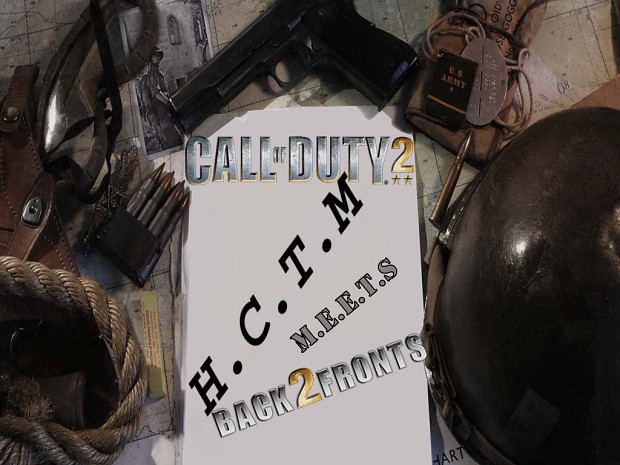 This addon is PURELY VISUAL. It does not change your HCTM behaviour in any way. Your HCTM will behave exactly the same as before but it will look like Back2Fronts style.
This ADDON is made to ONLY work with HCTM 1.0.
I made this to ease your waiting time for HCTM 2.0.
Best Regards and Best Playtime from MCh2207Cz. Enjoy!
DOWNLOAD HERE:
In case you don't know what Back2Fronts is - then look here: Moddb.com
For those who want to know what's changed - here is a full change log:
new French uniform: Moddb.com
new Breda LMG: Moddb.com
B2F animated bullets for guns: Moddb.com
B2F weapon models: Moddb.com
new portable 30cal LMG: Moddb.com
B2F scopes: Moddb.com
corrected draw distance of tankride trees: Moddb.com
B2F compass and new friendly icon: Moddb.com
new knife: Moddb.com
new MP3008 SMG: Moddb.com
new M1A1 carbine: Moddb.com
new fist fight animation: Moddb.com
new MP40/II SMG: Moddb.com
new US officer helms: Moddb.com
new rifle grenade launchers: Moddb.com
new binoculars for tankride missions: Moddb.com
B2F rifle bayonets: Moddb.com
B2F grenades: Moddb.com
new scoped PTRS41 AT rifle: Moddb.com
unique bag for German frag grenade: Moddb.com
new and completely animated MAS38 SMG: Moddb.com
new and completely animated Gewehr98 rifle: Moddb.com
reworked rifle grenade launchers mechanics: Moddb.com
new and completely animated Erma EMP35 SMG: Moddb.com
Russian offensive grenade does not explode on impact anymore
corrected MP41 worldmodel
added specular textures for all weapons skins
tweaked LOD distances for static models