The Hall of Mirrors team is proud to announce that we have been featured in the latest edition of PCGamer UK. You can find new screenshots and a full page of content in the July issue of PCGamer UK out in stands now (Issue 151).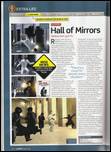 Click on the image to enlarge
And of course to celebrate I have uploaded a whole lot of new images to what used to be our rather small moddb image gallery. Here's a small taste of some of the goodies you can find in our new revamped image gallery!
Stay tuned! Big things are coming your way soon!
Visit our mod profile for additional information on the mod.