The second map is finished. Look at the fine teaser I made for you.
What is this map about?
Your team wants to go to earth to kill some dude. Unfortunately earth has been destroyed and only a very small part of it is left. And that little part is the best guarded place in the universe. Thats why you can not fly there with you own ship. You need to hijack an imperial personal transporter, the "Thalia", and use it as a trojan horse. And you need to hijack it on foot because otherwise their radars would detect you from miles away.
The whole plan is kinda risky :)
Why did it take so long?
Well there was real life...blah blah...studies...blah blah....motivation...etc etc you know the drill.
If you look at the map in the editor it doesn´t look that complex.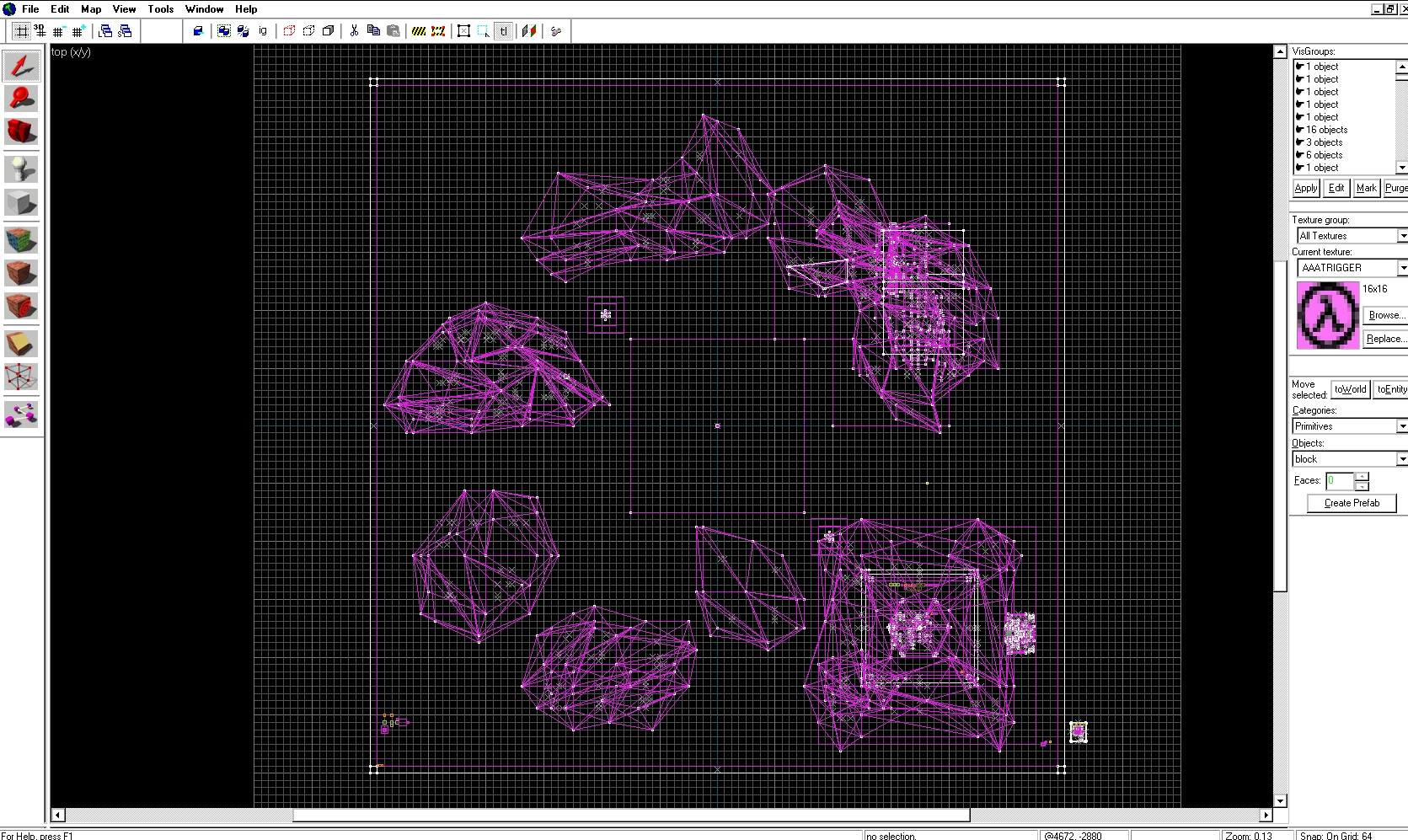 But I tried out so many new techniques and each one of them overwhelmed me with trouble. Here is a small list:
I created a particle system that makes small pieces of "stardust" fly around the map everywhere. You probably won´t see it in the video because the quality is not good enough and the particles are very small. But they make a big difference when you are ingame. The space feels much more "real".
This map has a 3D skybox kind of like in the source-engine. This is needed to fake this giant asteroidfield. Thats right, 95% of the asteroids you see there are just an illusion. The HL-engine does not allow such big maps.
In this map I want a giant spaceship flying through my map. This was only possible using a model. I didn´t know how to model but a friend showed me a tutorial on how you can create props in Hammer and then convert them into HL-model.
"Cool" I thought and tried it out. In the tutorial you create a wooden crate and then turn it into a half-life model. Then I went completely crazy and mapped a spaceship with 324 brushes, more than 2000 faces and over 70 different textures.... turns out you can´t simply convert such big map-files into model files. The model that I got was a complete disaster with every texture aligned wrong and lots of vertex-errors.
I have been trying to fix that model for over a month now but it is simply too much work and I guess it would be easier to create a new model from scratch.
That is why I decided to just leave it as it is now. And if you look closely in the teaser you will see that the spaceship is only 30% textured. I also messed up its movement in the map so now it looks like an "old-film-effect" in Adobe Premiere: Youtube.com
So I had to finish this map even though the most important part, the "Thalia" looks kind of awkward. But I had to move on for my and your motivation.
The good news is that I now know how to model (simple stuff) and you will likely see more detail in my future maps :)
Oh and here are some random screenshots of the Thalia: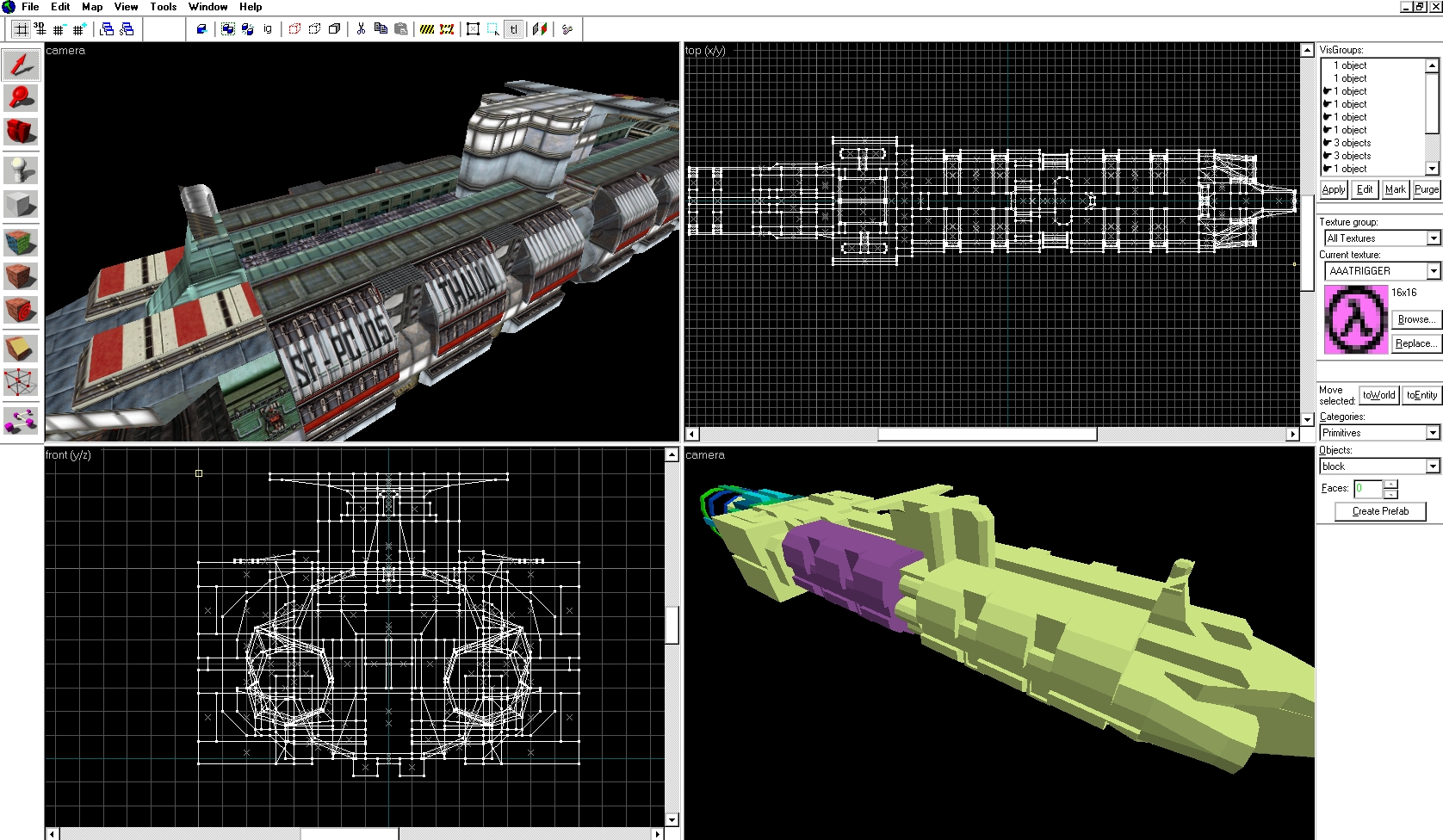 In Hammer: Everything is nice and clean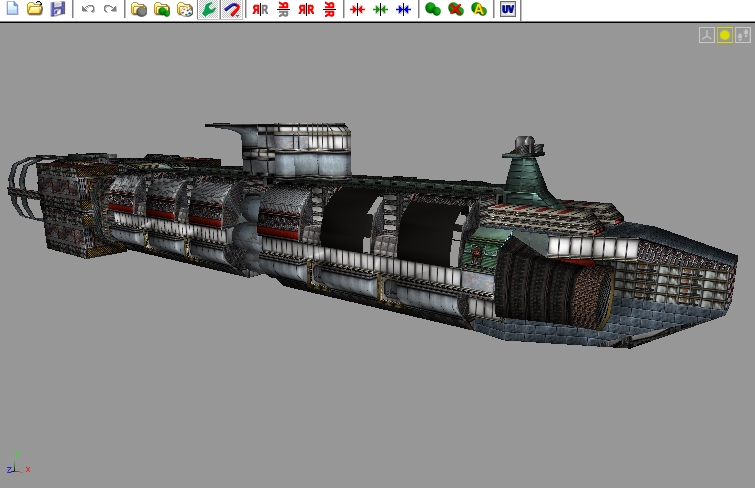 In kHED: Things SEEM to be in order but it really is a mess. Every texture needs to be replaced by hand. And most of the vertices too.
That is all for now. Let me know what you think.
I am still looking for a mapper who wants to join me. If you are interested: message me.