Welcome to crystal la- I mean welcome to the first friday update of 2012! These past couple weeks we've been hard at work on some new features that I know you'll enjoy. Starting off with the brand new achievement system (that actually works!) we showed you last saturday!
Now something that I'm quite proud of is something we've been wanting for a long time but only now have just created. A reload system! That's right, no longer will your guns seemingly pull bullets out of nowhere, each gun has a clip and a pool of ammo, by binding a button to the command "reload" you can manually reload, or when you run out of bullets and you fire again, it will automatically reload for you. Currently, some guns reload at a fixed reload time, while guns like say, shotguns will take longer the more ammo it has to reload (Eventually they will reload one shell at a time and can be interrupted mid-reload) Obviously things like grenades and C4 won't have a clip, but rather just an ammo pool.
All of this is defined in our Weapons.txt which now allows per-map modifications, so if you make a themed map (let's say, a space marine map) you can change each weapon's behavior including but not limited to its clip size, firing sound, projectile model, and so much more. Also, just yesterday Eezstreet implemented a "quick throw" button that allows you to throw grenades without switching to them, it also detonates C4 so you don't have to have the C4 out to detonate them!
Speaking of weapons, Zero, Suibuku and I have been hard at work getting not only every single weapon ingame (currently most of them just have flat shaded colors, but that will change) but also texturing them! But that's not all, ever find yourself bored of playing as the same jedi characters in Gunslinger's Academy? Well the texture artists are hard at work making new player skins that fit GSA's theme :D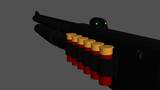 Also, in the mapping department, we have a new work in progress map being created by me, it's a remake of Gears of War 2 and 3's Blood Drive, which currently is my favorite video game level of all time.
Look out for a new beta release soon,
Silverfang