Hey Lads!
In the past few weeks we've been advertising that we needed a programmer for the mod. I'm glad to say that we found the perfect man for this position who has proven his worth in just a few days. He has added many, mainly GUI related functions to the mod so far. I'd like to introduce our newest member, Alters, who has another Half-Life 2 mod in development called Synchronicity. I was allowed to test Synchronicity and can safely say that it has a lot of innovations in it for its players.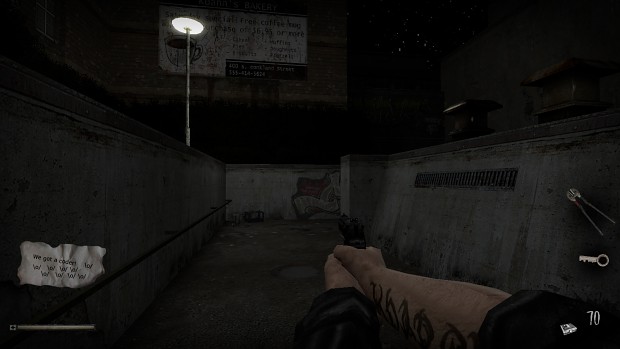 He has many skills which he acquired during the development of his own mod, meaning Grey won't cause problems for him at all. Since this is an action-horror game, we created a simple system to indicate acquired inventory items on the GUI, and a small objectives indicator is also present which can be toggled on and off - which briefly describes what the player has to do and where he has to go. You can see how these new features look on the screenshot above.
None of this is final, of course, anything can change during development. When we are done with the GUI, we'll get started on modifying the enemies, and all the other things there are to do. So get ready, because there will be more news real soon!
/Ashkandi