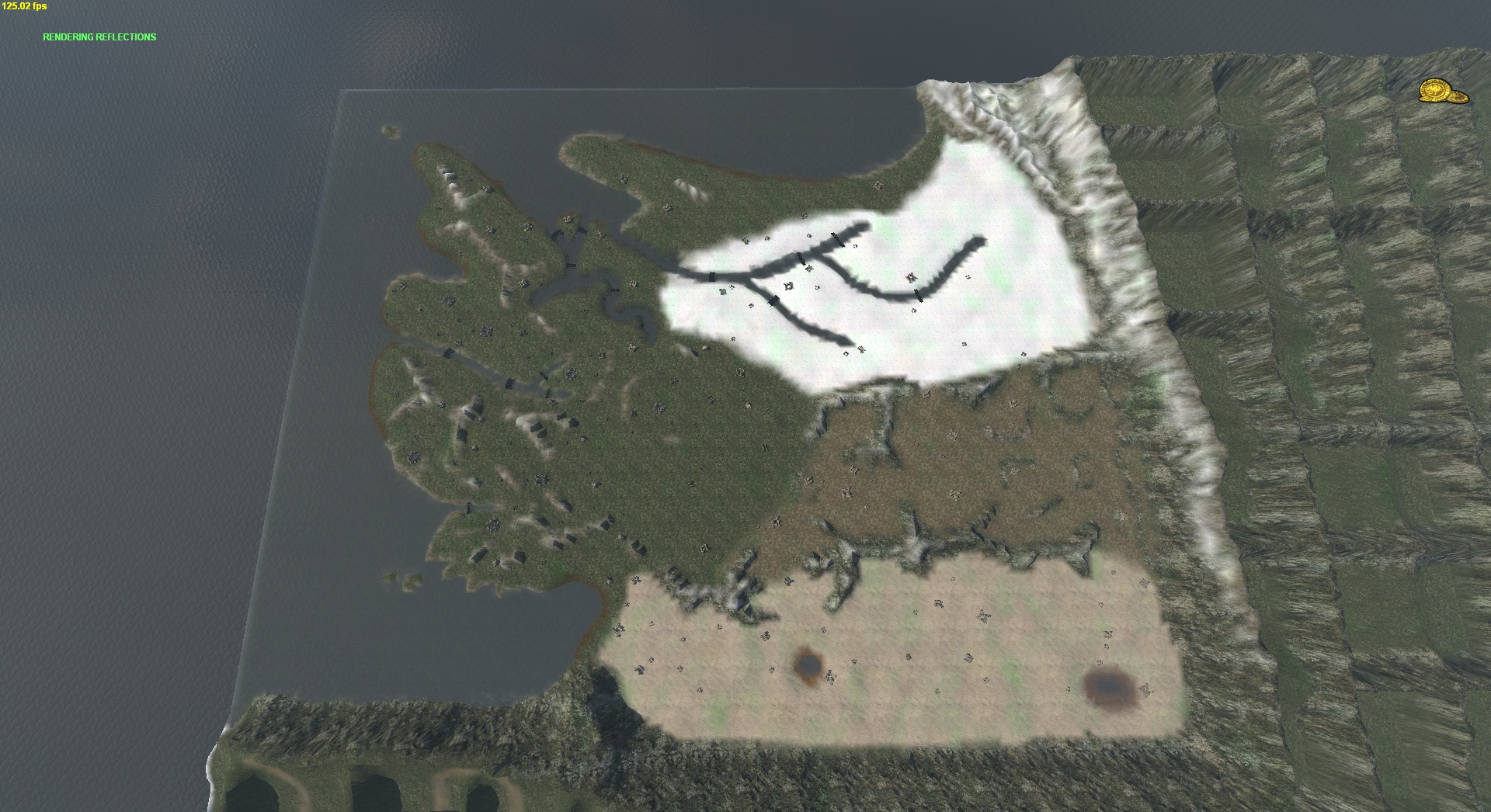 This great project aims to achieve the first time, playing in the most cooperative way possible of the campaign mode of Mount & Blade Warband, we know that there is a method that uses the Mod "Battle Time", which are battles and sieges assisted in multiplayer , but it lacks essence that in the global map of "Calradia" we can move all together or separately doing our own adventures, so it would be more faithful to a cooperative campaign to move freely through "Calradia", the Global Campaign mod will be more faithful to a cooperative, thanks to the fact that we can move freely on a map that has been recreated in the similarity of "Calradia" with our character moving to access the mini villages, castles, cities and dens. The function that we will give to this mini map will be the same as the Singleplayer, in the mini map we can move to different places and access different sectors to carry out our own adventures accompanied or separated, being allies or enemies.

The mini villages, castles, cities and dens on the Calradia map, you can access them, for example: I go to the city of Praven (map of Calradia - mini city) and I have the option to enter there, I enter and I am inside of Praven of normal size.

The project is based on the great mod Persistent World, in which we will have a world where we have different professions, the need to feed ourselves, manufacture our weapons, buy / sell, form clans, etc. It also contains the OSP of the Kingdom of Andria mod thanks to its creators Illuminati, Dominic and domipoppe, thanks to this the map will have NPC bandits, making Calradia day and night cycle.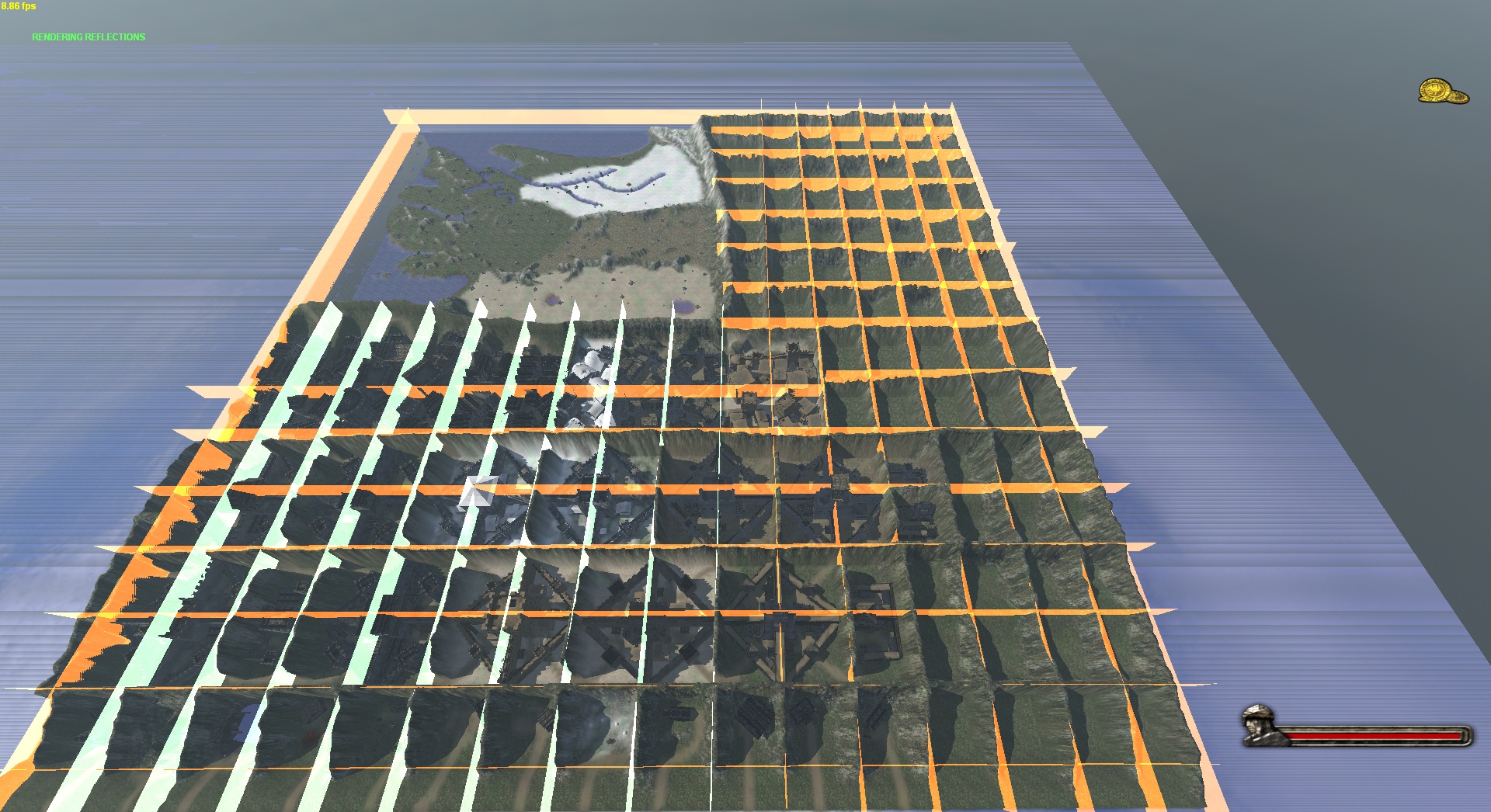 As you can see in some images, it is a giant map that contains a portion of the map of Calradia that we all know, is surrounded by several sectors that in total are 161, which will contain the 22 cities, 50 castles, 72 villages (were 111, but there is no more space, so it will be 12 villages per faction), contains 12 combat zones (players vs. players) and 3 zones of bandits (NPC bandits and perhaps bandit players).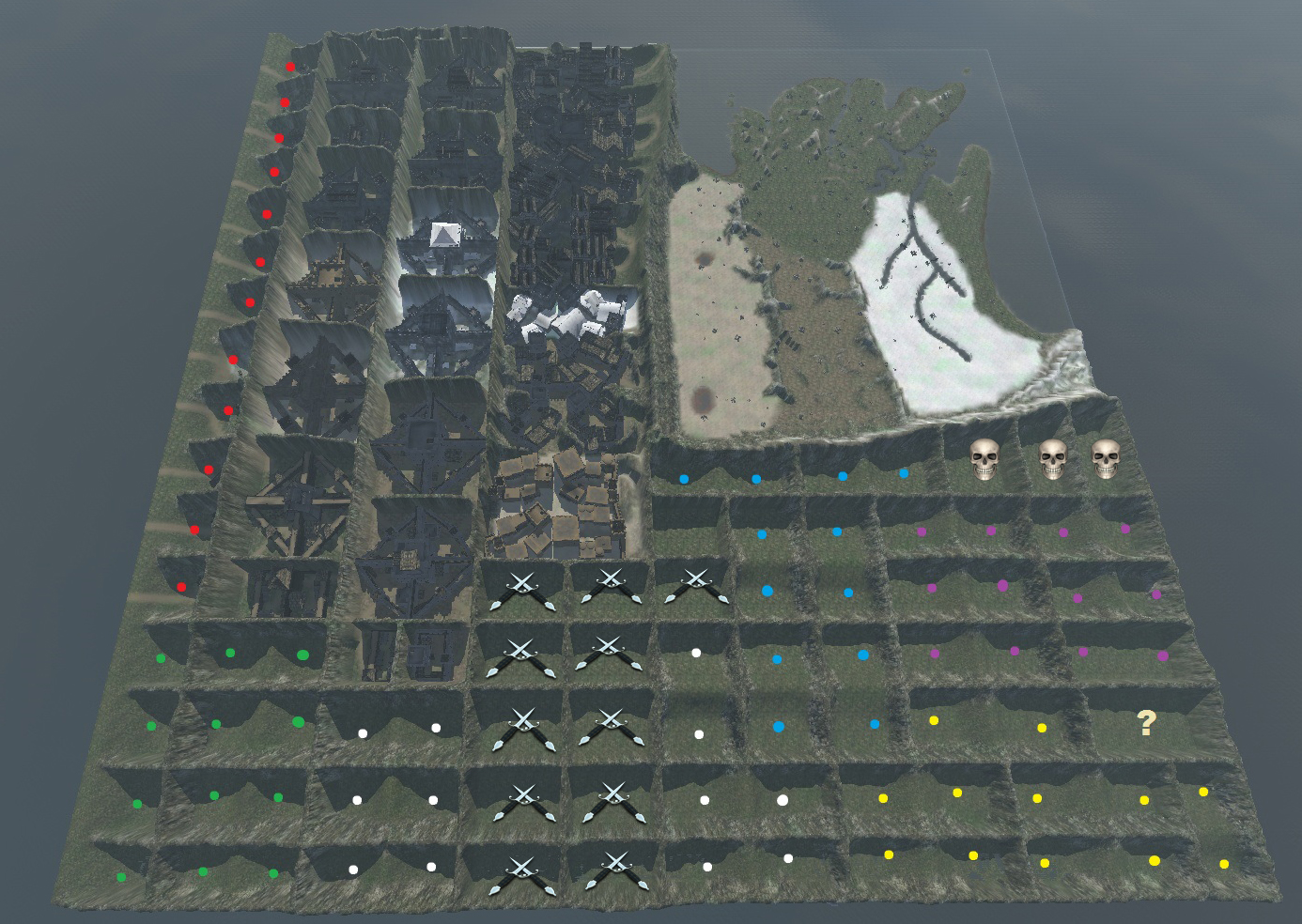 - The large amount of objects will require to be careful with what to add, since this could affect the performance of the game on the PC, we must avoid lowering the FPS.


- The sum of all the existing places of the real map of Calradia exceeds the total number of sectors available to edit the map, so you must discard some, unquestionably, the only thing that has been ruled out are some villages, the villages were 111 in total and it was reduced to 72 villages, that is, 12 villages per Faction.

- Creating a giant map in "Warband" is limited to approximately 1,150kb, more than that weight will stop working, so it is quite strict to add objects to the map, in fact, at the end of the edition the flora will be added.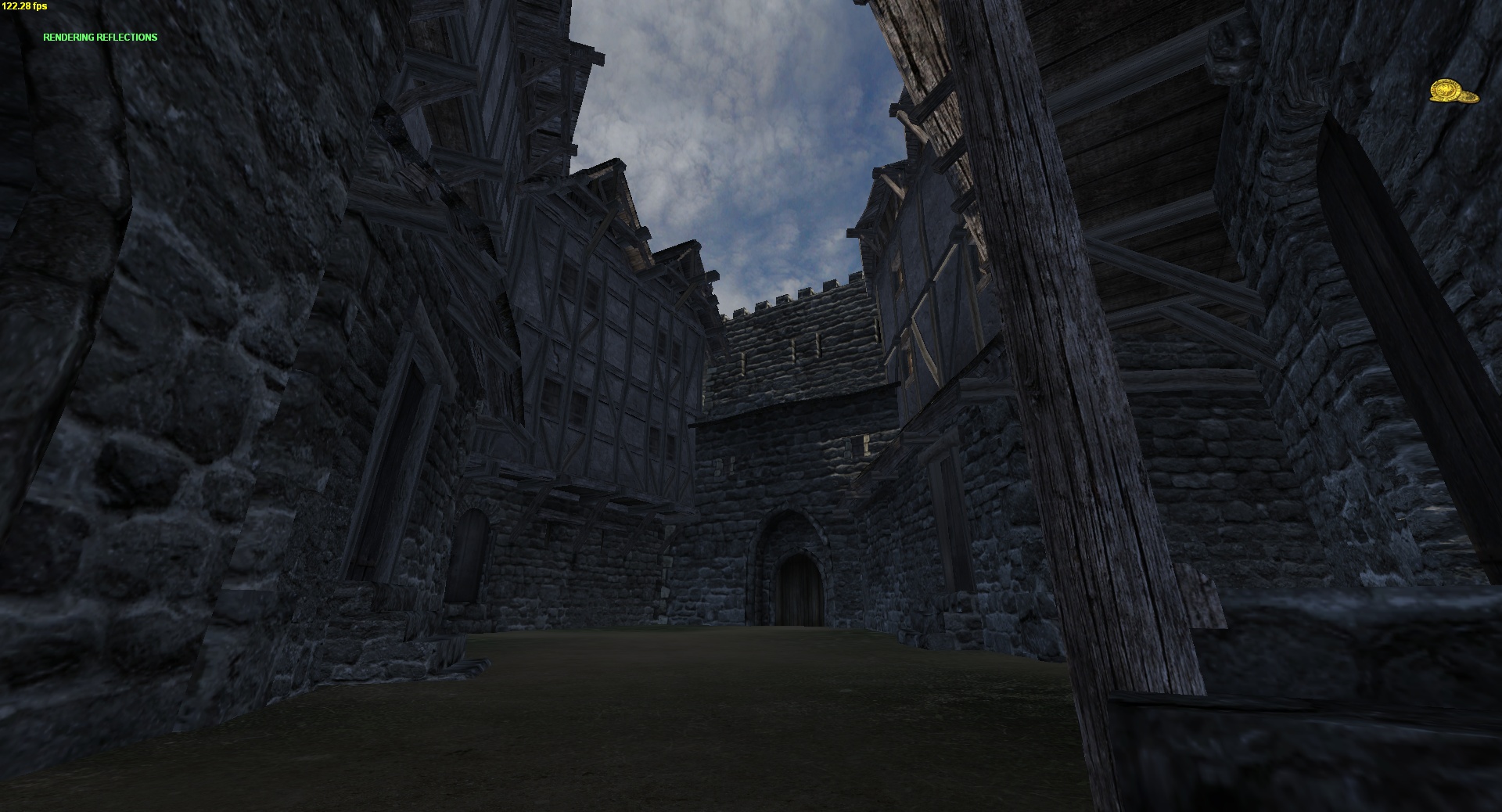 Frequent questions

How long will it take to complete?

There is no date, the amount of things that must be done is of great proportions, but the progress will be published constantly.

How will we know what to do on the map? I do not know the mod type "Persistent".

Like all events, there will be rules, similar to Persistent World, but with some new ones to try to separate us from the classic persistent system and that is more faithful to the objective of being a Cooperative Campaign or perhaps more of a Global Campaign, since each one will be able to Live your own adventure. Guides will also be created to understand everything. There will be similar missions to the campaign mode of the "Warband".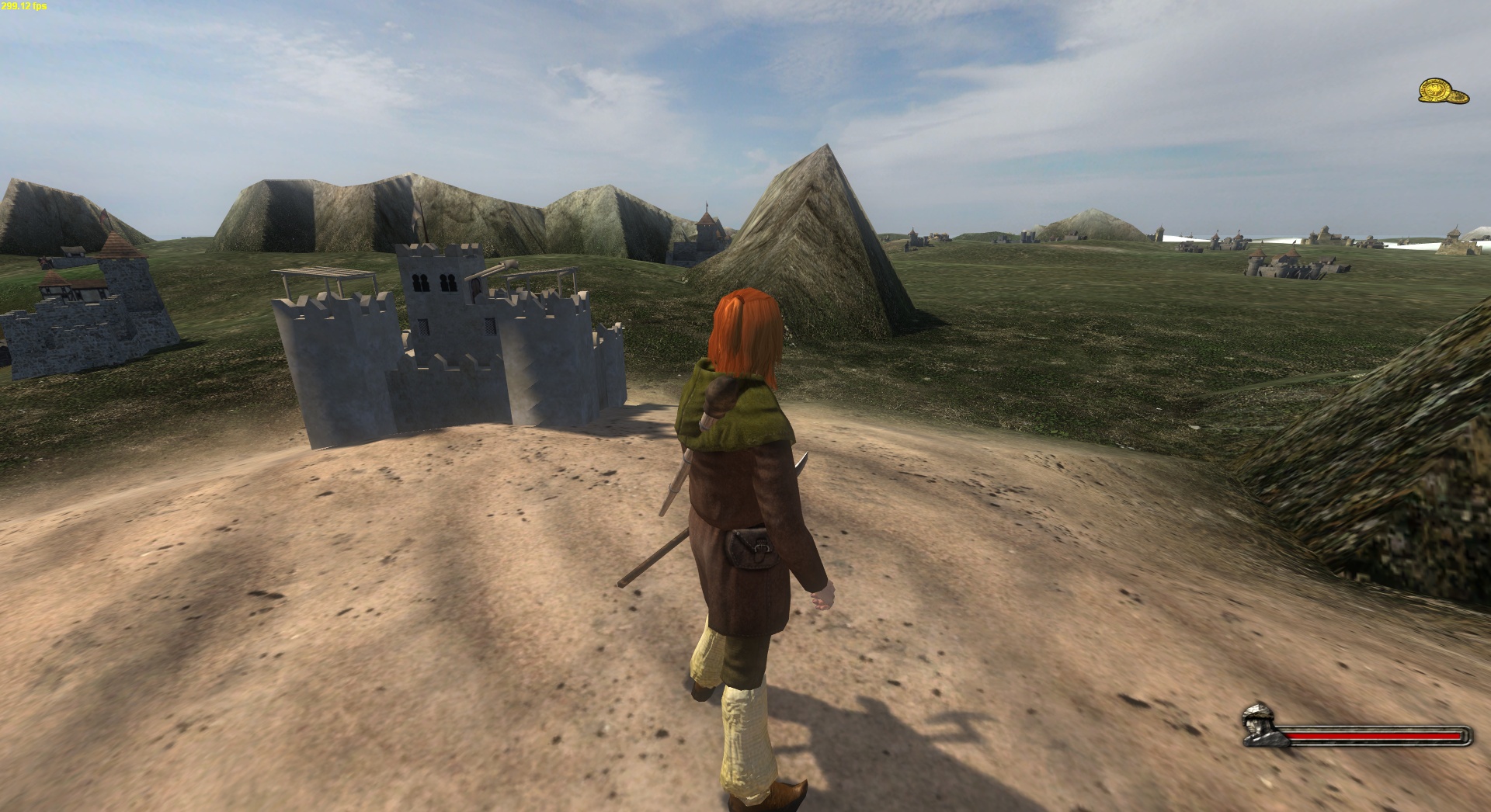 Proyecto en Español: Facebook
Trailer
Portugues:
Introdução

Este importante projecto pretende alcançar pela primeira vez, tocando no mais possível modo de campanha cooperativa Mount & Blade Warband, sabemos que existe um método que usa o Mod "Battle Tempo", que são as batalhas e cercos assistidos no multiplayer mas que carece de essência no mapa global de "Calradia" pode mover-se em conjunto ou separadamente por nossas próprias aventuras, por isso seria mais leais a uma campanha cooperativa se movimentar livremente "Calradia" a campanha global mod será mais fiel uma cooperativa, através do qual podemos mover-se livremente em um mapa que foi recriado à semelhança de "Calradia" com nosso caráter de rolagem para acessar os mini aldeias, castelos, cidades e tocas. A função que vai dar mini-mapa que será como o Singleplayer, no mini mapa pode mover-se para lugares diferentes e acessar diferentes setores para fazer nossas próprias aventuras desacompanhada ou separada, sendo aliados ou inimigos.


Os mini aldeias, castelos, cidades e tocas no mapa Calradia, você pode acessá-los, por exemplo: eu vou para a cidade de Praven (mapa Calradia - mini-cidade) e tem a opção de entrar lá, eu vou e eu encontrar no interior de Praven de tamanho normal.


O projeto é baseado no grande mundo persistente mod, onde você tem um mundo onde temos profissões diferentes, a necessidade de nos alimentar, fazer as nossas armas, comprar / vender, formar clãs, etc. Ele também contém a OSP mod Reino de Andria graças a seus criadores Illuminati, Domingos e domipoppe, graças a este mapa irá bandidos NPC, tornando Calradia dia e noite ciclo.

Setores

Como pode ser visto em algumas imagens, é um mapa gigante contendo uma porção do mapa de Calradia todos sabemos, está rodeado por vários setores no total são 161, que contêm as 22 cidades, 50 castelos, 72 aldeias (eram 111, mas não há mais espaço, então serão 12 aldeias por facção), contém 12 zonas de combate (jogadores vs. jogadores) e 3 zonas de bandidos (bandidos NPC e talvez bandidos).


Desafios

- A grande quantidade de objetos exigirá ter cuidado com o que adicionar, pois isso poderia afetar o desempenho do jogo no PC, devemos evitar a redução do FPS.


- A soma de todos os lugares existentes do mapa real de Calradia excede o número total de campos disponíveis para editar o mapa, assim você deve descartar, sem dúvida alguma, tudo o que foi descartado algumas aldeias, as aldeias eram 111 no total e foi reduzido a 72 aldeias, isto é, 12 aldeias por Facção.

-Criar um mapa gigante "Warband" é limitado a aproximadamente 1,150kb, a maior parte desse peso vai parar de trabalhar, por isso, é bastante rigoroso para adicionar objetos para o mapa, na verdade, no final da edição flora será adicionado.


Perguntas frequentes

Quanto tempo demora para completar?

Não há data, a quantidade de coisas que devem ser feitas é de grandes proporções, mas o progresso será publicado constantemente.

Como saberemos o que fazer no mapa? Eu não sei o tipo de mod "Persistente".

Como todos os eventos, haverá regras, semelhantes a persistente Mundial, mas com alguns novos para tentar separar-nos do sistema persistente clássico que é mais fiel ao objetivo de ser uma campanha co-op ou talvez sim uma Campanha Global, como cada um pode Viva sua própria aventura. Guias também serão criados para entender tudo. Haverá missões semelhantes ao modo de campanha do "Warband".


_________________
Español:
Introducción

Este gran proyecto tiene el objetivo de lograr la primera vez, jugando de la manera más cooperativa posible del modo campaña de Mount & Blade Warband, sabemos que hay un método que usa el Mod "Battle Time", que son batallas y asedios asistidos en multijugador, pero carece de esencia que en el mapa global de "Calradia" podamos movernos todos juntos o por separado haciendo nuestras propias aventuras, por lo que sería más fiel a una campaña cooperativa desplazarnos libremente por "Calradia", el mod Global Campaign será más fiel a un cooperativo, gracias a que podemos movernos libremente en un mapa que ha sido recreado en la semejanza de "Calradia" con nuestro personaje desplazandose para acceder a las mini aldeas, castillos, ciudades y guaridas. La función que le daremos a ese mini mapa, será igual que el Singleplayer, en el mini mapa podremos movernos a diferentes lugares y acceder a diferentes sectores para realizar nuestras propias aventuras acompañados o separados, siendo aliados o enemigos.

Las mini aldeas, castillos, ciudades y guaridas en el mapa Calradia, se podrá acceder a ellas, por ejemplo: voy a la ciudad de Praven (mapa de Calradia - mini ciudad) y tengo la opción para ingresar allí, entro y me encuentro dentro de Praven de tamaño normal.

El proyecto se basa en el gran mod Persistent World, en el que tendremos un mundo donde tenemos diferentes profesiones, la necesidad de alimentarnos, fabricar nuestras armas, comprar / vender, formar clanes, etc. También contiene el OSP del Reino de Andria mod gracias a sus creadores Illuminati, Dominic y domipoppe, gracias a esto el mapa tendrá bandidos NPC, logrando que Calradia ciclo diurno y nocturno.

Sectores

Como se puede ver en algunas imágenes, es un mapa gigante que contiene una porción del mapa de Calradia que todos conocemos, está rodeado por varios sectores que en total son 161, que contendrán las 22 ciudades, 50 castillos, 72 aldeas (eran 111, pero no hay más espacio, por lo que serán 12 aldeas por facción), contiene 12 zonas de combate (jugadores contra jugadores) y 3 zonas de bandidos (bandidos NPC y quizás jugadores bandidos).

Desafíos

- La gran cantidad de objetos requerirá tener cuidado con qué agregar, ya que esto podria afectar el rendimiento del juego en el PC, habrá que evitar que bajen los FPS.

- La suma de todos los lugares existentes del mapa real de Calradia supera el número total de sectores disponibles para editar el mapa, por lo que debes descartar indiscutiblemente algunos, lo único que se ha descartado son algunas aldeas, las aldeas eran 111 en total y se redujo a 72 aldeas, osea 12 aldeas por Faccion.
-Crear un mapa gigante en "Warband" está limitado a aproximadamente 1,150kb, más de ese peso dejará de funcionar, por eso es bastante estricto para agregar objetos al mapa, de hecho, al final de la edición se agregará la flora.

Preguntas frecuentes

¿Cuánto tiempo llevará completar?
No hay fecha, la cantidad de cosas que se deben hacer es de grandes proporciones, pero el progreso se publicará constantemente.
¿Cómo sabremos qué hacer en el mapa? No conozco los mod tipo "Persistent".
Como todos los eventos, habrá reglas, similares a Persistent World, pero con algunas nuevas para tratar de separarnos del clásico sistema persistente y que sea más fiel al objetivo de ser una Campaña Cooperativa o quizás más bien una Campaña Global, ya que cada uno podrá vivir su propia aventura. También se crearán guías para entender todo. Habrá misiones similares al modo campaña del "Warband".