The results of the poll are over! Kashyyyk is the winner, with Order 66 coming next update.
Now we present probably my favorite unit so far and maybe our most impressive yet. Modeled and animated by TiJil, who also made Grievous, we have a short video of Yoda himself showing off some of his niftiest moves.
Click on the image to show the video.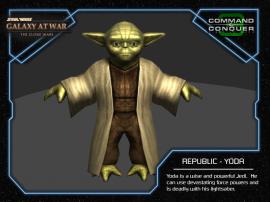 Stay tuned for some screenshots of Yoda ingame CNC3.
Enjoy.