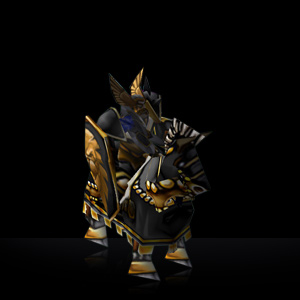 Story
The Kingdom d'Or, now home to the Forsaken, and it's elite 'Knights d'Or' proved the Regnum how a small regiment of expert warriors and tacticians could easily win when outnumbered by the peasants and militia that made up it's army, in a battle that secured the Kingdom's independence. The Regnum was then forced to make huge changes in it's military organization. One of them was the training and creation of an elite batallion of heavilly armored knights that, in the present, serve as a sort of special police and the King's personal guard. They are known as the 'Royal Knights'.
Used to bringing down rebellious nobles or dealing with simple bands of robers, Darius felt uneasy at the first sight of the Forsaken army. He was never a man of faith, but of logic and reason, and seeing such terrible creatures brought awe and fear to his heart. The way to the Forsaken's last Bastion has been long and dangerous. He became used to the smell of their black blood, hacking and slashing through their worm-infected dead flesh. But the feeling of dread, of anticipation, of a coming doom crawled deeper into his heart. Darius is ready to die, he accepts it, and although his hand will never tremble, nor will his mind know what makes his heart shrink and shiver with every step he makes.
Statistics
Name: Royal Knight – Darius Parthos
Primary Attribute: Strength
Affilation: Coalition
Gender: Male
Race: Human
Role: Slayer
Damage: 29 - 39
Armor: 5
Movementspeed: 280
Health-Regeneration: 0.25
Mana-Regeneration: 0.01
Weapon Type: Normal
Cooldown: 1.95
Range: Melee
Start Health Points: 775
Start Mana Points: 255
Abilities


Battle Fury:
Darius enters a state of fury and deals bonus hero damage on every hit. Bonus damage is reduced everytime he gets hit. If he reaches the maximum of bonus damage it hold on for the same period of time.


Shattering Javelin:
The Royal Knight throws a Javelin that deals piercing damage and shatters on impact. The shattered fragmets hit the units behind the target.


Animal War Training:
The Knight's ride is a well trained horse, faster than the average and fearless. It improves his fighting abilities, granting bonus damage and improvements for all his skills.


Charge:
Royal Knight Parthos launches himself into the enemy lines without fear. He gains bonus attack speed and deals damage to enemy units along the way.
All Details:
Forsaken-bastions-fall.com